Message from the Artistic Animateur, Nicole Rousseau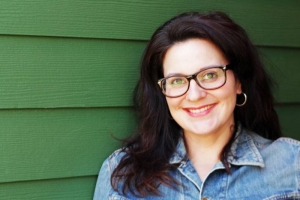 Hello Everyone, my name is Nicole Rousseau and I am the Artistic Animateur for RCA Theatre Company. Welcome to RCA's 2019-20 season launch, we are so happy to have you with us today! We respectfully acknowledge the territory in which we gather this morning as the ancestral homeland of the Beothuk, and the island of Newfoundland as the ancestral homelands of the Mi'kmaq and Beothuk. We would also like to recognize the Inuit of Nunatsiavut and NunatuKavut and the Innu of Nitassinan, and their ancestors, as the original people of Labrador.
Today we are here to introduce the artists and shows we are supporting through Production and Presentation in the upcoming year, which go hand in hand with numerous initiatives geared toward new play development and access to our space, The LSPU Hall. New work is our specialty, and in its 40-year history, RCA has staged more than 150 original Productions and contributed to the development of hundreds more. Our plans for 19-20 are no exception; there are no less than 6 shows in our upcoming season, full of ideas about medicine and healing – in both a traditional sense but also in the transformative sense, that theatre can be medicine, laughter is the best medicine sometimes, and how making these journeys together as artists and audience through the shared experience of live performance can help us begin to process difficult emotions and challenge conventional outcomes. We are embarking on a journey that may offer a little more understanding of the world around us.
Our 2019-20 season also prioritizes becoming a more accessible space for artists and audiences. We have begun work with InclusionNL at Empower, to increase inclusion and accessibility in our work environment as well as disability confidence throughout the organisation through staff and volunteer accessibility training and an accessible website review. We are also pleased to announce that we have been approved for funding towards a Williams Sound Listening System for the Mainstage Theatre and are eagerly anticipating its installation for our audiences use.
RCA's commitment to supporting the performing arts in Newfoundland and Labrador is reflected through the pillars of Live. Local. Creative, which affirm our place in the vibrant cultural community of our province – as the theatre company that puts new play development first and make it our mission to promote original theatrical work in Newfoundland and Labrador; and so without further ado let's meet the playwrights and artists and enjoy a first look at what RCA's 2019-20 season has in store.
Our First Production comes to the Main Stage at The Hall just in time for Christmas – can you guess what it is? I'll give you a hint "Allez Coosh"! You got it: The Hall Family Panto is back, this time blending the story of Cinderella and classic teen movies of the 80's, with a dash of the traditional Newfoundland Mummers play mixed in. It's the night before the big dance and Buttons and his friends have to help Cinderella get to the ball – but the Old Hag has plans of her own and you know she's going to do whatever it takes to stop her.
Our Cinderella Hall family Panto is directed by yours truly and is a show for the whole family to enjoy- playing December 12-21, 2019.
For almost a decade now, we have had the support of the Department of Canadian Heritage through the Canadian Arts Presentation Fund to bring work from the Provincial and National Scene to The LSPU Hall Stage. It is another way we welcome artists and companies into our space, to share our resources and enrich the community.
Our first Presentation of the season is I am A Genius, Does Anyone Here Know Me? Created and performed by Lois Brown, Composed and performed by James O'Callaghan. Story-telling, observations, philosophical references, animated projections, sound composition and movement collide in this exploration of the relationality between Lois and things like her microphone, an empty chip bag, foil she saved from a Christmas poinsettia, a plastic bag and an old dictionary inherited from her father. Lois describes what's important about boredom, how she thinks she knows things, and later how her father died of dementia, how he lost his ability to remember.
I am A Genius, Does Anyone Here Know Me? plays January 2020 at The Hall, and we are so excited to have this innovative work as part of our season.
In February, we are proud to present Power Productions' acclaimed Production of Crippled, by Paul David Power and Directed by Danielle Irvine. "Crippled". That's what the guys in Tony's small community of Shale Harbour NL used to call him growing up. The name stuck. Years later, Tony finds himself on the St. John's waterfront at a crossroad. Tired of living with a disability, and still grieving the death of his same sex partner three years earlier, Tony believes there's only one way to escape a life he no longer wants to live. His mind is made up, until a stranger appears with other plans.
Crippled shares the playwrights true experiences of growing up with a physical disability and grief after loss. It is a bold and inspiring story about love, death, life and redemption and you can catch it live at The Hall February 20-22, 2020 before it embarks on a provincial tour, in partnership with the Arts and Culture Centres.
RCA's National Presentation for the 2019-20 season comes to The Hall in March: Renee Hackett and Some Mauzy Productions' Birthday Balloon by Newfoundland Playwright Steve Cochrane and Directed by Steven Gallagher. David and Millie have been met with tragedy and are on the brink of divorce. Through the lens of this dying marriage a new Newfoundland identity is exposed. A Newfoundland whose worst economic downturn since the 1930's threatens the very existence of its rural identity and people. It poses the question – in light of everything, when the writing is on the wall – what is it that keeps us in love with and loyal to a province known by one perfect word: home.
The Toronto Star called this production of Birthday Balloon a "well crafted, effecting story that really shines". After its successful run at the Next Stage Theatre Festival, the buzz around the play made it back to Newfoundland with media as well as The Hall getting calls asking when we were going to put it on stage. You called, we answered. Birthday Balloon plays March 26-28 2020.
The second Mainstage Production at RCAT in our 2019-20 Season The Dialysis Project, written and performed by Leah Lewis. The Dialysis Project is a one-woman multi-media performance piece, which investigates grief and resilience through the lens of self-administered home dialysis. Leah "performs" a dialysis treatment live on stage, and in doing so delivers a powerful visual metaphor for the accompanying stories of isolation, mortality, and sexuality. The result is a touching, funny, and utterly unique show.
Stay tuned for news about all kinds of outreach around The Dialysis Project, directed by Evalyn Parry and in Association with Toronto's Buddies in Bad Times. We are thrilled to present the Premiere of this production in May 2020!
The final Production in our Season is part of an important Series of work we do in this Company called SOS ( orSignifcant Others Series), designed to bring contemporary and bold new work to the stage. Next season's SOS is Her Closely, in partnership with Double Sure Theatre Co-Op. Writer Franz Kafka asked his close friend, Max Brod, to burn most of his unpublished work after his death. Instead, Max published much of it. Kafka was also a prolific letter-writer. After meeting Felice Bauer in 1912, Kafka corresponded voraciously with her between Prague and Berlin, deploying stationary, postcards or telegrams sometimes 4 times a day. Their attraction deepened while both their careers gained momentum – brewing tension between their ideas of progress, convention, sacrifice, accommodation, openness, and manipulation. Franz ultimately destroyed Felice's letters. But Felice kept his, leaving herself to be drawn from the shadows of a turbulent, unreliable narrator.
Her Closely plays June 11-14, 2020 right here at The Hall and is directed by Alex Fallis. We look forward to partnering with Double Sure on this exciting new work that combines physical theatre, shadow puppetry and projections.
At this point you must be wondering, how do I get tickets for all these amazing shows, when are they on sale? Excellent news! Our 2019-20 Hall Pass is on sale now! Buy now to get front-of-the-line access to your favourite seats at the LSPU Hall! Your pass includes 6 tickets, 6 drinks, VIP access to advance seat selection and more perks throughout the season. Buying the pass gives you all this plus $100 in savings. Single ticket sales will start in September, when our 2019-20 season officially begins.
RCA is proud of our connection to local business, and today we are thrilled to announce a new partnership with Quidi Vidi Brewery, who have become our exclusive beer sponsor! We are excited about expanding our offering of local products at the bar, which you can enjoy in a reusable cup, to bring your beverage upstairs during any performance. Local is important to us, from the beer in the fridge to the soap from TVAL in the bathroom dispensers to our engagement with the Stella's Circle Clean Start Social Enterprise. And don't forget about our wine and dine deal at Piatto that lets you enjoy dinner out before the show! Thanks as well to our new friends at Toslow the coffee and pastries from our that we are all about to enjoy after the launch! As your local for theatre, we are proud to play a role in our community of local creation on all fronts.
Thanks to our funders: We acknowledge the support of the Canada Council for the Arts, which last year invested $153 million to bring the arts to Canadians throughout the country. The Department of Canadian Heritage who support The Hall through the Canadian Arts Presentation Fund and the Cultural Spaces Funding, as well as ACOA. The Province of Newfoundland and Labrador through the Department of Tourism, Culture, Industry and Innovation's Regional Development Fund, the Cultural Economic Development Plan and also ArtsNL, which last year invested 2.24 million to foster and promote the creation and enjoyment of the arts for the benefit of all Newfoundlanders and Labradorians.
As well we recognize support from The City of St. John's who support both the venue and its programming through grants to Arts Organizations.
Thank you as well to our current sponsors Cox&Palmer, Hebron, Newfoundland Power, Public Service Credit Union, as well as our donors and supporters including the RBC Emerging Artist Project. We have so many excellent ways to get involved, and if you are interested in community partnership come talk to us! We would be so happy to meet with you.
A final thank you to our Board of Directors and many volunteers who give their time and support to RCA. We quite literally couldn't do it without you!
And remember, this is just the beginning, stay tuned to The Hall's social media for more information about outreach and workshops connected with the season, as well as news about Other Programming Initiatives we support like Live Magazine and The Women's Work Festival, and more new plays in development as well. RCA is proud to be the Theatre Company that cultivates, enriches and promotes a unique perspective of the culture of our province. When you buy a ticket for a show at the Hall, you are supporting essential, live performance in your community, as well as important programs and resources for the artists who create them. On behalf of myself, Suzanne, Laura, Danielle, Crystal, Kat, Pat and Robert and all the staff at the Hall, we look forward to seeing you next season, and thanks for choosing us for your night out!