Be More Chill
May 23, 2019

-

May 26, 2019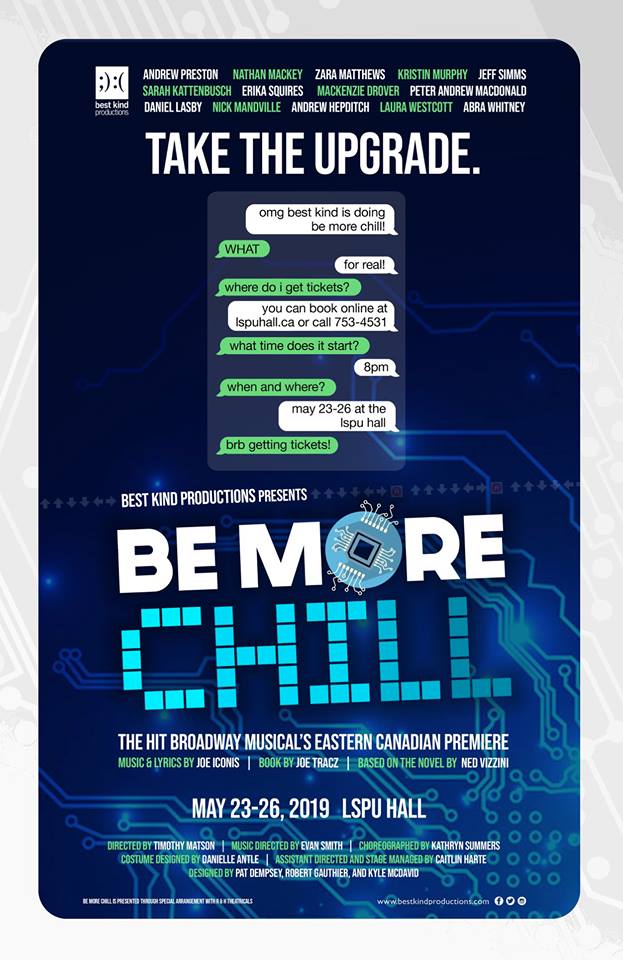 May 23rd-26th, 8pm
$40
Jeremy Heere is an average teenager. Not a popular kid. Or a jock. Or really a goth, a geek, or a gamer. Just a guy, trying to make it through the harrowing, hormone-infused hallways of high school, one horrendous class period at a time.
That is, until he hears about the Squip – a tiny supercomputer that implants in your brain and tells you exactly what you need to do to get everything you want most: girls, popularity, invites to the best parties, and a wholesale high school experience upgrade.
But is all of that worth cost?
Based on a novel by Ned Vizzini, with a whip-smart and fresh book by Joe Tracz and an infectious ear worm of a pop rock score by Joe Iconis, Be More Chill combines today and retro sci-fi to take on the voices in our heads, and ask what we would do, and what the cost would be, to get everything we've ever wanted.
"If you fed Dear Evan Hansen and Mean Girls to the Little Shop of Horrors plant, with a few Xbox games as a digestif, Be More Chill is probably what you would get. …Dynamic, jouncy, and as infectious as malware."
–The New Yorker
"It's one thing to be told that Be More Chill is a viral hit on the internet. It's quite another to experience the hype live and in the room."
–Variety
Directed by Timothy Matson
Music Directed by Evan Smith
Choreographed by Kathryn Summers
*Due to mature language and content, this show is recommended to audience members age 14 and older.*