Design Canada Film Screening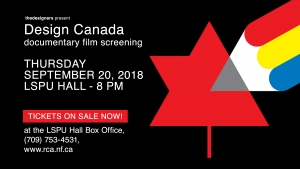 September 20th 8pm
Synopsis:
Through the lens of graphic design, "Design Canada" follows the transformation of a nation from a colonial outpost to a vibrant and multicultural society.
What defines a national identity, is it an anthem? A flag? Is it a logo or icon? How do these elements shape who we are? In the 1960s and 1970s, these questions were answered by an innovative group of Canadian designers, who used design to unify the nation.
Featuring graphic design by
Burton Kramer
Rolf Harder
Fritz Gottschalk
Stuart Ash
Heather Cooper
Hans Kleefeld
Pierre-Yves Pelletier
Raymond Bellemare
Jim Donoahue and more.
With commentary by
George Stroumboulopoulos, CBC
Hannah Sung, Journalist
Douglas Coupland, Author & Artist
Massimo Vignelli, Vignelli & Associates
Diti Katona, Concrete
Alan Elder, Muesum of History
Brian Donnelly, Sherdian College
Hunter Tura, Bruce Mau Design
Marian Bantjes, Graphic Designer and more
A Film First Production
A Hulse & Durrell Production
In Association with TELUS and Shopify A film by Greg Durrell
Music: Mark Lazeski, Mike Rocha, Ben Hulse Editor: Bo Mehrad
Cinematography: Chris Romeike & Ben Johnson Title design: Alexander Shoukas
Executive Producer: Gary Hustwit
Executive Producers: Blair Miller, Jonas Woost, Kim Hsu Guise Produced by: Jessica Edwards
Directed by: Greg Durrell
www.designcanada.com