Don't Give Up On Me, Dad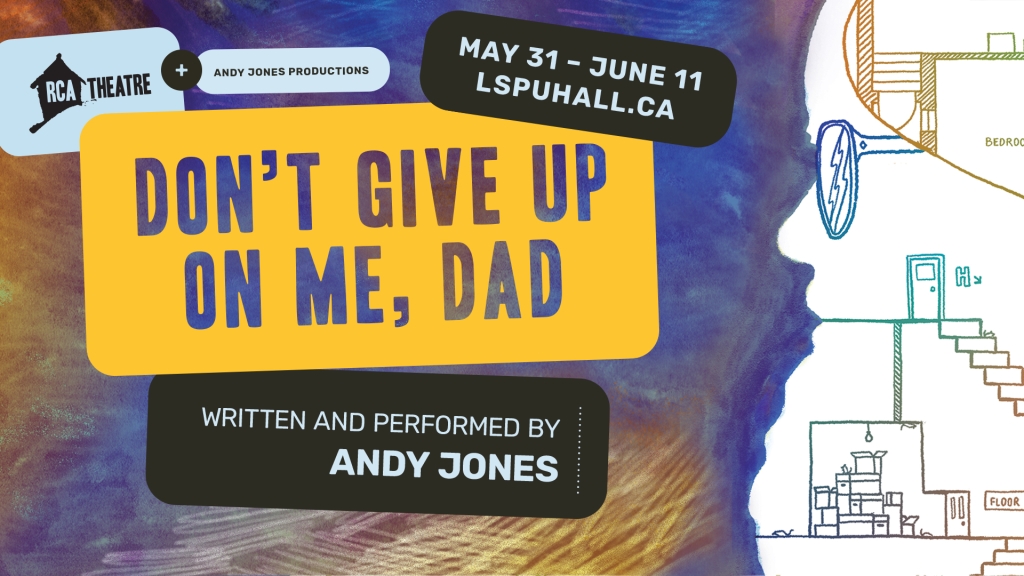 May 31 – June 11
Full schedule here.
General: $39.50
Senior/Student/Artist: $32.50
Livestream $22.75
Check out schedule for Pick Your Price dates.
Don't Give Up on Me, Dad is actor/writer Andy Jones's very personal story about the insight, courage, and unique humour of his son Louis as he battled with the mental and emotional anguish that led to his suicide.
This one-man show is a heartfelt and sometimes humorous analysis of Louis' long journey through the health care system. In this new work, Andy lends his voice to the rising cry for compassion, care, and a quantum leap in funding for research into mental illness.
CONTENT ADVISORY: This show deals with sensitive subject matter and is not suitable for younger audiences. Contact the box office for more information.
The June 8th performance of Don't Give Up on Me, Dad will be filmed. Depending on your seat selection,
you may appear in this production.
If you do not wish to be filmed on camera
, please
ident
ify yourself to the filmmakers or
crew.
Subject to the
above,
all individuals
in this area
implicitly consent to
the use of their image, their voice or their likeness
, without
compensation,
in the National Film Board of Canada
and Odd Sock
Films co
–
production
currently
entitled:
I WILL NOT FORGET YOU
and
relea
se
the National F
ilm Board of Canada
and Odd Sock Films
from any liability in connection with such usage.
This production will be distributed in all media now known or
hereafter devised, in
the
world and in perpetuity.
Your cooperation is
appreciated.
Don't forget CAA (Canadian Automobile Association) members get a 10% discount to all RCA Productions and Presentation in our 2022-23 Season.
Plus check out our Perks page for deals we have with local businesses around town.