Red Island – Resettlement Girl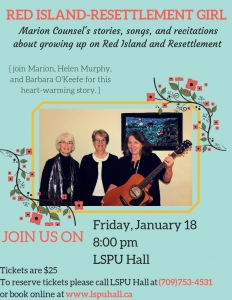 Friday, January 18th, 8pm
Marion Counsel grew up on Red Island, Placentia Bay.
She was a teenager when her family resettled in the town of Placentia, during the "Resettlement Program" of the 1960's.
Since then Marion has written many recitations, stories and songs about these experiences, mainly as a keepsake for her son Michael, but also, to help preserve her memories of outport life in Newfoundland and Labrador.
She has compiled her stories and songs and created a performance piece called "Red Island – Resettlement Girl".
Her singing friends Helen Murphy and Barbara O'Keefe join Marion for this heart-warming and captivating performance