The Hangover Holiday Special: A Stand Up Comedy Show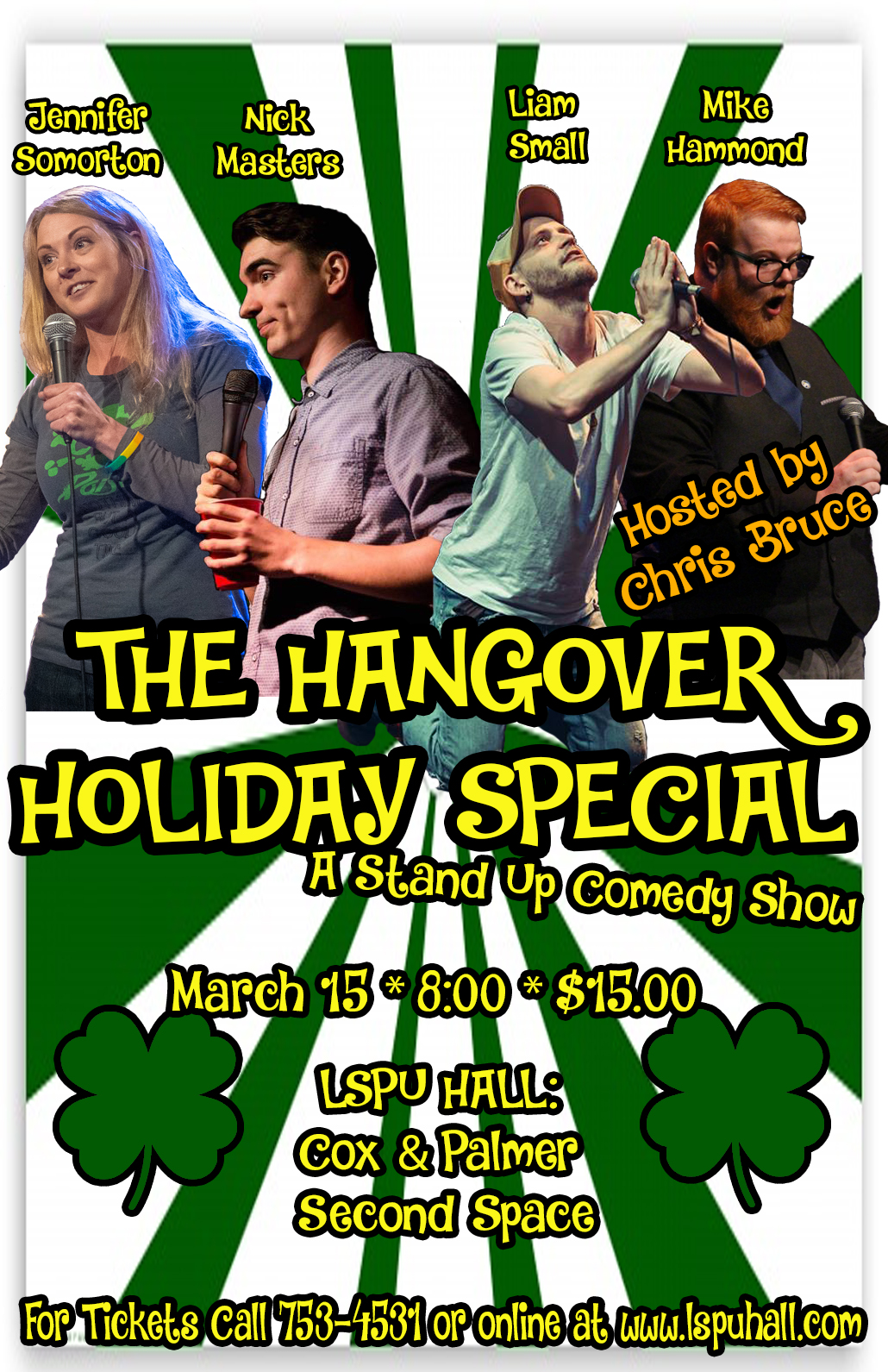 Cancelled
Sunday, March 15th
St. Patrick's Day is a day of coming together with friends and drinking like it's the end of the world. But the world keeps going and the next day can be hell on earth. This one's for you! Grab a Gatorade and put on your comfy pants and crawl on down to the LSPU Hall to laugh away your crippling hangover with some killer comics! Featuring Jennifer Somorton, Nick Masters, Liam Small, and Mike Hammond, Hosted by Chris Bruce.
Jennifer Somorton
Newfoundland comedian Jenn Somerton has been making her mark in the comedy scene! She's toured all over British Columbia and continues to make audiences laugh every week at Newfonudland's longest running comedy show, Jokes at John's. Don't be fooled by her sweet exterior because she will hit you hard with those punchlines!
Nick Masters
Based out of St. John's, Nick Masters has performed as part of the Braxton Comedy Festival and was a finalist for St. John's Last Comic Standing in 2015 and 2019. Despite his adorable appearance, Nick explores the darker elements of what makes people laugh in the hopes that the audience will like him more than he likes himself.
Liam Small
As a comedian, Liam has appeared on CBC Radio 1 as a political satirist, and Bell's TV1 after winning 'James Mullingers Comedy Bootcamp – Newfoundland.' Since 2015, Liam has appeared at YukYuks comedy clubs, on Eastlink TV, The Newfoundland Telegram, Arts and Culture Center stages across the Canadian east coast, and most recently headlining the Exploits Valley Salmon Festival Comedy Showcase.
Mike Hammond
Mike Hammond is a Newfoundland born Comedian and has been making crowds laugh all over Canada. He's a natural born story teller and has an energy and authenticity about him that captures the attention of any audience, and leaves them laughing is the aisles. He has performed at the Winnipeg Improv Festival, Yuk Yuk's, and is the current Artistic Director of Stanley Braxton Improv Co., and the Festival Director for the Braxton Comedy Festival.