Audience Enrichment
We invite our audience members to learn more about the making of a production, as well as the cast and creative team members involved with each of our shows. Our aim is to enrich your theatrical experience either prior to you attending or once you have attended on of our performances.
We hope our visual guides, exclusive interviews, director's notes and artist talk-back information will provide insight and insider knowledge into the production you're about to see – or maybe you'll even learn something new about one of your favourite shows!
As we dive into our 2020-21 Season we will be updating this section of our website with information on each of our productions and presentations.
2020 has presented RCAT with many challenges. The LPSU Hall and RCA Theatre Company (RCAT) are committed to excellence in serving all of our patrons while adhering to provincial health & safety guidelines as they pertain to Covid-19. As we work towards re-opening the Hall, we will have updated Visual Guides for the LSPU Hall and specific shows.
Here is a link to the Visual Guide for the LSPU Hall for the 2020-21 season. We will be creating show specific visual guides as we move through our 2020-21 season.
Check out our Visual Guides for previous productions at RCAT:
Visual Guide/Social Story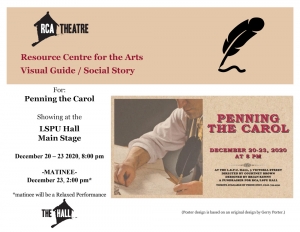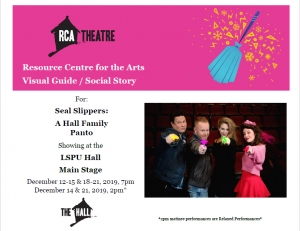 Our Visual Guide is a great way to introduce yourself to the elements of characters, settings, and visual/sound elements of Seal Slippers!