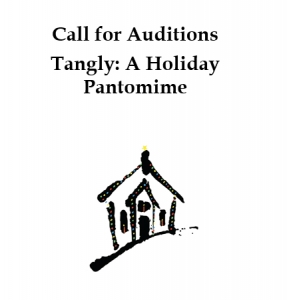 RCA Theatre Company will be holding auditions for:
Tangly: A Holiday Pantomime.
by Rory Lambert
Directed by Nicole Rousseau
We're looking for 4 energetic performers who are quick on their feet and enthusiastic about connecting with an audience of all ages. Please bring any and all musical instruments you can play and be ready to sing or dance.
Auditions:
Friday September 29, 2017
Cox & Palmer Second Space, LSPU Hall, 10am-5pm
To book an audition time, email Laura Huckle at associate@rca.nf.ca with a current resume and headshot.
Scenes will be provided when your audition is booked. Please note there are a limited number of spaces available. Only those chosen for an audition will be contacted.
We are Looking to Cast the following Roles:
Performer 1: The Old Hag/Blue Christmas King
Performer 2: Rapunzel
Performer 3: Widow Rhubarb
Performer 4: The Prince/Mr. Cooper/The King
Performer 5: Buttons (the Narrator) *Please note this role has been cast.
Production Notes:
Rehearsal St. John's – November 27 – December 10, 2017
Performances at the LSPU Hall – December 11 – December 17, 2017
Synopsis:
Tangly is a Christmas Pantomime that blends Rapunzel with a pinch of Rumplestiltskin, a tablespoon of Gift of the Magi and a heaping helping of the classic Newfoundland Mummers Play. When spunky Rapunzel Rhubarb is kidnapped by the Old Hag, it's up to Buttons to save her. With his pet jellyfish and a gang of pals at his side he'll venture up the harbour and down the shore; from Greens Harbour to Old St. John's Towne to the depths of the Winter Woods and magical Macaroni Tower to save the day. A play brimming with song and dance, magic spells, audience interaction and zany wit and charm, Tangly will kick off the Holiday Season with a smile on your face and a glow in your cheeks. This is a show for the whole family to enjoy.