Penning the Carol
December 22, 2022

-

December 23, 2022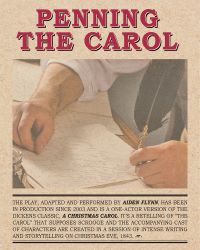 December 22nd 8 pm
December 23rd 2 pm and 8 pm + live stream
Live Audio Description will be available during the Dec 23rd 8 pm show. Please call the Hall to reserve a device.
Penning The Carol is celebrating its 20th anniversary as one of Newfoundland's favorite Christmas traditions! Written and performed by Aiden Flynn, this solo retelling of Charles Dickens' "A Christmas Carol" supposes that Scrooge and the accompanying cast of characters were created in a session of intense writing and storytelling on Christmas Eve, 1843. Penning the Carol is directed by Courtney Brown with assistant director Steve Maloney and designed by Brian Kenny. This year not only marks Penning The Carol's 20th anniversary but also the RCA's 50th anniversary, and our opening night sponsor – Browning Harvey – celebrating over 85 years of business! Together we have over 150 years of success to celebrate.