[ID: Horizontal poster for Birthday Balloon. The background is orange and blue and shows a small boat in a harbor. Two interlocking white rings that could be balloons or a wedding ring are to the left. Text to the right reads: RCA Theatre Presents Birthday Balloon by Steve Cochrane Directed by Steven Gallagher Featuring Steve Cochrane Renée Hackett Nov 23-27, 2022 lspuhall.ca.]
Table of Contents
Land Acknowledgement
Synopsis
Content Advisory
Development History
Notes From the Playwright
Notes From the Director
Cast and Creative Team
Thank Yous
Hall Hats
Seat Campaign
Coming up Next
Volunteer At The Hall
Donors
CAPE Fund
Endowment Fund
RCA Theatre Company Presents:
Birthday Balloon
By Steve Cochrane
Directed by Steven Gallagher
Featuring Steve Cochrane and Renee Hackett
Stage Management by Crystal Laffoley
Lighting Design and Technical Direction by Reg Hoskins
Set Design by Ane Christensen
Set Construction by Heather Rumancik
Costumes and Prop Design by Alison Helmer
Assistant to Props and Set Designers Brandon Hillier
Graphic Design by Perfect Day
*The participation of these artists are arranged by permission of Canadian Actors Equity Association under the provision of the Dance*Opera*Theatre Policy.
Herbal Cigarettes are used in this performance.
There is no intermission.
---
Land Acknowledgement
RCA respectfully acknowledges that the land on which we currently create, perform, and gather is the ancestral homelands of the Beothuk, whose culture has now been erased forever. The island we call Newfoundland is the unceded, traditional territory of the Beothuk and the Mi'kmaq. Labrador is the traditional and ancestral homelands of the Innu of Nitassinan, the Inuit of Nunatsiavut, and the Inuit of NunatuKavut. We ask that before you watch the performance tonight, you take a moment to reflect on whose land you are standing on, whose land you were born on, and whose land you currently live on. We ask that you reflect on how that land was taken care of, and how it is taken care of now, and finally who currently walks freely on it. If this reflection makes you uncomfortable we ask that you sit in that feeling and question it. Let it help you work towards reconciliation, something we can only achieve together. Thank you.
---
A Note From the Artistic Animateur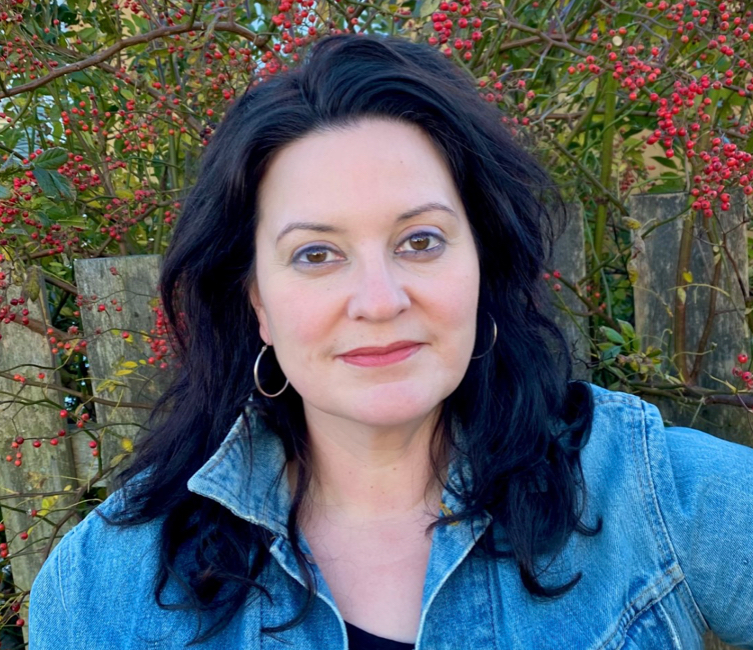 [ID: Nicole, a white woman with black hair just past her shoulders. Is wearing a blue jean shirt and gold loop earrings. She is standing in front of a bush with red berries.]
Welcome to RCA Theatre Company's Main Stage Production of Steve Cochrane's Birthday Balloon. It took us a few tries to get here, owing to a Pandemic that cancelled not one but two previously scheduled runs. But our commitment to the work remained firm, and the play finds resonance in RCAT's 2022-23 Season, that focuses on reconnection through close fiction, verbatim, and documentary works that bring contemporary experiences to the stage and seek to inspire meaningful exchange. These stories are all, in some way, true.
I am thrilled to bring this work to the LSPU Hall stage, supported by a gifted and generous creative team. Birthday Balloon is an emotional journey infused with unexpected humour – a thing I have always admired about Steve's writing, his ability to weave light and darkness across so many genres. Thanks, as ever, for coming with us, and for choosing live theatre for your night out. When you buy a ticket for a show at The Hall, you are supporting essential, live performance in your community, as well as important programs and resources for the artists who create them. We love to see you and hope you can join us again soon for more events in the season.
Nicole Rousseau, Artistic Animateur
---
Synopsis
Dave and Millie have been met with tragedy and are on the brink of divorce. Through the lens of this dying marriage a new Newfoundland identity is exposed. A Newfoundland whose worst economic downturn since the 1930's threatens the very existence of its rural identity and people. It poses the question – in light of everything, even when the writing is on the wall – what is it that keeps so many of us laughing, in love and loyal to a province known by one perfect word: home.
---
Content Advisory
Click here for a content advisory.
---
Development History
Birthday Balloon was commissioned by Donna Butt at Rising Tide Theatre in February 2016.
It was first performed at the Rising Tide Theatre Festival in Trinity Bay, in June 2016, with the following cast:
Millie, Amelia Manual
David, Mike Daly
And in 2018 with:
Millie: Amelia Manual
David: Step Taylor
Both productions were directed by Donna Butt
Birthday Balloon was also performed at the Next Stage Theatre Festival at the Factory Theatre in Toronto Ontario in 2018, with the following cast:
Millie: Renée Hackett
David: Craig Pike
Directed by Steven Gallagher
---
Notes from the Playwright
In August of 2015 myself and Rising Tide Theatre Artistic Director, Donna Butt had a conversation in the back of the theatre, overlooking Trinity Bay. We talked, as we often do, about the "Newfoundland Identity" and more to the point, the "New Newfoundland Identity". Growing up in the 1980's in Newfoundland there was a built-in acceptance of bleak times ahead. People were mad about the state of things, people would protest and point the finger at the government or the mainland or back through time at 1949, but underneath it all there was this timeworn acceptance that the days ahead would be very difficult. This of course is my evaluation of how things were. Donna's will be different. Throw a handful of rocks and you'll hit a handful of people with completely different opinions on the matter. The truth is different for everyone.
Flash forward to 2005. Oil. Danny Williams. The flags coming down. Our novelists being acknowledged on the national stage. Our music; our greatest export. Real estate goes through the roof. Every house is a jellybean. Four cars in every garage. Destination restaurants. A colour-corrected mythology. Hatching, Matching & Dispatching (which I was a part of) was suddenly the kind of Newfoundland that embarrassed us, and by 2012—a sense of "We've made it!! We're finally like everyone else! Don't forget I! I got a Starbucks, too!"
Maybe this is a cynical view of progress. Or maybe we ceased to be the unique culture we once were and had suddenly become a grinning pack of mystical beings playing the role of "ourselves" for the rest of the county. Now, oil has bottomed out and the fog has lifted, and we are once again faced with the brutal realities of a barren future. Did the boom times dance much of that old resilience right out of us?
As with any seismic shift, whether it be economic downturn, the destruction of a marriage, or the loss of someone you love, or even, the loss of a town or place we loved—when there are very different kinds of people mourning the loss of their version of the past can we ever truly agree on what that past was? What it is we are preserving? And most importantly—was it ever really there in the first place?
I don't know the answer to these questions, but I did once have a baymen tell me with disdain "townies are the only ones who romanticize life in rural Newfoundland."
– Steve Cochrane
---
Notes from the Director
All across Canada, the Newfoundland character is legendary: big-hearted, gregarious, and always ready to lend a hand. Birthday Balloon, by turns savagely funny and devastatingly sad, shows us what happens when that character is touched by great loss.
Because Steve Cochrane writes so beautifully about the Newfoundland experience, the play transcends location and shows the universality of pain and loss. Like the characters in Birthday Balloon, Millie and David, we love each other fiercely, we say things we regret, we resist change, and we try desperately to hold on to one another.
Birthday Balloon is a tribute to a place and people who remind us how fragile love can be. It's an honour to help bring Steve's brilliant play home where it belongs.
-Steven Gallagher
---
Cast and Creative Team

[ID: A black and white photo of Steve, a white man with dark hair and a beard. He is smiling with his mouth slightly open and wearing a plaid shirt.]
STEVE COCHRANE
Playwright/Dave
Steve Cochrane is an award-winning actor/writer/director from Mount Pearl, NL. Steve has written for several television shows including The Hardy Boys, which he co-created for HULU, and was nominated for Outstanding Youth Series at the Daytime Emmys. Other credits include, The Fallen (Amazon/MGM), The Porter (CBC), Ransom (CBS), Lost Girl (Syfy), Taxi: Brooklyn (NBC), Endgame (Shaw/HULU), Republic of Doyle (CBC), Somewhere Between (ABC), The Imperfects (Netflix).
Steve was series director and co-creator of the critically acclaimed comedy Three Chords from The Truth (CMT/MOVIE CENTRAL). Three Chords was nominated for two Gemini awards including Best Comedy or Variety Program and won for Best Ensemble.
Steve wrote and directed an interactive gaming experience for the show Endgame, winning the Digital Emmy for Best Cross Platform Fiction at Cannes. Steve is currently developing an adaption of Miriam Toews best-selling novel A Complicated Kindness for Amazon, the YA Horror/thriller You Are Obsolete based on the comic by Aftershock Media, for TV 4 in Sweden and a spin-off to the hit show Cardinal, entitled Delorme: City of Saints for CTV, and CTV Quebec.
Steve's playwrighting credits include No Mummers 'llowed In (RCAT, Collective) The Importance of Being Ernie with Mike Butler (RCAT SOS), The Innocence of Catherine Snow with Adriana Maggs (Rising Tide), Woke Island (Rising Tide), and Sailor, Bishop, Drunkard, Star which is in development with RCAT.
As an actor Steve appeared in the following plays: Under Wraps: A Spoke Opera,(Artistic Fraud), In Your Dreams Freud (Artistic Fraud), Lemons (Artistic Fraud), Orphans (Danielle Irvine), Black Comedy (Recycled Shakespeare Company), Salvage(Artistic Fraud), The Cheat (Artistic Fraud), A Midsummer's Blacklight Dream (Artistic Fraud), A Midsummer Night's Dream, Hamlet, Macbeth, (Shakespeare by the Sea) Schumann Brahms Schumann, (RCAT) Corner Green (RCAT), No Mummers 'Llowed IN (RCAT) The Importance of Being Ernie (RCAT) No Mans Land (Rising Tide), and the Source (Buddies in Bad Times).

[ID: A black and white headshot of Renée, a white woman with dark hair pulled back with bangs. She is wearing jeans, a plaid shirt and a jean jacket. She leans against a pale white brick wall.]
RENEE HACKETT
Millie
Renée Hackett is an actor, writer and producer. She can currently be seen as Trina the Terrible in The Missus Downstairs on Bell Fibe TV (Seasons 1 & 2). Recent acting credits include Hudson & Rex (Seasons 4 & 5), Departure, Astrid & Lilly Save the World, The Cut of It, Under the Weather, RCAT's Supper Club and Sudbury Theatre Centre's The Ballad of Stompin' Tom. She is the recipient of the 2019 Arts NL Rhonda Payne Award, an alumna of the Women in the Director's Chair, a participant in the 2020 & 2021 WIFT-Atlantic mentorship programs, The LA Emerging Producers Mission, The National Screen Institute's Business for Producers Program – Atlantic Women's Edition, the PEI Screenwriter's Bootcamp and Writing a TV Bible Bootcamp. Up next are the Christmas Mom-ologues at The Hall in December, followed closely by shooting her original series What Odds, which will air on Bell Fibe TV in 2023.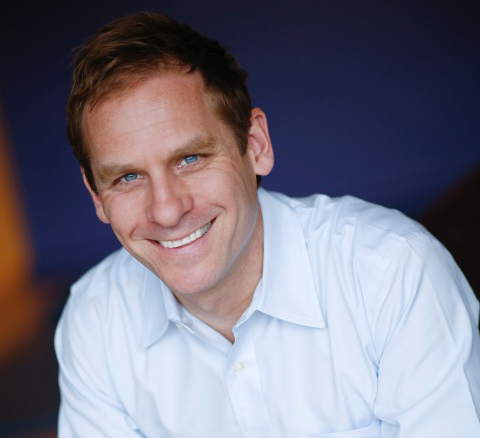 [ID: Steven is a white man with short blond hair and blue eyes. He is leaning toward the camera with a smile.]
STEVEN GALLAGHER
Director
Recent directing credits include Fully Committed at the Grand Theatre in London, ON, Stars of Mars and Chelsea Sunrise at Theatre Sheridan, Rumspringa Break and the Toronto premiere of Birthday Balloon at The Next Stage Festival, Crack of Doom and Hashtag, The Musical, at Bravo Academy, Myth of the Ostrich and Drama 101 at the Toronto Fringe.
Steven is also an award-winning writer, his most recent musical, Blackout, written with Anton Lipovetsky, premiered in 2021 in Toronto's High Park and was co-produced by The Musical Stage Company and The Canadian Stage Company. His play Stealing Sam was recently seen at Alberta Theatre Projects in Calgary. Memorial, the Trafalgar 24 Play Festival winner, premiered in Toronto at the Next Stage Festival in 2013 and had its US Premiere at Half Moon Theatre in New York. Stealing Sam was seen off-Broadway at The United Solo Theatre Festival in 2014, where it was awarded Best Drama. With his collaborator Linda Barnett, his musical Pollyanna was shortlisted for the 2016 Playwrights Guild of Canada Best New Musical Award. Drama 101, written with Kevin Wong, was commissioned by Bravo Academy in Toronto and premiered at the Toronto Fringe in 2018, where it won Patron's Pick and NOW Magazine's Outstanding Production. He is the winner of the Aubrey and Marla Dan Fund for New Musicals for Blackout, a Merritt Award nominee, and a 2013 Harold Award recipient.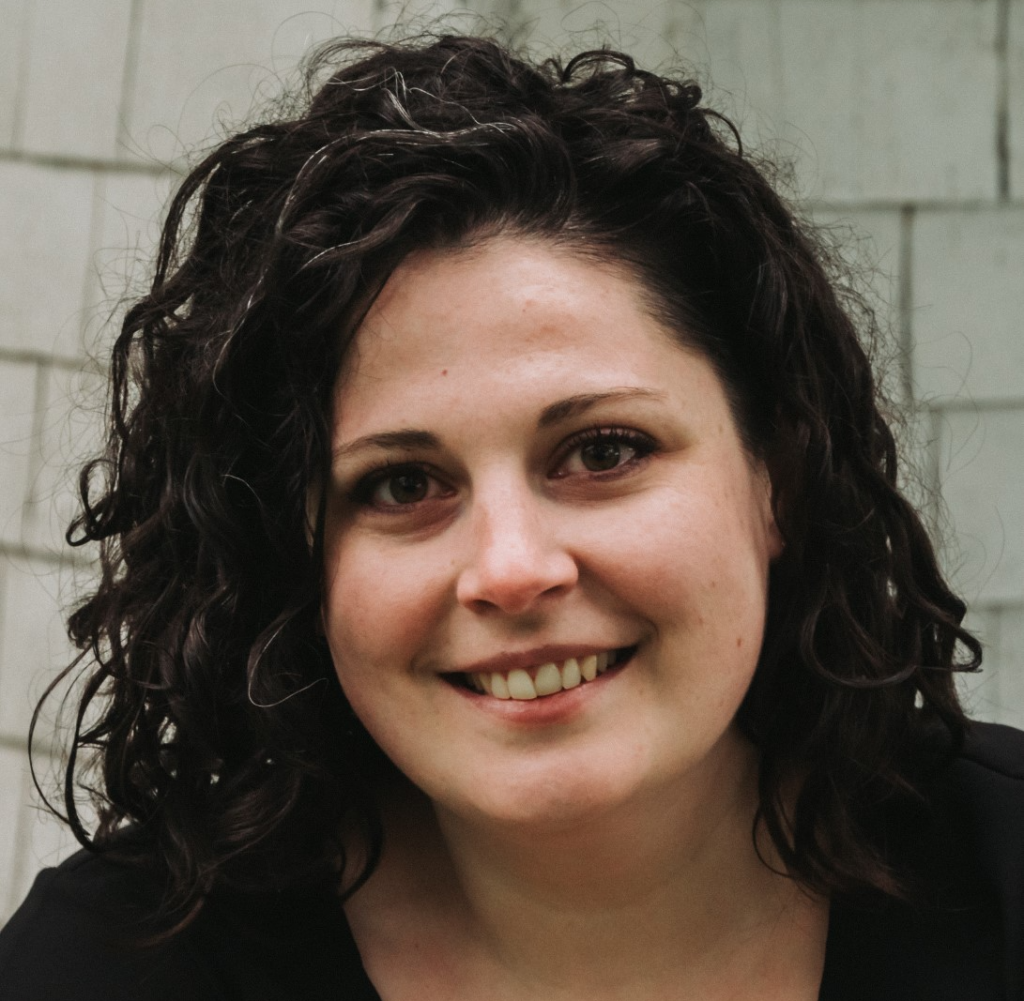 [ID: Crystal, a white woman with dark brown, curly, shoulder length hair and dark eyes, is smiling at the camera, her head tilted slightly. She's wearing a black t-shirt and is sat in front of a background of white shingled siding.]
CRYSTAL LAFFOLEY
Stage Manager
Crystal Laffoley, originally from New Brunswick, is a graduate of the National Theatre School of Canada's Production Design & Technical Arts program, Her career has taken her across Canada, working on stages indoors and out, including touring productions, classical texts, new works, puppet shows, musicals, dance pieces, sketch comedy, contemporary plays, festivals, multimedia projects, and digital shows – but the Hall will always be her theatrical home. Past RCAT projects include Tangly, Seal Slippers, Men of Misfortune, Red Phone, and Supper Club. Beyond her work as stage manager and arts administrator, Crystal regularly returns to NTS as a production coach.

[ID: A black and white photo of Reg, a white man with long dark hair, beard and thick eyebrows that are turned up. He is wearing a dark sweater over a light shirt and standing in front of a brick wall.]
REG HOSKINS
Lighting Designer
A theatre artist about town, Reg Hoskins(he/him) has worked on everything from operas to oprys and all kinds of things in between, and in various capacities, ranging from stage manager, to designer, to director, to technical director, and more. Way back in 2019 Reg could usually be found in the Barbara Barrett Theatre as the house technician, helping to bring many types of theatre, music, and dance to the stage. After the advent of the Covid-19 Pandemic he pivoted from live events and took on the role of Covid Safety Officer with Terra Bruce Productions, working on a multitude of film and stage projects during that time. He is an artistic associate of Salt Teeth Theatre Company and directed and designed the premiere productions of both. Cookstown and Cashin Avenue at the St. John's Shorts. In 2022 he moved back to the world of live events and directed and designed. Home in Three Plays: Bowring Park, Cashin Avenue, and Cookstown (STTC and RCAT) at the LSPU Hall.
[ID: Ane is an older Caucasian woman with shoulder length white hair and blue eyes. She wears round black eyeglasses and a blue and yellow plaid shirt with a gray vest over it. She's smiling calmly and sitting in front of a shelf full of books.]
ANE CHRISTENSEN
Set Designer
For 38 years Ane's worked Canada-wide as a Gemini Award-winning Set Decorator, Prop Master and Art Director/Production Designer on film and TV productions such as Street Legal, Above and Beyond, Saw VI, Dead Ringers, Twilight Zone, Urban Legend 2, Republic of Doyle, The Righteous, The Missus Downstairs and the yet-to-be-released features: Sweetland and Party Pirate. As Set Decorator, she brought to life several stage productions of The Gemini and Genie Awards (now The Canadian Screen Awards).
Ane's past includes stockbroker, book promoter/PR Director, journalist, ROM shop marketing co-ordinator, stage and television performer on 5 continents and interior design work.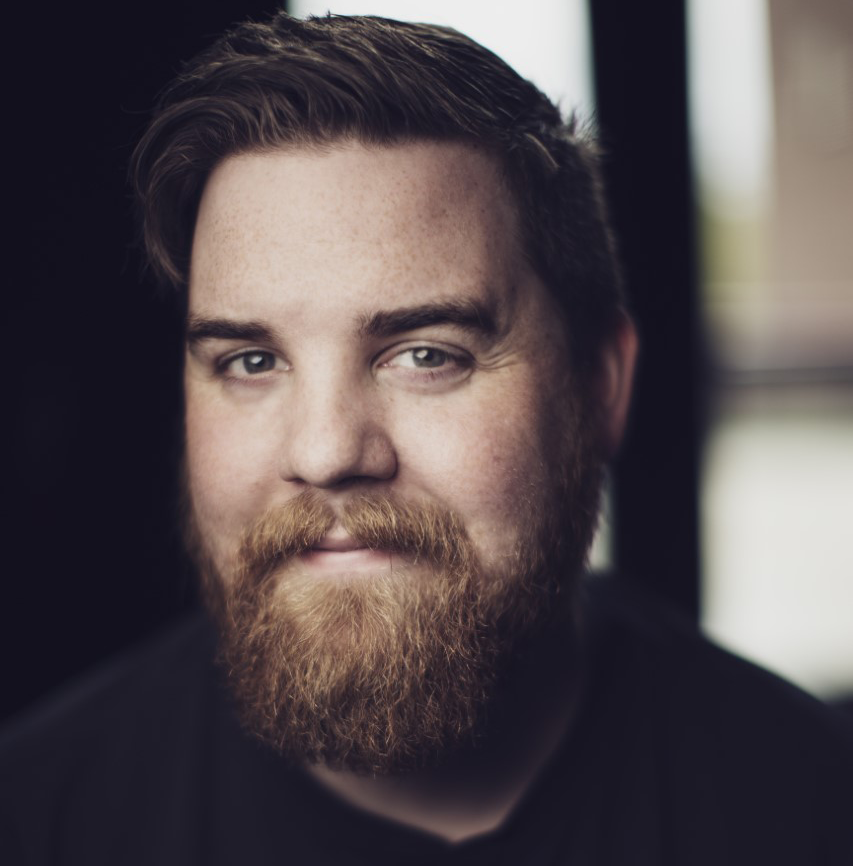 [ID: Brian is a white man with short brown hair and a full beard. He is wearing a black t-shirt and smiling at the camera.]
BRIAN KENNY
Sound Designer
Brian is a designer for theatre and performance from Mt. Pearl and is a graduate from The National Theatre School of Canada, and Sheridan College. Recent selected credits include: Supper Club, The Dialysis Project [RCA Theatre Company], Everybody Just C@lm The F#ck Down, Between Breaths [Artistic Fraud of Newfoundland], Dear Rita [The Charlottetown Festival], Come From Away in concert [Mirvish Productions], The Rocky Horror Show, Billy Elliott, [The Stratford Festival], Tibb's Eve, Chapel Arm [Mindless Theatrics], Elf, GROW, Marry Poppins [The Grand Theatre, London] Brian is a member of the board of directors for RCA as well as the IATSE 659 and The Associated Designers of Canada.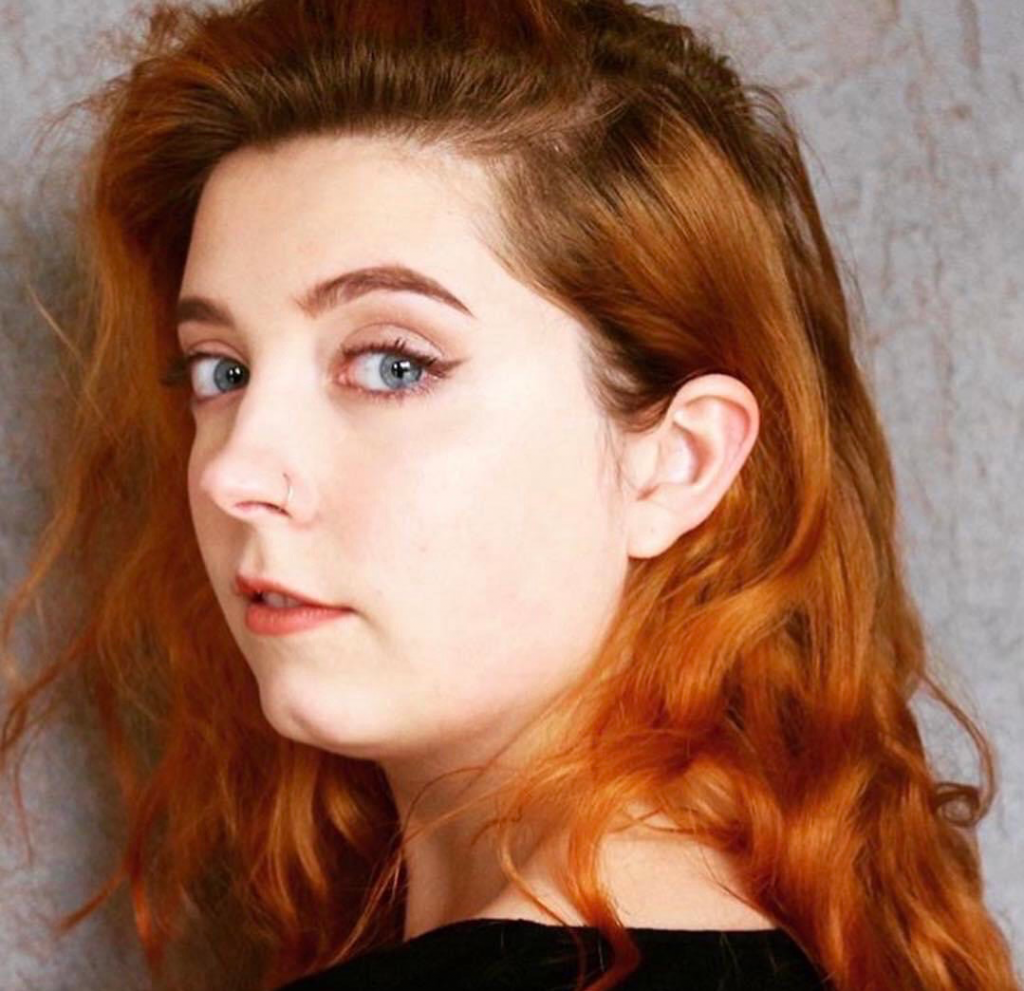 [ID: Photo of Alison Helmer, a red-headed, blue eyed 27 year old woman wearing a black top looking over her left shoulder towards the camera.]
ALISON HELMER
Props and Costume Designer
Alison Helmer is a multidisciplinary artist who has been deeply and continuously influenced by her studies and experience working on the east coast. Born and raised on the prairies, she began her theatre education with the Stagecraft program at Grenfell college before completing the Scenography program at the National Theatre School of Canada. She approaches the world of both set and costume design through a lens of fantasy, history, and the tradition of storytelling. She is excited by Theatre that pushes the boundaries between conventional and experimental, and that seeks to fulfill our human search for truth, escape, and shared connection.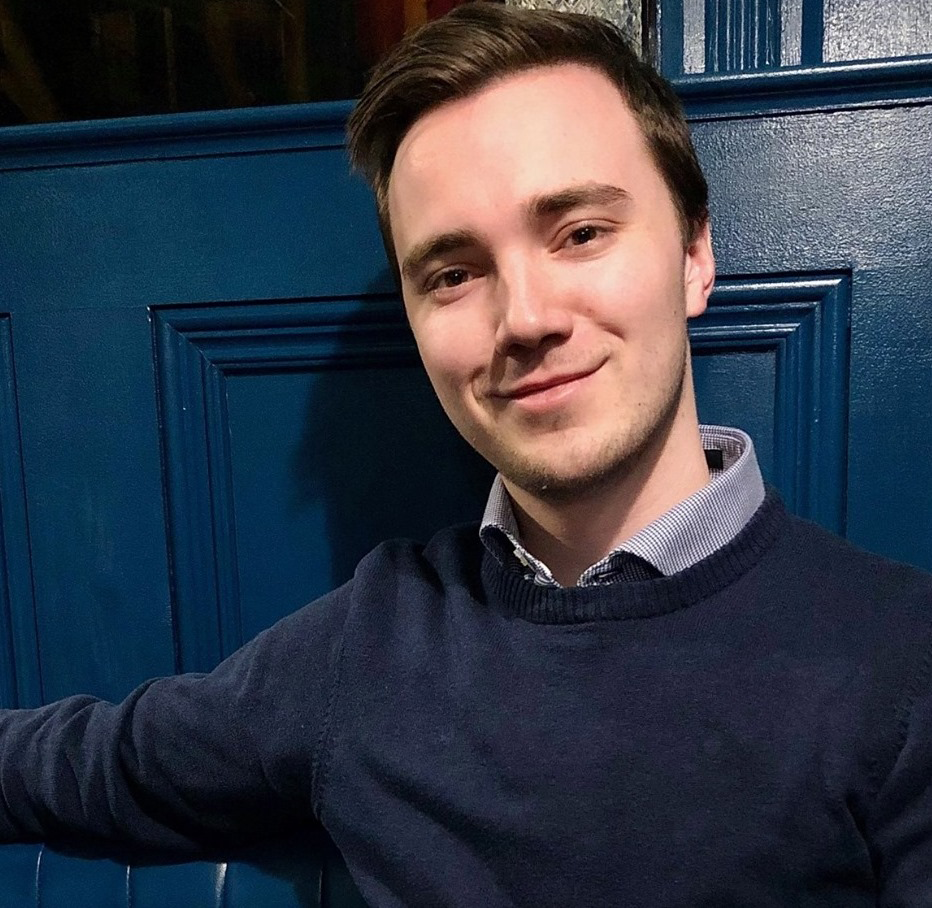 [ID:

Brandon

is a white man in his late twenties. He has brown eyes and short brown hair.

Brandon

is wearing a dark blue sweater over a lighter blue collared shirt, and he sits in front of a dark blue wall.]
BRANDON HILLIER
Assistant to Props and Set Designers
Brandon Hillier (He/Him) is a multidisciplinary theatre artist originally from Pasadena, NL. He holds a Bachelor of Fine Arts (Theatre) from Memorial University of Newfoundland and has recently returned to his alma mater to complete a Diploma in Stage and Screen Technique. Brandon is drawn to many aspects of theatre making and can be found in a wide variety of roles both on stage and behind the scenes. He is known as an actor, director, a sound/lighting operator, a stage manager, and generally – "a handy fella to have about". He is also currently the Artistic Associate of RCA Theatre as well as the Chair of the Board of Directors for the Shakespeare by The Sea Festival. Brandon is thrilled to be working on the design team on his first RCAT production.
---
Thank You's from RCAT and the Cast!
Thanks to Brad Hodder and the Lantern
Steve thanks Billy, Owen and Leo, and Donna Butt.
Renée thanks Judy Hancock, Ruth Lawrence, and George Michael.
---

[ID: A black Hall toque in front of the green, white, and pink Newfoundland republic flag. Text reads: Get you very own Hall Hat! Available at the box office for $20 + tax.]

[ID: Text reads: Seat Campaign Back in the seats again! Ask us how to get your own seat in the historic LSPU Hall's mainstage theatre. The photo shows the red theatre seats of the Hall.]
---

[ID: The black and pink RCA Theatre logo. The pink letters R-C-A are inside the black shape of the Hall building.]
Coming Up Next for RCAT!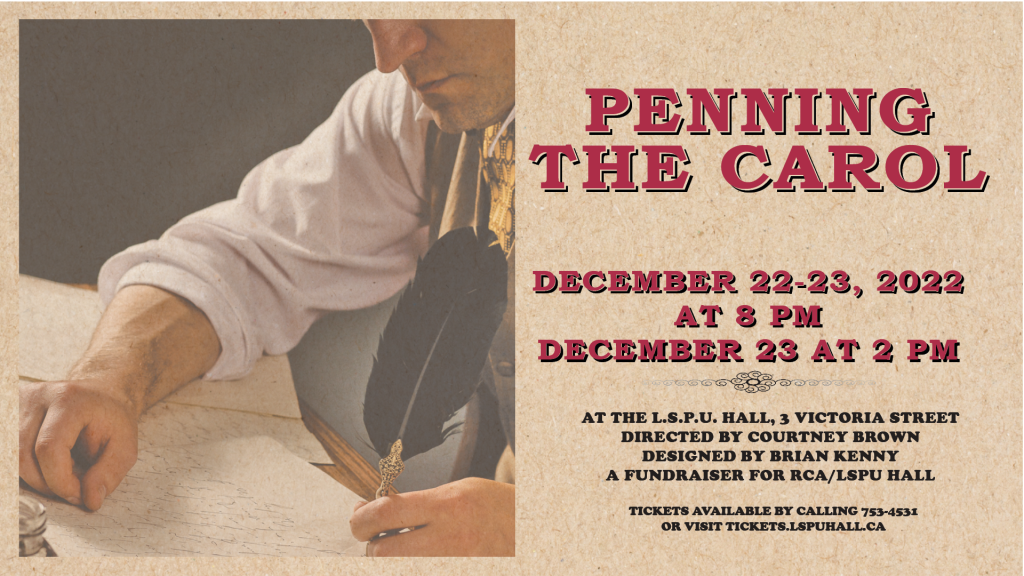 [ID: A faded picture of Aiden Flynn as Charles Dickens writing at a table with a feather quill. The photo is on a parchment colored background with red text to the right that says Penning The Carol December 22-23, 2022 at 8 pm December 23 at 2 pm At the LSPU Hall, 3 victoria Street Directed by Courtney Brown Designed by Brian Kenny A Fundraiser for RCA/LSPU Hall Tickets available by calling 753-4531 or visit tickets.lspuhall.ca]
---
Thank you to the LSPU Hall Donors!
Without you, we would not be able to do what we do.
Your generosity makes a difference.
Check out what Andy Jones has to say about becoming a monthly donor!
Thank you to the LSPU Hall Volunteers!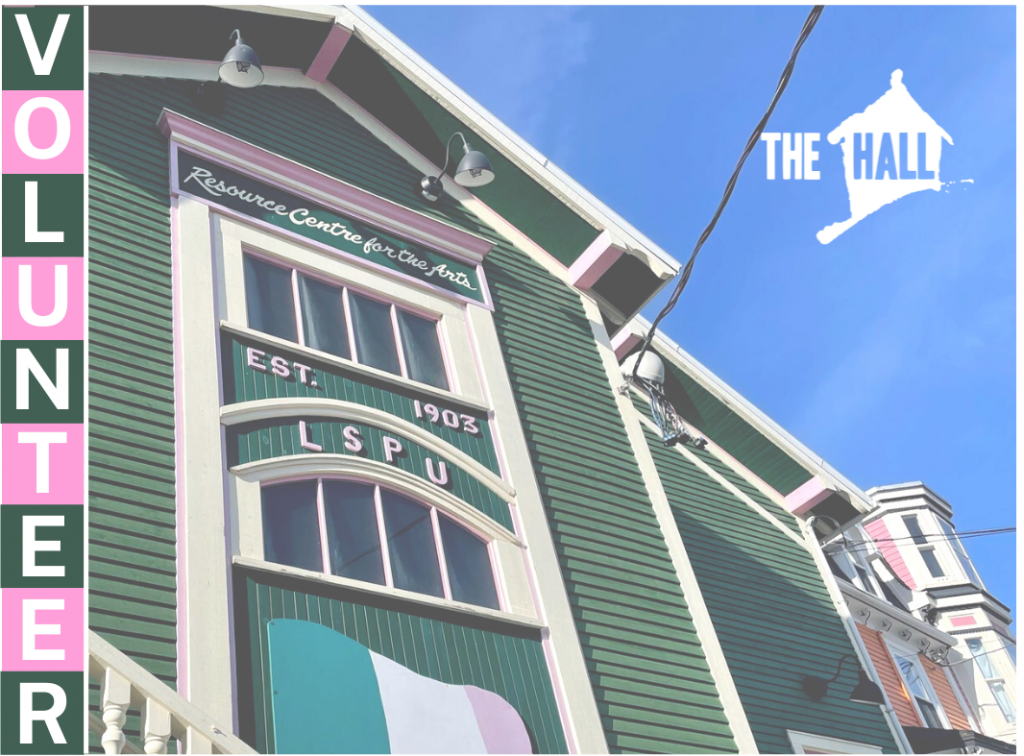 [ID: A faded photo of the Hall with the word Volunteer in pink and green blocks written vertically down the left side. The white Hall logo is in the top right corner.]
Volunteers are the backbone of the theatre community.
We would truly be lost without them and can not thank them enough for their wonderful work.
Why volunteer at the Hall?
Visit lspuhall.ca/volunteer or e-mail our volunteer coordinator Ian at volunteer@lspuhall.ca to find out how!
You get to see live theatre for free!
Looking for a free date night with your partner? Volunteer together!
Volunteer with your friends and have a safe night out together.
Looking to expand your social circle? Join a community of like minded theatre lovers.
In high school and need volunteer hours? We got you.
---

[ID: CAPE logo. Text reads Cultural Artists Plan for Emergencies]
Since its inception in 2005, The Cultural Artists Plan for Emergencies (CAPE) Fund has
become a life line for artists in our community finding themselves in unexpected crisis
situations. Fifty cents from each ticket sold will benefit the CAPE Fund.
---
RCA/LSPU Hall Endowment Fund
Did you know Resource Centre for the Arts has an Endowment Fund? Donations are currently being accepted at the Community Foundation of Newfoundland and Labrador website at www.cfnl.ca or Here!