Frequently Asked Questions
How do I buy tickets with your new ticketing system? (New for 2021)
As of January 2021, we have a new ticketing experience for our patrons at tickets.lspuhall.ca. If you have purchased a ticket from us in the past, you do not need to sign up for a new account, but you will need to click "Forgot My Password" when signing in for the first time. If it is your first time buying a ticket from us, you may select "Create New Account". All patrons will need to reset their password in order to use our new system.
I need help signing in to my account!
If you have having trouble signing into your account, we recommend that you reset your password. For more help, follow the instructions on how to change your password on this page.
Still confused? Watch this video.
I bought tickets to an online event. How do I watch it?
You can find a walkthrough on how to watch online events on this page.
Tell me about location, directions and parking.
We are located at:
3 Victoria Street
St. John's, NL
A1C 3V2
Walking directions
We're just west of the intersection at Prescott & Duckworth, on the north side. There are a set of stairs between two concrete walls with a mural of an applauding audience. The Hall is at the top of the stairs.
Parking
Parking is available downtown after 6 pm on weekdays, and on weekends.
Harbour Drive Parking Lot
Located outside the Fortis Building at Habourfront and Prescott.
100 parking spaces are available. First Come, First Serve.
Prescott Street (Bluedrop Performance Building) Parking Lot
Located north of Duckworth, behind the Bluedrop Performance Building. 60 parking spaces are available. First Come, First Serve.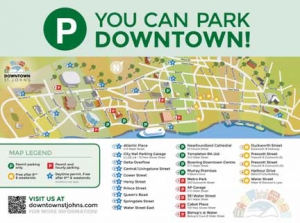 Any vehicles parked outside of these designated hours will be ticketed and/or towed. Overnight parking is strictly prohibited.
Please note that there is no parking available on Victoria Street. If you get downtown early enough, you can usually find street parking on Duckworth and after 6pm and on weekends you do not have to pay meters.
If you are just popping in to pick up tickets, you also might be able to find a parking space in front of the building in between the two LSPU Hall signs.
Is there any special theatre etiquette I need to know?
Like going to movies, we ask you to be nice to your neighbours and turn off your phones and electronic devices before the performance begins.
The use of cameras or recording devices is prohibited inside the theatre and the Cox & Palmer Second Space during performances.
How early should I arrive at the LSPU Hall?
COVID-19 UPDATE: House opens 45 min prior to showtime. You will be given an arrival time based on the row you are sitting in. Please arrive in that window to avoid congestion in the lobby.
It's best to arrive at least 30 minutes before the show starts. We also have a bar in the Cox & Palmer Second Space that is often open prior to the performance so you can have a beverage prior to the show.
After a show begins, latecomers usually aren't allowed in because it can be distracting to the actors and other patrons. Sometimes, specific productions allow latecomers, but it's best to be safe and arrive on time or a few minutes early.
What if I arrive late?
Every show has a different latecomer policy that the renter decides on. Be sure to check your ticket or show description to see if latecomers will be allowed. We can't promise that you'll be allowed in until intermission. In general, all latecomers are permitted entry through the balcony door instead of the main door of the theatre.
What time are performances?
Evening performances usually begin 8 pm, Tuesdays through Sundays, with Sunday matinees starting at 2 pm. Still, be sure to check the start time for each show to make sure.
How long is the show? And is there an intermission?
The running time of each show is different, so it's best to look up your show's description.
Do you offer accessible seating?
Just call the box office to make sure you get the seats you need. A complimentary ticket will be provided if you have an attendant's pass or will be bringing an attendant with you.
The LSPU Hall is fully accessible for patrons. We have a front door ramp and a lift in our reception area to bring you up to the theatre. All of our washrooms are accessible as well.
Why are people describing themselves to the audience?
Whenever we have a staff member speaking directly to the audience, they will first describe their appearance. This is to help anyone in the audience who may be blind or have low sight, know what is happening in front of them.
Do you offer discounted tickets?
Ticket prices are determined by each renter, so it's a good idea to check the specific description of the show you'd like to see.
How does Pay-What-You-Can (PWYC) work?
Pay-What-You-Can performances are generally on Saturdays or Sundays at 2:00 pm. Just pay us what you can afford and you'll get your ticket to your show.
To make sure you don't miss out, please remember that PWYC tickets are:
Available one hour prior to show time
Available on a first come, first serve basis
And if you really enjoyed your show, you can always top up your original payment. Just let our Box Office or Front of House staff know, and we'll accept your increased donation.
Please note that not all productions offer a PWYC option, so check the show description on our website to make sure you aren't disappointed.
Are all matinees Pay-What-You-Can?
Unfortunately, they're not. Matinee prices are set by the production company putting on the show, not the RCA (LSPU Hall). So be sure to check the description of the show on the Events page.
Do you sell drinks?
COVID-19 UDPATE: The bar will only be open prior to performances and during intermissions.
You bet we do. Just head over to the Cox & Palmer Second Space on the main floor to check out the bar – we offer beer and wine options only.
Our bar usually opens one hour before show time. We offer beer, wine, and soft drinks only.
Just remember: Bottled water and drinks are allowed upstairs in the Main Stage Theatre if it is in an LSPU Hall cup. Cups must be returned in the designated bin when you leave the theatre or you can purchase one at the LSPU Hall bar.
Can I buy tickets for a future performance while I'm purchasing tickets at the door for that night's performance?
Unfortunately, no.
There's usually a huge lineup of patrons trying to purchase and /or pick up their tickets for that night's performance, so it slows down our Box Office staff's ability to get people upstairs on time for the show.
What methods of payments do you accept?
We accept cash, debit, Visa, MasterCard, and AMEX.
You cannot reserve tickets to pay at a later date. You must provide payment in order to reserve tickets.
Can I purchase tickets at the door?
You can buy tickets at the door, but you always run the risk that the show might be sold out. Just to be safe, check our website to see if tickets are still available. If they are, try to come as early as you can to give yourself the best chance.
Having trouble buying tickets?
If you are experiencing difficulty please call or email the box office and we will be happy to help you.
(709) 753-4531 ext 200
boxoffice@lspuhall.ca
Do I have to create a profile?
If you are just browsing our site to see what events or tickets are on sale, you can choose to browse anonymously. However, you must create a profile to purchase a ticket. Creating a profile makes it even easier to purchase tickets to all of your favourite events. You can track your purchase history and store information so you can buy tickets at the press of a button.
Why is there a ticket surcharge on my tickets?
Each ticket sold includes a $4 LSPU Hall Maintenance Fee which goes towards the annual cost of our box office software as well as the general maintenance of our Heritage building.
In addition, many productions at the LSPU Hall choose to add an optional $0.50 surcharge to their tickets in support of the CAPE Fund (The Cultural Artists Plan for Emergency Fund). Since its inception in 2005, the CAPE Fund has become a life line for artists in our community finding themselves in unexpected crisis situations. You can find out more about the CAPE Fund here.
Can I volunteer at the LSPU Hall?
Absolutely! As a not-for-profit charity, Resource Centre for the Arts depends on community support to keep the LSPU Hall running smoothly. To find out how to become a volunteer usher, visit lspuhall.ca/volunteer or e-mail volunteer@ lspuhall.ca.
How can I make a donation to the LSPU Hall?
There are several ways you can make a donation. You can donate using the "Donate Now" button on the top of our website, you can send a cheque to Resource Centre for the Arts, 3 Victoria Street, St. John's, NL A1C 3V2, or you can contribute to our Endowment Fund by visiting the Community Foundation of NL website at www.cfnl.ca. All donations over $20 receive an charitable tax receipt.
How can I become a member of Resource Centre for the Arts?
Resource Centre for the Arts is a membership-based organization. For only $20 a year, you can become a voting member of RCA. You will have the opportunity to participate as a Board member or Committee member and will be given one vote at our Annual General Meeting. Become a member or renew your membership at lspuhall.ca/online-membership.