Piatto and LSPU Hall are pleased to offer you:
A Dinner & A Night of Theatre!
Exclusively for Constellations!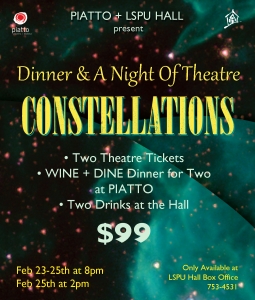 For only $99, you can give a special person in your life:
Two tickets to Constellations at the LSPU Hall
A Wine + Dine Dinner for Two at Piatto on the night of the show
Two drink tickets for the bar at the LSPU Hall
This package is only available for purchase in person at the LSPU Hall (3 Victoria St), or by calling the Box Office at 753-4531.
Constellations is a two-person show that presents a single relationship as a series of possibilities. It runs from Feb 23-25th at 8pm at the LSPU Hall with a 2pm Matinee on Saturday, Feb 25. For more about Constellations, or to buy tickets, click here.
Wine + Dine Dinner for Two at Piatto is valid at either Piatto location (377 Duckworth St or 60 Elizabeth Ave) for the night of the show only and includes:
Two glasses of house wine
One order of Italian Meatballs or Tomato Bruschetta to share
Any two 9" authentic wood-fired pizzas
Any one dessert to share
For more information about Piatto, visit their website.