Altar by Santiago Guzmán: An RCA Theatre Mainstage Production
November 4, 2021

-

November 7, 2021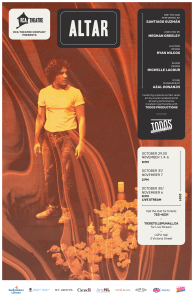 October 29th & 30th at 8pm
October 31st at 2pm
November 1st, 4th-6th at 8pm
November 7th at 2pm
$32.50 General
$26.50 Senior/Student/Artist
Live streams October 30th & November 6th
$22.75
Relaxed Performance – November 5th at 8pm. Click on the following link to read through the Altar Visual Guide
Santiago Guzmán's ALTAR focuses on themes of Cultural Diversity, Loss, Familial Relationships and 2SLGBTQQIA+ relationships. Eugenio is a queer young immigrant living in St. John's, Newfoundland & Labrador. Less than a year has passed since his move from Mexico, but in that time, he experienced deep love and deeper heartbreak when his new boyfriend, Benjamin, inexplicably "ghosted" him. No, Benjamin isn't dead; he just stopped calling and texting. And the thing is…Eugenio's still not over it. Looking to the traditional Mexican holiday Día de Muertos (The Day of The Dead) and his father's previous experience with paranormal activities, Eugenio decides to build an altar (a central part of the Día de Muertos ritual) in the hopes that he will be able to summon his boyfriend's 'ghost' to sort out the end of their relationship once and for all. Through the altar, Eugenio realizes that he has been something of a ghost himself to the loved ones he left behind in Mexico. Will setting up an altar be enough for Eugenio to forgive, forget, and love again? Or enough to help him heal the relationships with his friends and family far away?
All Performances of ALTAR at The LSPU Hall will start with an exciting curtain raiser, giving you a taste of the outstanding talent of local Indigenous, Black, and artists of colour curated by RCAT and TODOS Productions.
See the Curtain Raiser schedule below:
October 29th, 8pm – Arshad Ali Shaikh – Poet
October 30th, 8pm (LIVESTREAM) – Deantha Edmunds and Annabelle Ramsay – Classic Inuit Singers
October 31st, 2pm – Tendai Mudunge and Charliza Slusher – Dancers
November 1st, 8pm – Borrego Escritor – Writer
November 4th, 8pm – Valmy – Singer/Songwriter
November 5th, 8pm – William Ping – Novelist/Journalist
November 6th, 8pm – Rebecca Sharr – Fancy Shawl dancer
November 7th, 2pm – Ife Alaba – Singer/Songwriter
Community Altar
It is important to the team of ALTAR to honour the Mexican holiday Día de Muertos (Nov 1-2) and the tradition of remembering and celebrating loved ones who have departed. To help replenish their spiritual journey, family members and friends set up altars with food and drinks the deceased enjoyed in life, and tokens that belonged to them, alongside their photographs. In Mexican culture, it is viewed not as a day of sadness but one of celebration as their loved ones awaken and celebrate with them. The Cox & Palmer Second Space will host a community altar for the duration of the run of the show. We invite our audiences to participate and celebrate with us by bringing in a picture of their departed loved ones to place on our pin-board. We ask that you bring a picture you don't necessarily want back, a photocopy of a picture, etc. As a community engagement initiative patrons can also bring donations for the altar when they come to their performances or anytime during box office hours. All donations will be distributed among The Gathering Place, The Women's Center, The CNIB, and Bridges to Hope. Please see below for a list of donations needed.
Tickets for sale at the box office, call 753-4531 or email boxoffice@lspuhall.ca to book a seat.