Festival of New Dance 2015 (Wednesday's Schedule)
October 7, 2015 @ 8:00 pm

-

10:00 pm

Performances May Be Permanent
Performances May Be Permanent is a theatre-dance tour across wide-ranging territory: Glenn Gould, a dying mother, the nature of memory, the inner workings of a brain hooked on music, and the redemptive power of connection.
KATE STORY is a performer and writer, born and raised in Newfoundland and now living in Ontario. She is this year's recipient of the Ontario Arts Foundation's K.M. Hunter Award in Theatre.
BILL BRENNAN'S expertise as a pianist, percussionist, composer and producer can be heard on some 100 albums to date. His album Solo Piano 2 won the MusicNL Instrumental album of the year in 2008, and he was named the Newfoundland and Labrador Arts Council Artist of the Year for 2006. He directs the Memorial University Jazz Ensemble and Gamelan Sagara Asih  (the Memorial University Gamelan Ensemble).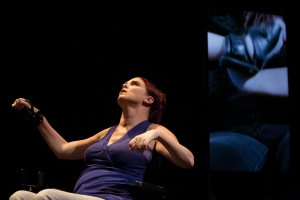 Jamais Seule (Never Alone)
Jamais Seule (Never Alone) is an intimate work inspired by the particular movement possibilities of quadriplegic dancer France Geoffroy. Created in collaboration with France Geoffroy, Sophie Michaud and video maker L E M M, this autobiographical piece focuses on the artist's desire to express herself in a constant back and forth between past and present. As her dance limitations and possibilities are exposed, at the crossroads of sensitive and striking gestures and poetic and revealing images, Jamais Seule is a modest and irreverent look at another reality.
Artistic Director and Co-creator FRANCE GEOFFROY completed a college degree in arts, in 1997, while studying the Bartenieff technique and improvisation with Valerie Dean. She also took workshops at CandoCo in London. In 2000, she founded Corpuscule Danse. France has danced for Harold
A Few Notes:  
There will be a half-hour talk-balk after the show.
There will be a NO LATECOMER policy as well as a NO RE-ADMITTANCE policy. Once you leave the venue you will be unable to re-enter.
For this particular show, there will be reserved space for up to 10 full-sized wheel-chairs.
Unfortunately there will be no storage of mobility devices available during the performance.
Ticket Info:
$25 general + tax + surcharge ($31.25)
$15 students, seniors, and those with accessibility issues + tax + surcharge ($19.95)
$10 (tax + surcharge included) for Human Playground's Auto Fiction
Note: To purchase accessibility tickets please call the Hall at 753-4531. Those who require special attendants should also note that as per the LSPU Hall's general policy, attendants can accompany for free.
$75 + tax + surcharge ($87.75)
Tickets and passes must be purchased through the LSPU Hall Box Office.
The Closing Party with TrixXxie will require a separate ticket. The location has yet to be determined.
The Off Site performance with Human Playground requires a separate ticket.
Note: Passes are not tickets and must be exchanged for tickets at the relevant venue. We strongly recommend you get your tickets early to ensure optimum seating choices.
Please note that all tickets purchased online, by phone and in person are subject to a $3 fee part of which goes to the LSPU Hall Building Maintenance Fund. There are no extra credit card service charges on any ticket purchase.