Home in Three Plays
May 19, 2022

-

May 22, 2022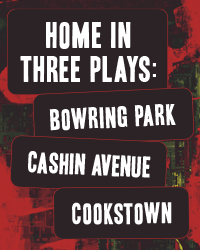 May 19th-21st 8pm
May 22nd 2pm PWYC Matinee* and Relaxed Performance
May 21st livestream
General Admission: $25
Senior/Student: $20
Under-served Community Discount: $20
Content Warning: Discussions of suicide and violence, including intimate partner violence. This performance also includes strobe lighting and the use of a herbal cigarette.
Home in Three Plays: Cashin Avenue, Cookstown, and Bowring Park. Written by Darren Ivany
Cashin Avenue is the story of a last chance conversation between two underclass lovers, both of whom are desperate for something they've never had: Home. When what 'home' means to each of them threatens to deepen a divide that's been growing for years, one of the lovers goes too far in his hunt for a happily ever after. Sardonic, but not without sentiment, Cashin Avenue confronts the audience with a relationship nearing the end of its rope.
Cookstown: Wearing his best balaclava and prowling outside the Peter E is Jimmy. He's not a bad fella, but he is hard up for a smoke — along with anything else you got handy. Cookstown is the classic tale of someone wanting what somebody else got. It's a robbery gone right on the streets of St. John's City.
Bowring Park: With one day left, it's now or never for Johnny Eddie and Mikey Mickey. Danger lurks in the duck pond and a murderous swan stands to illustrate the absurd lens through which our ill fated pair perceive the world, its laws, and what we all need to survive.
*To buy tickets for the Pay What You Can, you have to call the box office (753-4531) or come in person. You can purchase regular price tickets for this performance online.
The LSPU Hall will be collecting donations for The Bridges to Hope pantry. A list of needed items is below. Feel free to drop off donations anytime during the week of May 16th from Monday to Friday 12-5 or bring them with you to your performance of Home in Three Plays.