Oceanic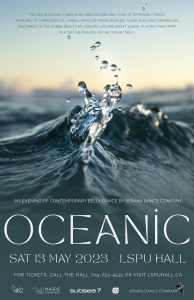 May 13th
8pm
$34.50 General
$29.50 Senior/Student
The sea gives and takes in an endless ebb and flow of opposing forces. Standing at a precipice of liminal space between worlds, those who find themselves anchored to the harsh beauty of coastal life are swept along, playing their part in a tale as endless as the ocean itself.
Choreographed by Seraka Dance Company and set to Niklas Paschburg's album of the same name, Oceanic uses contemporary belly dance to explore our connection to the turbulent waters that carve the intricate coastlines of Newfoundland and Labrador.
Starring Ashley Hobbs, Erin Enguehard, Karen McBride, Mallory Power, Susan Crocker, and Vanessa Matthews with Amelia Conway, Ashley Dawe, Jenna Slaney, Kara Pender, Kim Hobbs, Mary Farrell, Melissa Bassett, Morgan Moakler Jessiman, Peggy Rauman, and Susan Kelsey.