RCA Theatre Company Presents Men Of Misfortune by Charles Picco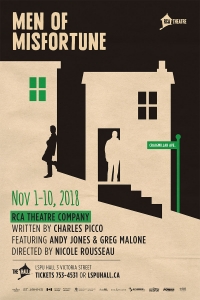 November 1-3, 6-10, 2018, 8pm. November 4, 2018, 2pm
(Friday, November 2's performance will feature a talkback after the show with Andy Jones, Greg Malone, and Charles Picco in our Cox & Palmer Second Space)
Part of RCA Theatre's 2018-19 Hall Pass
RCA Theatre Company Mainstage Production
Written by Charles Picco
Featuring Andy Jones & Greg Malone
Directed by Nicole Rousseau
***Content warning: Contains strong language and mature themes. For more info, contact communications@lspuhall.ca***
An original thriller with dark comic elements, Men of Misfortune chronicles the uncomfortable and unexpected reunion of two elderly brothers inside their childhood home on Craigmillar Avenue in St. John's. A home (like the brothers themselves) that seems permanently stuck in time. As certain truths and transgressions emerge from the shadows, and territorial lines are drawn, Henry and Lester MacPherson soon realize that one of them may not be getting out of the house alive.
And that's just goddamn fine with them.
Show Length: 90 minutes with intermission.
Watch an interview with Andy Jones and Greg Malone on NTV News!