St. John's Shorts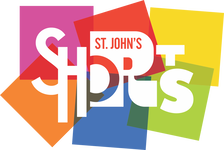 Wednesday, September 6th
6pm & 8pm
PWYC at door
Play readings:
6pm
Trouble on Sunflower Place
Please join us in celebrating 10 years of Sunflower Place making kids smile! This special broadcast of the popular children's television series will be broadcast live in front of a studio audience! Join our host Mark and his pal Lil' Richie for a fun filled night of singing, dancing and learning! Trust us. It's going to be a … Blast!
By James Squires
Cast:
Gavin J. Snow: Mark
Ryan Andrews: The Assailant
Richmond: Himself
Content: Strong Language, Loud Noises, Violence, Reference to drug use and incarceration, Simulated Dangerous Situations
involving an explosive
Shit, Piss and Cystic Fibrosis
When Salty, a young man with Cystic Fibrosis, begins his last session at a drug testing facility, he bites off more than he can chew when the experiments take a twisted turn.
By Jeremy Nolan
Cast:
Jeremy Nolan
Lonni Patey
Andrew Tremblett
Staged Directions by Luke Rowe Direction by Julia Quinton
Special thanks to Amelia Manual and Bailey Jackson
Content: Profanity, Mental Illness and Addictions, Drug Use, Medical Trauma, Psychological Abuse, Death and Dying
8pm
Citations Needed
Citations Needed follows a student as he's trying to complete and submit an assignment under a tight time crunch, and the ridiculous and hilarious
interruptions leading up to that 11:59pm deadline.
By MUN Drama Society
Cast and Crew: Holly Stack; Jon Bastow; Aedon Young; Daniel Lanigan O'Hara Lina Makaga; Allan Anesu; Devang Donda; Sam Rowsell; Tanner Hudson; Adi Sikka
Content: Coarse Language, References to Drug Use, Violence
Inconvenient Attraction
Four roommates navigate the ups and downs of their unique perspectives on relationships while hosting the best housewarming party their town has ever seen. The friends explore what it means to 'come of age' in your early 20s through the boundaries, feelings, risks, and choices that emerge throughout the night. Will the group get hung-up on the potential consequences of their actions or will they find the time and courage to play a life-changing party game before the clock hits tomorrow?
By Just A Concept Productions
Written By: Cassandra Munroe & Faith Young
Cast:
Taylor Rae Groves
Teigan Follet
Lauren Gillingham
James Squires
Content: Strong Language, Themes of Sexual Content, Substance Use, Discussion Of Substance Abuse.
I Kill Myself
Blending stand-up, sketch, and circus, "I Kill Myself" is a journey to the darkest parts of the human heart with a tour guide that thinks puns are hilarious.
By Veronica Dymond
Also Reading; Mikaela Dyke
Content: Discussion of suicide, depression, mental health, substance abuse, homophobia, transphobia, religious trauma.