St. John's Shorts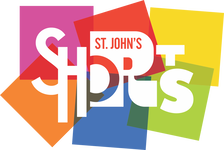 Sunday, September 10th
2pm & 8pm
General $20
Senior/Student/Artist $15
The Güd, The Bad, and The Ugly
Somewhere in the wild, wild west, crime has run rampant. After the killing of the beloved Sheriff, the remaining townsfolk are gathered in Town Hall to solve his murder. But as the nights drag on, innocent lives are taken. Will the town catch the murderer and save the day? Or will the outlaws evade capture? In this improvised, interactive show, you are the judge, the jury, and the executioner. …or perhaps even the murderer!
By Güd Productions
Directed By Bailey Jackson
Featuring:
Lonni Patey
Luke Rowe
Content: This show includes audience volunteers, content is unpredictable.
Blank Page: an African Love Story
In this romance drama, Malik, the obedient and charismatic son of a wealthy and prominent family in Abuja, Nigeria is about to be named CEO of DJ Motors, the family business. In order to become CEO, he has to be married, and so his parents arrange a betrothal to Princess Temi of Lagos. Sola is a career-driven journalist who was sent by the magazine firm she works at, to cover the wedding and she also happens to be Malik's high school sweetheart.
By CENTRA
Written & Directed By Helena Elueme & Nicole Obiodiaka
Cast and Crew: Helena Elueme; Nicole Obiodiaka; Margaret Asuquo; Joe Chinaka Hadiza Babatunde; Thiviya Kana; Lisah Nsanzugwanko; Arturo Cuevas; Jennifer Okoro; Oche Ogbole David Ineh; Gabriella Nabakijje; Malobi Elueme
Content: Strong language (Swearing).
NO LATECOMERS