The Good Doctor
March 2, 2017

-

March 5, 2017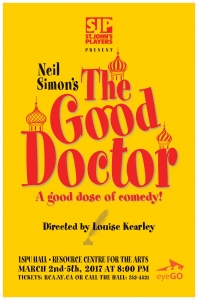 8pm.
St. John's Players present The Good Doctor by Neil Simon.
In this Broadway hit, Anton Chekhov is the main character, a writer of stories. As he tells his stories, he walks into them and they come to life on stage.
In one sketch a poor monk comes to have a tooth pulled only to find that the doctor is on vacation and left a novice in charge. Hilarity ensues.
In another, a father takes his son to a house where he will be initiated into the mysteries of sex, only to relent at the last moment. Another sketch sees a woman driving a hapless bank manager to a nervous breakdown. And there is also the classic tale of a man who offers to drown himself for three rubles.
The stories are rib-tickling funny, the portraits droll and affectionate, and the humour will leave you chuckling well after the performance is over. A good dose of comedy.
eyeGO tickets for high school students are available by phone or at the Hall Box Office.