Supper Club
AN RCA THEATRE COMPANY PRODUCTION
by Willow Kean
Directed by Nicole Rousseau
Featuring
Vanessa Cardoso-Whelan
Renee Hackett
Willow Kean
Allison Moira Kelly
Alison Woolridge*
Set, Lighting and Props Design
Kaitlin Hickey
Sound Design and Technical Direction
Brian Kenny
Costume Design
Alison Helmer
Props
Tyler Burry
Production Management and Props Sourcing
Laura Williams
Stage Management
Crystal Laffoley
Assistant Stage Management
Stefanie Power
Set Build
Heather Rumancik
Scenic Painting
Sara Dorey
Script Consulting
Tamara Segura
Vanessa Cardoso-Whelan
Production Dramaturgy
Robert Chafe
Food
Jennifer Wellsman for Thyme Catering and Cooking School
Graphics
Perfect Day
---
Land Acknowledgement
RCA respectfully acknowledges that the land on which we currently stand, create and perform, and gather is the ancestral homelands of the Beothuk, whose culture has now been erased forever. The island we call Newfoundland is the unceded, traditional territory of the Beothuk and the Mi'kmaq. Labrador is the traditional and ancestral homelands of the Innu of Nitassinan, the Inuit of Nunatsiavut, and the Inuit of NunatuKavut. We ask that before you watch the performance tonight, you take a moment to reflect on whose land you are standing on, whose land you were born on, and whose land you currently live on. We ask that you reflect on how that land was taken care of, and how it is taken care of now, and finally who currently walks freely on it. If this reflection makes you uncomfortable we ask that you sit in that feeling and question it. Let it help you work towards reconciliation, something we can only achieve together. Thank you.
---
Development History
Supper Club was funded by Arts NL in 2018.
A workshop of the play was supported by RCA Theatre Company and partially funded by City of St. John's in 2019 with Dramaturge Bernardine Stapleton.
The PARC Colony took place May 3-17, 2020 with dramaturge Pamela Halstead.
RCA Theatre Company supported a Development Workshop with Dramaturge Robert Chafe and Associate Dramaturge Tamara Segura in November 2020 as part of their 2020-21 season.
*The participation of these Artists are arranged by permission of Canadian Actors' Equity Association under the provisions of the Dance•Opera•Theatre Policy.
---
There will be a 10 minute seated intermission.
---
Synopsis
Supper Club is a comedy that explores the complicated relationships between women through food. A Doctor in the midst of an existential crisis, a fish out of water Cuban artist, a wine-guzzling anthropologist, a sort-of vegan, and an exhausted suburban hockey mom gather together to host dinner parties in their respective homes. Over the course of five meals on five different evenings, the relationships become fraught when secret resentments and alliances are gradually revealed, leaving the women to question how they all ended up eating at the same table in the first place.
---
Notes from the Director
Willow and I have been friends for a couple of decades now, and so many of our best and most hilarious memories involve food. We met at Theatre School and were summer rep roomies, later on travelling together and exploring cuisine from all over the world as our skills and palates grew. It's always those first culinary discoveries that come to mind about those days: like finding out you could buy avocados at the Corner Brook Dominion and making Guacamole for the first time. Devising a Kraft Pizza with smoked oysters and feta, so rich you could only eat a tiny piece at a time. Sneaking a bottle of wine to share with an outdoor summer picnic of Indian Food near the beach. Frying Ravioli after coming home from a night at the bar (that was me). We both have families of our own now, but still eat together pretty regularly at our favorite restaurants, and at elaborate food centred family events like Christmas Eve Brunch at my place and Lamb's Eve at hers, that comes a few days later, a holiday we made up so that Willow could try a new lamb recipe every year.
Willow is an excellent cook, and she is also an excellent writer. I was so excited when I heard the first draft of Supper Club at the PARC (Playwright's Atlantic Resource Centre) Cabaret in 2018 – I loved the idea of the geography of a friendship being mapped in this way, through a group of women with so many different histories in a recognizable social setting. I also can't tell you how thrilled I was to hear a play that featured women characters of all ages in rich discussion that placed dramatic value on the kind of life that is too often reduced in theatre as prim or unfulfilled or unhappily aging. And having lived through a Pandemic like the rest of you, I enjoy the reminder that we used to do things like this and it makes me hopeful that these days of gathering to share the good (and sometimes the bad) with food and friends are coming back for all of us very soon.
I am deeply grateful to the cast and creative team that have worked together for so long to bring this Production to life and honoured to be a part of it. It's great to be back at The Hall making theatre and I'm happy to see you too – Supper Club is a celebration of friendship and its resilience in the most challenging of circumstances, and I am so glad that we all have a seat at this table. Pun intended. Enjoy the show!
-Nicole
---
Notes from the Playwright
2016 was a big year. I had a baby, turned 40, and then the US election happened. Faced with a loss of identity, loss of youth, and loss of what felt like all human decency and intelligence, I did what any actor my age would do. I decided to write a play. For escapism, for some well needed laughs, and selfishly, for practicality. Look, we all know what happens to women of a certain age in this racket. Oftentimes, especially in film, you're dropped for someone younger and smoother whose long gorgeous hair hasn't yet begun to fall out because of the weird timing of having a baby around the same time as perimenopause (THAT WASN'T IN THE MANUAL). I wasn't seeing enough of the women I wanted to play on the stage or the screen, so I went ahead and wrote them. I'm in a supper club with a bunch of fabulous women and I thought it would be a great premise for a play, and everything clicked into place. Something about our two greatest comforts in hard times, food and friendship, but it had to be funny, and it had to let us all breathe a little bit.
In November of 2018, when Supper Club was in its infancy, I wrangled some actor pals to do a reading at the Playwrights Atlantic Resource Centre (PARC) Cabaret for new works. After the read, I was approached by Nicole Rousseau who said she was interested in taking a look at the script for possible development. I honestly couldn't think of a better person to get their hands on this play. Nicole has been a dear friend for over twenty-six years. We met in theatre school, were roommates together during summer stock and on our very first cross-Canada theatre tour. We spent some pretty important formative adult years learning how to cook together, when I thought she was a bit of a weirdo for putting raisins in a curry. We've eaten together literally all over the world. She was with me when I had my first taste of Indian food in England. My first sushi roll in Vancouver. We've even shared Korean barbecue together when we were both teaching English in South Korea. If anybody was going to direct a play of mine about food and friendship, it obviously had to be her. RCA Theatre Company hosted the very first workshop of Supper Club in April 2019, with plans for a production in the fall of 2021.
Little did any of us know what was coming for us less than a year down the road.
Isn't it adorable, how I thought 2016 was a big year? It turned out what I was writing was a period piece set in the Before Times. When sharing food, drinks and laughs, was the norm. For a year and a half (and longer for some, still) it was just a faraway dream. The whole idea of theatre itself seemed like a faraway dream, too. For once, the show couldn't go on. But I kept at it, because what else was there to do? I got my first Zoom crash course and participated in the PARC Playwrights Colony for two weeks in the spring of 2020, right in the thick of it. Back when we were disinfecting our groceries, and living in the hope that things would be normal-ish in a few weeks (HAHAHAHA).
In one of the pockets of normalcy in Newfoundland we managed a real live workshop of Supper Club in November 2020. I was in the room, (in this very room, actually) with this director and this cast when the news broke that Poppy Joe had won the 2020 US election. We cheered and cried and felt hopeful, like maybe things were coming around, like this could be a play we could do for people in real life.
And here we are! The jury's still out on whether things are coming around or not. Russian cybercriminals might own all of our medical records, the world might be melting, but look at you! You're sitting in a theatre! Maybe you're sitting next to a stranger this evening, or at the very least a few seats away from one. Close enough for a conversation at least. Which, at the end of the day, is all that matters. Conversations with strangers and friends, shared with some good food and drink, might be what saves us all in the end.
I hope you enjoy the show! xo
– Willow
---
Cast and Creative Team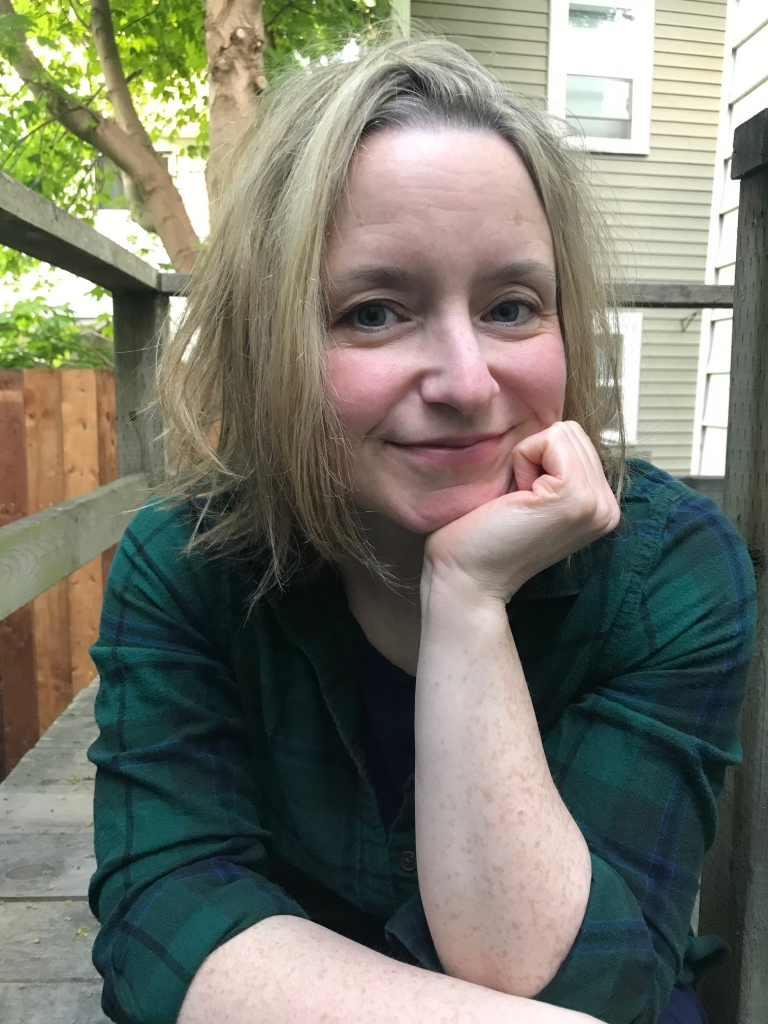 WILLOW KEAN
Creator and Meadow
Willow Kean is an actor and writer from Labrador West who now resides in St. John's. She holds a BFA in theatre from Sir Wilfred Grenfell College and has spent twenty years working for several theatre companies across the province. Most recently, she was seen at The Hall playing Anne in The Father, long before Olivia Colman made it cool. Willow started writing collaboratively for the theatre over ten years ago, co-writing RCAT's iFrancophone and c2c Theatre's Robert Munsch adaptation Love You Forever and More Stories by Robert Munsch, both of which toured provincially. In 2014 she was shortlisted for The Cuffer Prize, and in 2018 was the winner of the Percy Janes First Novel Award. Most recently her non-fiction essay Checking it Twice won a 2020 NL Arts and Letters award. Willow gets angry, cooks, and writes about it at thelittleredchicken.com.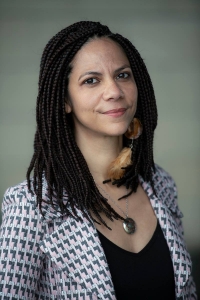 VANESSA CARDOSO-WHELAN
Veronica
Vanessa Cardoso -Whelan is a playwright, multidisciplinary artist, street performer and clown hailing from Brazil, with a passion for contemporary theatre and body movement awareness, especially related to Flamenco dancing. Graduating in Theatre Arts in 2004, she has performed with several artistic groups onstage and in street productions, as an actress, Flamenco dancer, puppeteer and fire flow dancer. Vanessa has been actively engaged in the local arts scene since moving to NL in 2014, participating in diverse artistic workshops and festivals. Currently wearing different hats she's involved in theatre productions, Tv shows, dance adventures and clown studies. Vanessa also loves to perform as a Living Statue in the streets when the weather is nice.
Renée Hackett is an actor, writer and producer. She has spent 25 years in various roles on the stage and screen. She is the recipient of the 2019 Arts NL Rhonda Payne Award, an alumna of the WIDC-CAM at the St. John's International Women's Film Festival, a participant in the WIFT-Atlantic mentorship program for the past two years and The LA Emerging Producers Mission. Renée recently participated in this year's PEI Screenwriter's Bootcamp (Get Your Story Straight) with her feature "Valediction" and is currently developing her series, "What Odds", a half-hour comedy-drama series for television. Supper Club, written by one of her favourite people, is a definite career highlight.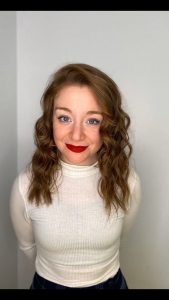 ALLISON MOIRA KELLY
Heather
Allison Moira Kelly is an actor from Gander, Newfoundland and Labrador. Allison has an M.F.A in Theatre from York University, and a B.F.A from Memorial University. Previously for the RCAT: Sealslippers, Dedication, Drowning Girls; Perchance Theatre (Hamlet, Our Eliza, The Seagull, Midsummer Night's Dream, Servant of Two Masters); Mindless Theatrics (Tibb's Eve); Whiterooster (The Cut of It); (Halfhandsome (Almost Baymous 3); Rising Tide (Saltwater Moon). Allison is 1 fourth of the sketch comedy troupe Mom's Girls. Allison has extensive experience with film and television, having appeared on Hudson & Rex, The Surrealtor, Republic of Doyle, and Little Dog. Allison has been teaching acting at Grenfell Campus since 2016. Check out Mom's Girls television show for kids: Tales from the Floordrobe!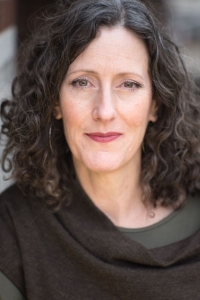 ALISON WOOLRIDGE
Sheila
For over forty years Alison has performed in theatres from Vancouver Island to her native Newfoundland and in the US and Ireland. A Shaw Festival company member for six seasons (1993-98), in the Toronto company of Mamma Mia for three years (2001-2004), Alison has also originated several new Canadian musicals. Her selected stage credits include Richard III, Henry V, Merry Wives, When We Were Singing, Jacques Brel, Educating Rita, Trafford Tanzi, The Winslow Boy, 1949, Artistic Fraud's Oil and Water, The Colony of Unrequited Dreams (national tours) and has directed Girl Meets Tuba and Garden by Mattel. Alison was a member of the National Arts Centre 2015/16 English Acting Ensemble, appearing in Adventures of A Black Girl in Search of God (Centaur), Anne and Gilbert, Twelfth Night. She was also in the NAC's 2017 provincial tour of Tartuffe. Selected screen credits include Street Legal, Republic of Doyle, PSI Factor, Danny, Crawlspace, Away From Everywhere, Newfoundland at Armageddon, Sex in Cars, Malignant, C Sharp, Audience of Chairs, Little Dog, Body and Bones, Hudson and Rex, Under the Weather, Ennis Sisters video "California Wine"for the Alzheimers Society, Little Orphans, the CBC Gem pilot The Existence of Magic, Tarragon Theatre's radio play Leaving Home, Terra Bruce's web series These Are My Mountains and a recurring role in SurrealEstate. Most Recent: Persistence Theatre's The Mirror . Upcoming: Alan Doyle's new musical Tell Tale Harbour at the Charlottetown Festival.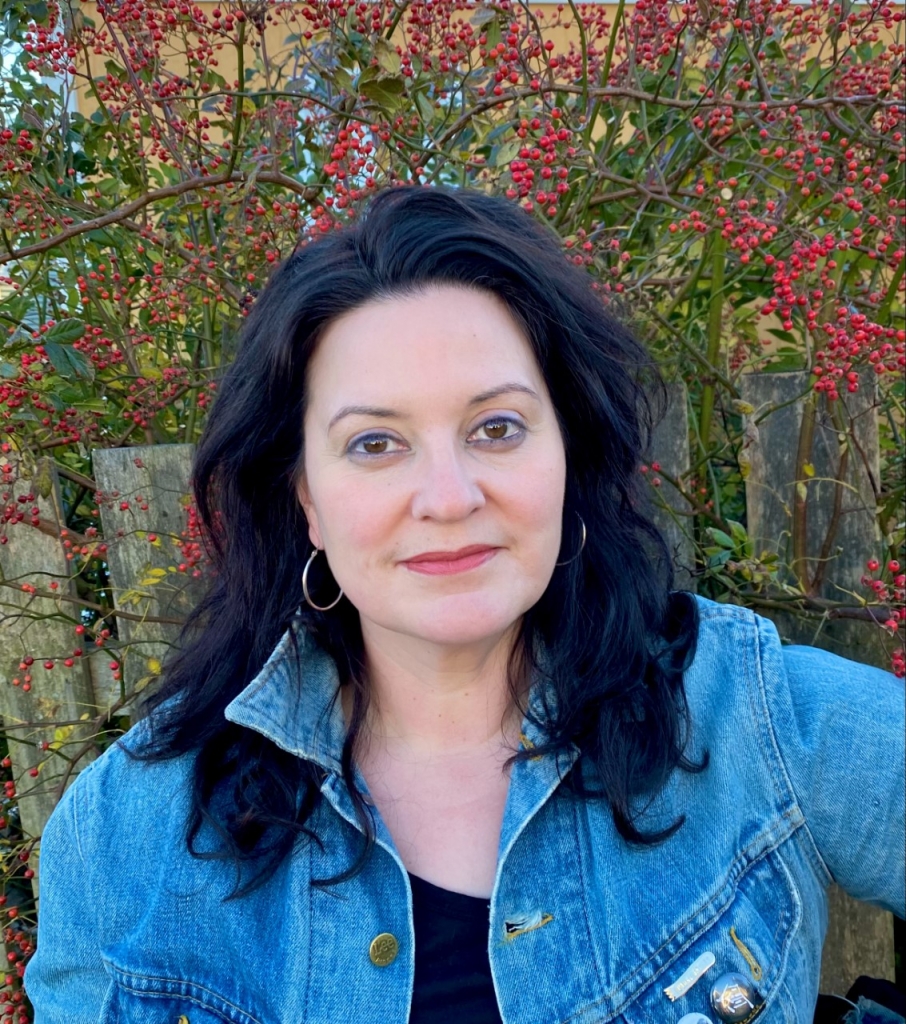 NICOLE ROUSSEAU
Director
Nicole Rousseau is a Theatre Director and Creator from St. John's NL. She holds a BFA from Memorial University of NL (Grenfell Campus) and is currently pursuing an MA in Dramaturgical Theory from the University of Ottawa. Previously for RCAT: Seal Slippers, Men of Misfortune, Tangly, The Ogre's Purse; Krapp's Last Tape(Indie); Centurions (workshop) and Art (c2c); MacBeth, Julius Caesar, A Midsummer Night's Dream and Troilus and Cressida (SBTS); Eli and The Death Curse (Bare Boards) and artistic collaborations with The Ora Ensemble (m'habiller encore, Rites). Nicole is the current Artistic Animateur for RCA Theatre Company and a past recipient of the Rhonda Payne Award from Arts NL.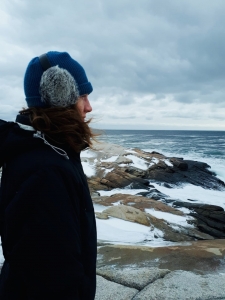 KAITLIN HICKEY
Set and Lighting Design
Kaitlin Hickey works with people to tell stories. In pre-pandemic times she had the pleasure to work on the following productions: Lighting Design: Controlled Damage (Neptune Theatre), Co-Production Design: Book of Life (Volcano Theatre & The Women Cultural Centre Rwanda); Set Design: Kiinalik: These Sharp Tools (Buddies in Bad Times, Edinburgh International Festival); Production Design: Empire Trilogy: Four Sisters (Paradigm Productions); Set Design: Noor, (Generous Friend, Aga Khan Museum); Production Design: Tibb's Eve and Chapel Arm (Mindless Theatrics).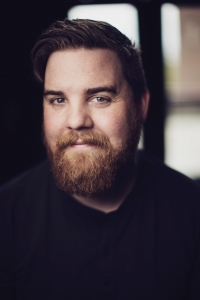 BRIAN KENNY
Sound Designer
Brian is a designer for theatre and performance from Mt. Pearl and is a graduate from The National Theatre School of Canada, and Sheridan College. Recent selected credits include: Everybody Just C@lm The F#ck Down, Between Breaths [Artistic Fraud of Newfoundland], Dear Rita [The Charlottetown Festival], The Dialysis Project [RCA Theatre Company], Come From Away in concert [Mirvish Productions], The Rocky Horror Show, Billy Elliott, [The Stratford Festival], Tibb's Eve, Chapel Arm [Mindless Theatrics], Marry Poppins [The Grand Theatre, London], Once, Mamma Mia [Theatre St. John's], Brian is a member of the board of directors for RCA as well as the I.A.T.S.E Local 659, The Associated Designers of Canada.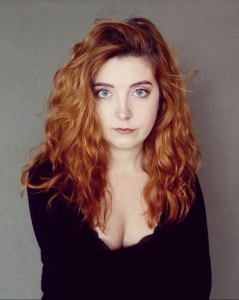 ALISON HELMER
Costume Design
Alison Helmer is a multidisciplinary artist who has been deeply and continuously influenced by her studies and experience working on the east coast. Though born and raised on the prairies, she began her theatre education with the Stagecraft program at Grenfell college before completing the Scenography program at the National Theatre School of Canada. She approaches the world of both set and costume design through a lens of fantasy, history, and the tradition of storytelling. She is excited by Theatre that pushes the boundaries between conventional and experimental, and that seeks to fulfill our human search for truth, escape, and shared connection.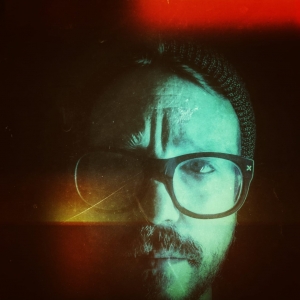 TYLER BURRY
Props
Tyler Burry is a videographer and filmmaker living in St. John's. He's worked as a 3rd Assistant Director on Mark O'Brien's THE RIGHTEOUS and a Production Assistant on City Tv's HUDSON & REX. He's worked as Props on Opera on the Avalon's PHANTOM OF THE OPERA and Theatre ST. John's ONCE. Tyler continues to jump back and forth between video and stage and is very excited to be part of this production.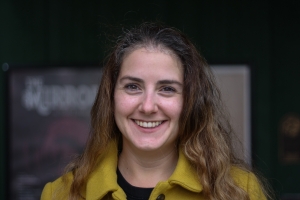 LAURA WILLIAMS
Production Management and Props Sourcing
Laura Williams is originally from Essex, England, but has spent the last fifteen years in Newfoundland. Laura completed her Bachelor of Fine Arts (Hons) in Theatre at Sir Wilfred Grenfell College and moved to St John's in 2010. Laura has worked at Resource Centre for the Arts since 2010 taking on a variety of different jobs from box office staff to communications to becoming the Artistic Associate at RCA Theatre Company in 2016. Laura is one of the Co-Founders of Engine Productions a small DIY Theatre Company based in St John's and has acted on stage and in film since she was a child. Laura loves the arts scene in St John's and is over the moon to be part of the community. Laura is absolutely thrilled to be the Artistic Associate at RCA Theatre Company.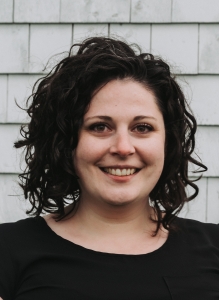 CRYSTAL LAFFOLEY
Stage Manager
Crystal Laffoley is a graduate the National Theatre School of Canada, where she regularly returns as a Production Coach. Her career has taken her across Canada, working on stages indoors and out, on touring productions, classical texts, new works, puppet shows, musicals, dance pieces, sketch comedy, contemporary plays, festivals, and multimedia projects. She is currently the Associate Producer at Artistic Fraud of Newfoundland. Select credits include: Everybody Just C@lm the F#ck Down, Between Breaths, The Colony of Unrequited Dreams (Artistic Fraud); Red Phone, Seal Slippers, Tangly, Men of Misfortune (RCA Theatre Company); Tibb's Eve, Chapel Arm (Mindless Theatrics); Almost Baymous (Halfhandsome).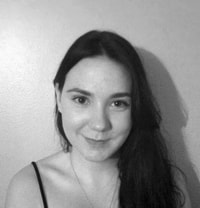 STEFANIE POWER
Assistant Stage Manager
Stef is from Corner Brook, NL, and is a graduate of the Technical Theatre Program at Grenfell. She's a Tech Assistant and House Manager at the Corner Brook Arts and Culture Centre. Recent credits include Stage Managing The Anger of Ernest and Ernestine at the Rotary Arts Centre, and The Sinking of the S. S. Ethie with Gros Morne Theatre Festival.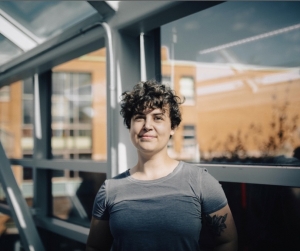 HEATHER RUMANCIK
Set Builder
Heather is from Manitoba but has moved to St. John's twice. Her first stint at the LSPU hall saw her working as box office, bar staff, and lighting intern (2014). After that, she went on to work as a Key Grip and Gaffer on film and television sets across Ontario, PEI, and NL, including as Key Grip on the show Odd Squad which won the Daytime Emmy for Outstanding Lighting Design (2021).
Heather holds a Cabinetmaking Certificate from Humber College (2018), and a Diploma in Performance & Communications Media from MUN (2014). When she's not lighting or building, you can find her quilting, gardening, or spinning with the circus.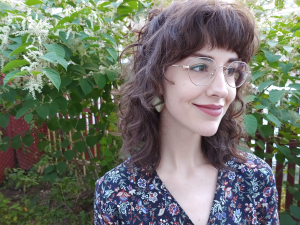 SARA DOREY
Scenic Painter
Sara is an independent scenic artist who has been freelancing in St. John's and surrounding areas for the last several years. She studied Visual Arts at Sir Wilfred Grenfell College and has dabbled in various areas of theatre, television and film production, most frequently scenic painting. Sara adores her work, her favourite aspects being that each day differs wildly from the next and she is always learning something new.
Selected credits: Astrid & Lily Save The World (Blue Ice Pictures); No Change In The Weather, These Are My Mountains (Terra Bruce Productions); The Mirror (PerSIStence Theatre); Son Of A Critch (Take The Shot Productions); The Adventures Of Gary & Lou (Blue Pinion Films); La Cage aux Folles (TaDa! Events); The Phantom of the Opera (Opera on the Avalon); Guys & Dolls, 9 to 5 (Atlantic Light Theatre).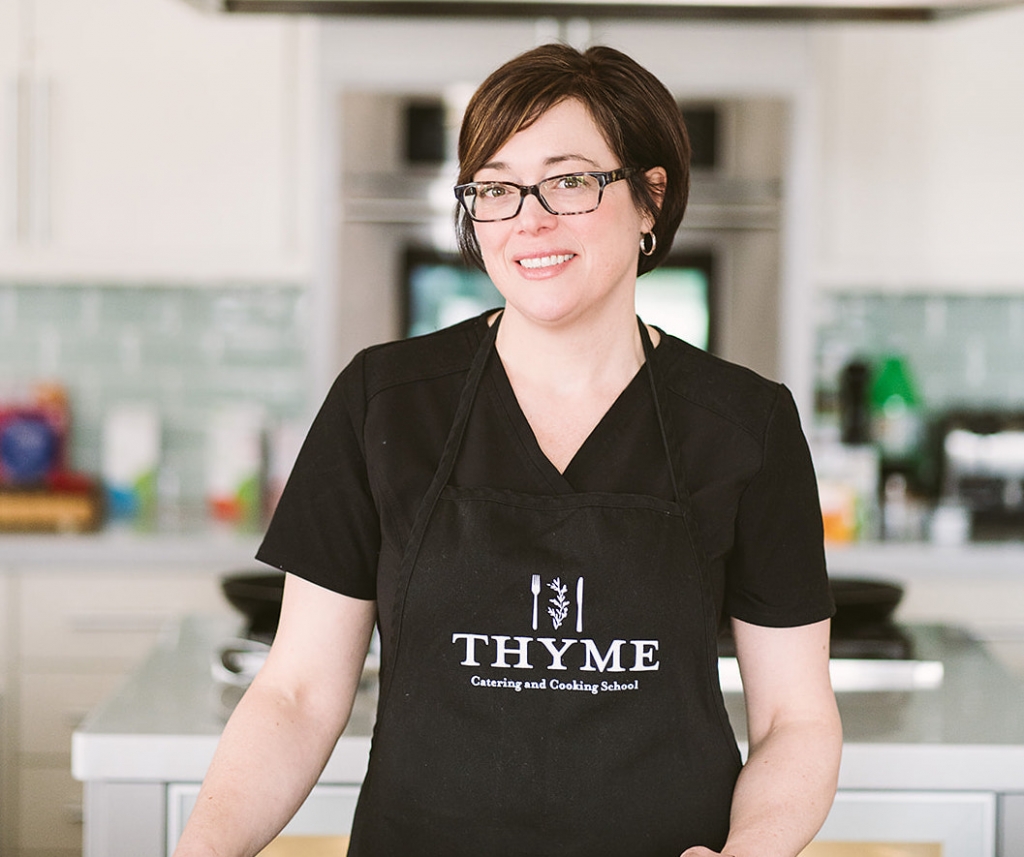 THYME CATERING
Caterer
Contact info:
Jennifer Wellsman
746-3513
mailto:jennifer@thymecatering.info
---

---
Thank you!
From the Playwright:
Thanks to: Deidre Gillard-Rowlings, Marquita Walsh, Amelia Manuel, Petrina Bromley, Laura Williams, Pamela Halstead, Hannah Lucas, Monica Garrido, Francine Deschepper, Karen Bassett, Lily Falk, Berni Stapleton, Santiago Guzmán, Nora Barker, Ruth Lawrence, Tamara Segura, Robert Chafe, Justin Simms, Jude Simms, Randy and Florence Simms, Wendy Porter, Robin Kean, City of St. John's, Newfoundland and Labrador Arts Council, and Playwrights Atlantic Resource Centre.
The biggest thanks of all to the past and present members of my Supper Club: Dana, Lori, Jennifer, Martina, Erin, Susan, Sarah, Mooney, Rebecca, Tina, Simmons.
Thank you for the inspiration, stories, laughs, food, and love.
Thank you to Willadell Dog Daycare for their build space!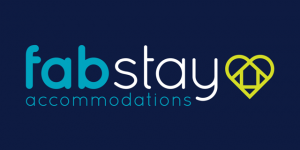 Thank you to FabStay for providing fantastic accommodations!
---

Coming Up Next at RCAT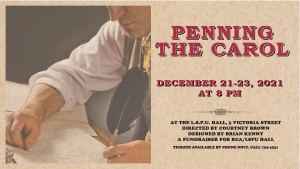 Penning the Carol by Aiden Flynn Dec 21st to 23rd
---
Thank you to the LSPU Hall Volunteers!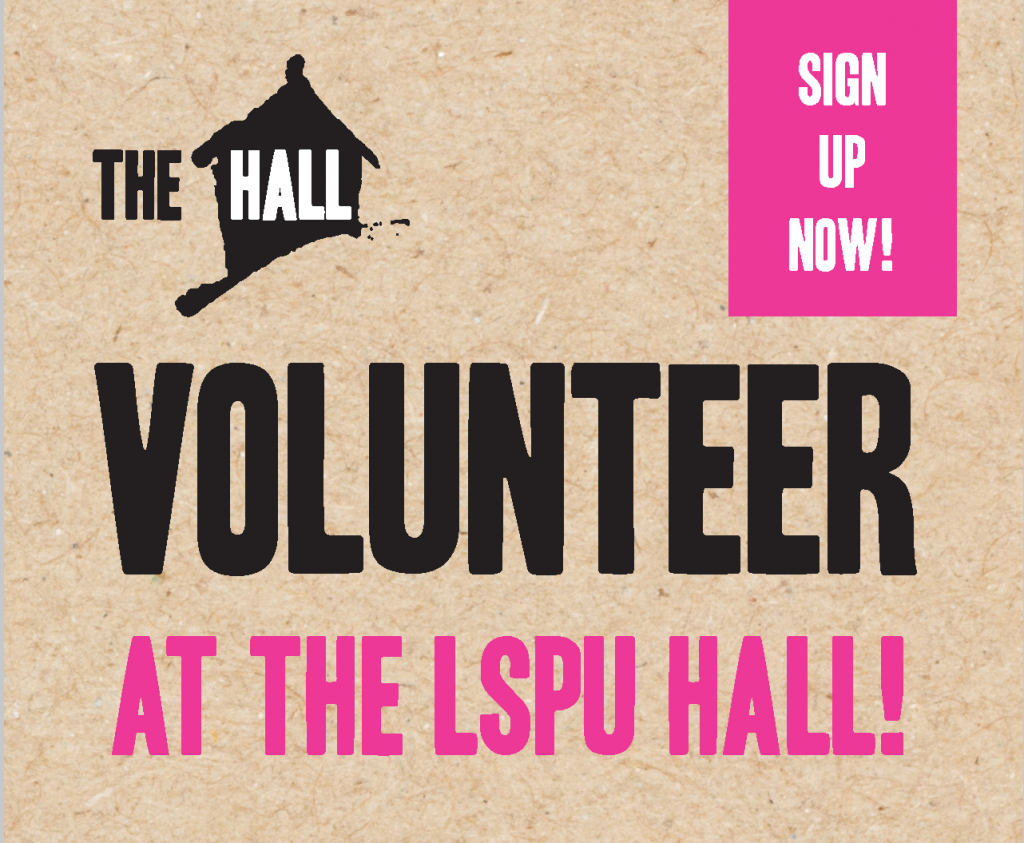 Volunteers are the backbone of the theatre community. We would truly be lost without them and can not thank them enough for their wonderful work.
Why volunteer at the Hall?
Visit lspuhall.ca/volunteer or e-mail our volunteer coordinator Ian at volunteer@lspuhall.ca to find out how!
You get to see live theatre for free!
Looking for a free date night with your partner? Volunteer together!
Volunteer with your friends and have a safe night out together.
Looking to expand your social circle? Join a community of like minded theatre lovers.
In high school and need volunteer hours? We got you.
---
Thank you to the LSPU Hall Donors!
Without you, we would not be able to do what we do.
Your generosity makes a difference.
To find out how to donate to the LSPU Hall, visit our Support Us page.
---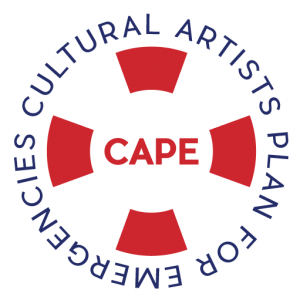 Since its inception in 2005, The Cultural Artists Plan for Emergencies (CAPE) Fund has
become a life line for artists in our community finding themselves in unexpected crisis
situations. Fifty cents from each ticket sold will benefit the CAPE Fund.
RCA/LSPU Hall Endowment Fund
Did you know Resource Centre for the Arts has an Endowment Fund? Donations are currently being accepted at the Community Foundation of Newfoundland and Labrador website at www.cfnl.ca or Here!