Birthday Balloon by Steve Cochrane
February 25, 2021

-

February 28, 2021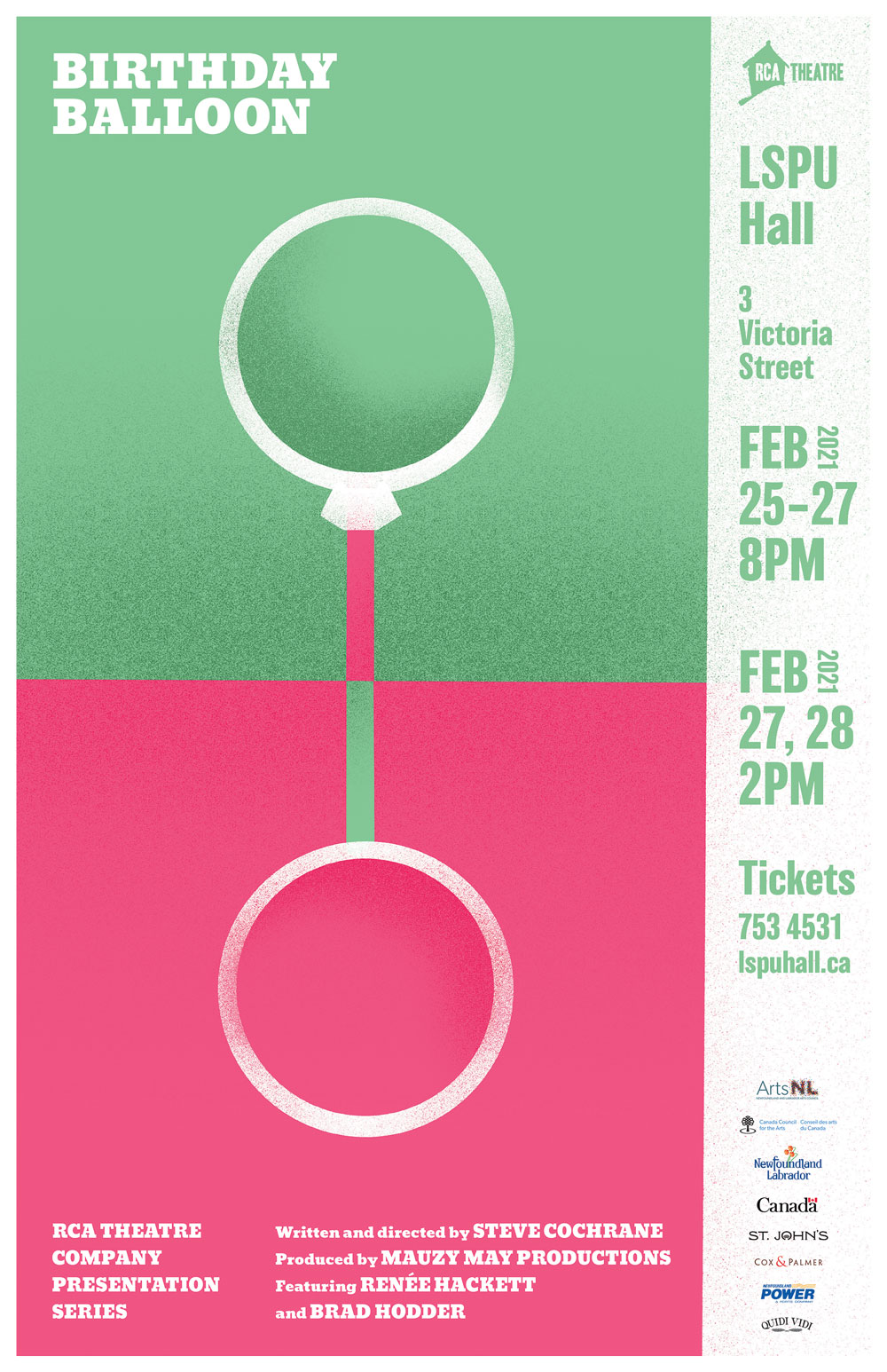 ***Please visit this page for a COVID-19 UPDATE: February 11, 2021***
February 25-27, 8pm
February 27-28, 2pm (Saturday, February 27, 2pm will be a Relaxed Performance)
Tickets available by phone only. General admission: $30. Senior/Student/Artist rate: $25 (fees included).
Call 753-4531 between Monday-Friday, Noon-5pm. This will ensure we maintain physical distance in the theatre and will enable us to collect contact tracing information. Visit this page to find out more about attending the LSPU Hall at this time.
RCA Theatre Company Presents Birthday Balloon
Produced by Mauzy May Productions
Written and Directed by Steve Cochrane
Featuring Renée Hackett and Brad Hodder
David and Millie have been met with tragedy and are on the brink of divorce. Through the lens of this dying marriage a new Newfoundland identity is exposed. A Newfoundland whose worst economic downturn since the 1930's threatens the very existence of its rural identity and people. It poses the question – in light of everything, even when the writing is on the wall – what is it that keeps us in love with and loyal to a province known by one perfect word: home.
Birthday Balloon explores the relationship of David and Millie. David is a pipe fitter working in Fort McMurray, gone for weeks at a time. Millie is his "oil widow" trying to make sense of her life in a changing rural landscape and she's found out he's having an affair. One wants out, away from the stench of death and the other wants to go back in time.
Themes of love and loss are explored deeply in this tragicomic play. Common myths about the big bang of Fort McMurray money and Newfoundlanders living the "life of Riley" are dispelled through this heartbreaking tale of a broken marriage and an irreparably damaged family. Steve Cochrane has written the characters with such authenticity that the natural comedic outlook on most things, inherent to Newfoundlanders, is trickled throughout the piece.
Through the pain of David and Millie we see a different Newfoundland and the true nature of what happens when you go West. It isn't all big cars, big boats and good times. It is for some, but that comes with a huge price.
The Saturday, February 27, 2pm will be a Relaxed Performance. The lights will be a little brighter in the audience and on stage. A Visual Guide to the LSPU Hall is available here. A Visual Guide to Birthday Balloon will be available on our website soon.
Length of show: 80 minutes.
No intermission.
No latecomers permitted.