Shine Your Light on Tibbs Eve 2014
December 23, 2014 @ 8:00 pm

-

10:00 pm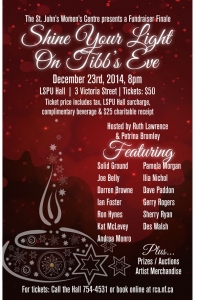 The St. John's Women's Centre is pleased to announce the final concert of the "Shine Your Light on Tibb's Eve" fundraiser on December 23, 2014 at the LSPU Hall, 3 Victoria St, St. John's. All monies raised benefit the Women's Centre to provide services and programs to women and children in the St. John's area.
Started as a one-time event, it has brought us five spectacular years of holiday good will and celebration. This year's finale performance is another star-studded event is organized this year by Ruth Lawrence with Chris O'Neill Yates. Co-hosting with Ruth is well-loved performer Petrina Bromley, who recently returned from a year of whirlwind acclaimed performances.  The stellar line-up will feature Pamela Morgan, Ron Hynes, Sherry Ryan, Dave Paddon, Gerry Rogers, Kat McLevey, Des Walsh, Ian Foster, Ilia Nichol, Andrea Monro, Darren Browne, Joe Belly and traditional band, Solid Ground.
Tibb's Eve is considered by many to be the start of the Christmas season and this concert blends the traditional with the contemporary in its presentation. It promises to be an intimate and entertaining evening in the historic, enchanting LSPU Hall. Organizer Ruth Lawrence says, "In the past four years, we've raised well over $40,000 for the Women's Centre. A devoted Tibb's Eve concert-goer will assure you to get your tickets early for this grand finale. Each year, tickets start selling even before the line-up is confirmed!"  
Raffles, live auction, cash bar, and artist merchandise will also be available.  Those who can't attend are welcome to donate goods or funds or to issue a donation challenge to assist our efforts!
All ticketholders receive a complimentary beverage before the show. Tickets are $50 including all surcharges and a $25 charitable receipt. That's a great bargain. Call the Hall 753-4531 or book online at www.rca.nf.ca.
The St. John's Status of Women Council (SJSWC) has actively promoted the social, economic, and personal equality of women since its inception in 1972. That same year, they opened the St John's Women's Centre (SJWC), a non-profit charitable organization that offers support and services within a safe space to all women.  For over four decades, they have been responding to the needs of women in the community, by providing women-centred programming, supportive housing, and advocacy.  In 2013, responding to the needs of women involved in the sex trade by choice, for survival or exiting, they opened Safe Harbour Outreach Project (SHOP) the first sex worker advocacy organization in the province. On average, the St. John's Women's Centre supports 400 women monthly – through their programs, drop-ins, clothing boutique, counseling and outreach.