St. John's Shorts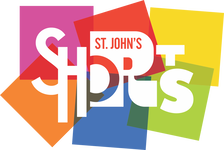 Saturday, September 16th
2pm & 8pm
General $20
Senior/Student/Artist $15
Plays for the End of the World
Plays for the End of the World is a series of poetic and darkly-comedic short plays that examine the climate crisis, loneliness, labour expectations, and the role of theatre in times of fear. Rather than examining macro politics, the play focuses on individuals and relationships: An imperfect narrator, a vigilante with a questionable moral compass, a broken-hearted autopsist, and three ghostly figures caught in a time loop. This piece was created not as a premonition of what's to come, but instead an offering to where we have already arrived.
By Scaredy Cat Theatre
Written by Cole Hayley
Directed by Chelsea Dab Hilke; Stage Management by Holly Stack; Sound Designed by Henry Beasley; Lighting Design by Reg Hoskins; Set and Props Designed by Ryan Wilcox; Production Assistance by Jarrod Farrell Featuring: Brandon Lee Carabin, Anna Morreale, and Melissa Williams
Content: Loud Noise (Live Drumming), Abrupt Lighting Changes.
Head
Gay culture for many is defined by anonymity, non-commitment and sexual promiscuity. Bathhouses, glory holes and every gay man's least favourite 'dating' app are the norm. Despite this standard of gay culture, some seek companionship and human connection that extends beyond faceless, nameless hookups. And though these types of relationships are rare – sometimes you can find them in the most unlikely place. Who knows? Maybe you'll find true love at the good old glory hole.
By Bran Piercey
Featuring: Bran Piercey & Tim Murray
Content: Sexual Content, Foul Language, Suggestive Content.
Long-Distance-Short
ANDRÉS, a migrant from Mexico, is struggling to keep long-distance relationships with his loved ones healthy and alive. Whether they live countries apart or a few provinces away, ANDRÉS seeks ways to create a web of connections with those who are important to him. He's not necessarily terrified of long-distance relationships, they just catch him off guard sometime. Like spiders. He doesn't like spiders that much.
By TODOS Productions
Playwright/Producer: Santiago Guzmán; Dramaturge: Meghan Greeley; Director: Deepesh Paudel; Stage Manager: James B. Elloso; Set/Costume Designer: Vanessa Cardoso-Whelan; Sound Design: Beto de la Paz
Cast:
Santiago Guzmán: Andrés; Brent Baker: Sebastian; Eduardo Monteiro: FKBOI69; Alicia Cruz: MADRE; Hanaa Mekawi: FLORA
Content: Strong language.
NO LATECOMERS