The Nickel Independent Film Festival – Tuesday June 13th 8pm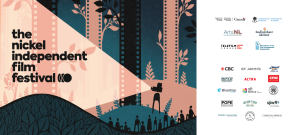 Tuesday, June 13th. 8pm
Pay What You Can
Tragedy Plus Time: Short comedies with a pinch of the absurd
Presented by the Newfoundland Independent Filmmakers Co-op (NIFCO)
Meet the Creatures
Director / Writer / Producer: Veronica Dymond . Newfoundland & Labrador . 4 mins
A mother isn't sure she can accept her daughter's new paramour in this animated short originally created for last year's Nickel Sci-Fi Challenge. St. John's comedian Veronica Dymond made this one, so you know it's funny and a little bit weird.
Spiricom
Directors / Writers: Rubén H. Pérez & Carmen Nogueroles . Spain . 14 mins
After a woman loses her husband to a heart attack she begins to suspect his death may not have been from natural causes. With the help of a device that allows the dead to answer yes or no questions, Violetta interrogates her husband for the truth.
Watercraft
Director / Writer / Producer: Gabriel Auclair-Doucet . Québec . 4 mins
Elsa is looking to hire a realtor and pits two potential agents against one another in a series of challenges. Montreal director Auclair-Doucet's motto is "stay weird" and you'll see here he's doubled down on his mission.
Time Traveling Through Time
Director / Writer: Ryan Ward . Manitoba . 14 mins
A wannabe film director becomes embroiled in a battle against the laws of time and space when his attempt to recreate the iconic photograph-only time travel film, La Jetée, spirals out of control. A wonderfully weird film.
Chimeras
Director: Jean-Philippe Dagenais . Québec . 9 mins
A germaphobe struggling with obsessive-compulsive disorder attempts to manage his fears, but things get complicated when a new virus comes to town.
CAPTCHA
Director / Writer / Producer: David Feehan . Alberta/NEWFOUNDLAND & LABRADOR . 9 mins
A young man struggles to prove his own humanity after he finds himself unable to tick the "I'm not a robot" box in an online CAPTCHA test. A hilarious short that drives home the mystery of what makes us human.
Dead Wife Club
Director: Shara Desiree King . Writer: Amanda Bulman . Producer: Ashley Knight . Newfoundland & Labrador . 14 mins
A funny and moving short about a man attending a bereavement counseling meeting who says he's angry with his dead wife —sparking a debate and a series of flashbacks that looks at the complexities of love. Featuring great performances from an ensemble cast, including the legendary Andy Jones, this film was created through NIFCO's Picture Start program. And an early version of this script was made as part of our 2021 Nickel Script Writing Challenge!
Stationheads
Director / Writer: Stu Gamble . Hungary . 18 mins
A stylish short comedy about three overeducated twenty-somethings working a dead-end job at a gas station whose futures are grim. But when a group of bank robbers turn up fresh from a heist and fresh out of fuel, things suddenly get interesting.
Post-Screening Q&A in the Second Space
~30 minutes
Hosted by
Featuring Veronica Dymond (NL), David Feehan (AB)