[ID: An image of an icy landscape. A lone figure and their shadow stands on the ice. Text in blue and white bubbles reads RCAT +

Sonderlust

present Solastalgia]
Table of Contents
Land Acknowledgement
Synopsis
Development History
Notes From the Team
Cast and Creative Team
Thank Yous
Seat Campaign
Coming up Next
Volunteer At The Hall
Donors
CAPE Fund
Endowment Fund
RCA Theatre Company and Sonderlust Collective Present:
Solastalgia
Written and Performed by Kristin Shepherd
Directed and Produced by Nicole Smith
Design and Stage Management by Hannah Briggs
Technical Direction by Sheldon Downey
Graphic Design by Perfect Day
There is no intermission.
Please be advised this show contains strong language and some flashing light.
---
Land Acknowledgement
RCA respectfully acknowledges that the land on which we currently create, perform, and gather is the ancestral homelands of the Beothuk, whose culture has now been erased forever. The island we call Newfoundland is the unceded, traditional territory of the Beothuk and the Mi'kmaq. Labrador is the traditional and ancestral homelands of the Innu of Nitassinan, the Inuit of Nunatsiavut, and the Inuit of NunatuKavut. We ask that before you watch the performance tonight, you take a moment to reflect on whose land you are standing on, whose land you were born on, and whose land you currently live on. We ask that you reflect on how that land was taken care of, and how it is taken care of now, and finally who currently walks freely on it. If this reflection makes you uncomfortable we ask that you sit in that feeling and question it. Let it help you work towards reconciliation, something we can only achieve together. Thank you.
---
A Note From the Artistic Animateur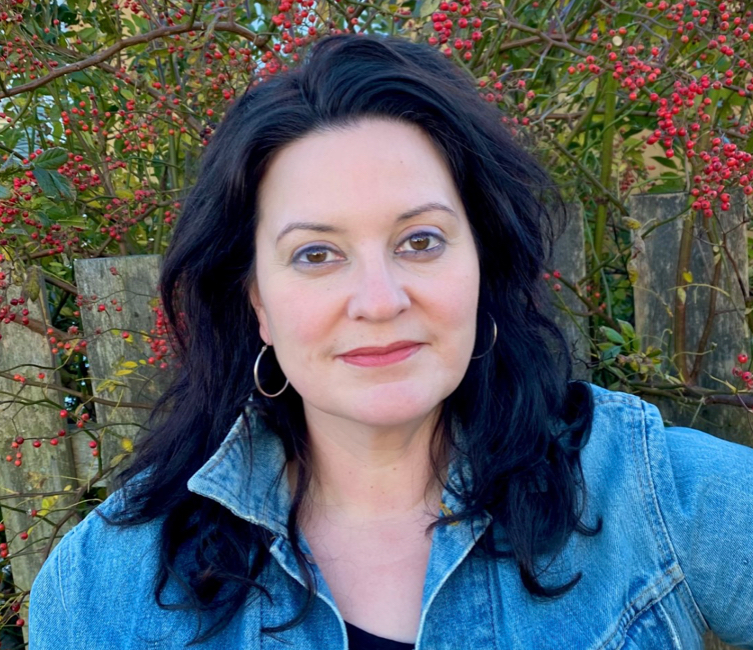 [ID: Nicole, a white woman with black hair just past her shoulders, is wearing a blue jean shirt and silver loop earrings. She is standing in front of a bush with red berries.]
Welcome to RCA Theatre Company's Presentation of Sonderlust Theatre's Solastalgia. For more than a decade now, RCAT has had the support of the Department of Canadian Heritage through the Canadian Arts Presentation Fund to bring work from the Provincial and National Scene to The LSPU Hall Stage. It is one of the ways we welcome artists and companies into our space, to share our resources and enrich the community. Solastalgia is "the homesickness for something that no longer exists." But what if the thing that no longer exists is the world you remember? The play finds resonance in RCAT's 2022-23 Season, that focuses on reconnection through close fiction, verbatim, and documentary works that bring contemporary experiences to the stage and seek to inspire meaningful exchange. These stories are all, in some way, true.
I am thrilled to bring this work to the LSPU Hall stage, supported by a gifted and generous creative team. Playwright and Performer Kristin Shepherd brings us on a journey from icebergs and refugees to gin and raccoons to garbage and birth, in a quest to discover the answer to what we've all been thinking during this tumultuous time: What's the point? Why are we doing this? And why now? Deep thanks, as ever, for coming with us, and for choosing live theatre for your night out. When you buy a ticket for a show at The Hall, you are supporting essential, live performance in your community, as well as important programs and resources for the artists who create them. We love to see you and hope you can join us again soon for more events in the season!
Nicole Rousseau, Artistic Animateur
---
Synopsis
Solastalgia is "the homesickness for something that no longer exists." What if the thing that no longer exists is the world you remember? Kristin Shepherd brings us on a journey from icebergs and refugees to gin and raccoons to garbage and birth. Join us to discover the answer to what we've all been thinking during this tumultuous time: What's the point? Why are we doing this? And why now?
---
Development History
Solastalgia began for Kristin with a sound from her One Mile Bay on Trout Lake and from one of those inevitable human traumas that goes on in almost every house on almost every road. Its development has been supported by the Ontario Arts Council Northern Arts, and most crucially, The Women's Work Festival. In 2021, Sonderlust produced a site-specific, immersive run of Solastalgia in a little glass house at the Saol Project, to an audience who bundled up to join us around the fire with thermoses and lawn chairs, and in 2022, a digital run of it live over Zoom. This is the first production of Solastalgia in a traditional theatre space. Rather than a "scaling up," we view this as new version of the piece; an opportunity to envision something specifically for this time and this place, with each of you. This work is something living and breathing to us, and maintaining this notion by constantly asking ourselves, "What is true here?" and "Why this, why now?" is how we ensure its authenticity, and that there's a point to doing it at all. We are so grateful to RCAT for the experience.
---
A Note from Sonderlust
We believe, as humans, it is our responsibility to find ways to take better care of each other. And as theatre makers, to find ways to connect. Doing this given the parameters and circumstances that continue to change tumultuously feels like a new and essential kind of agility. We want to entertain profoundly, while acknowledging the world around us. We want to meet people where they're at and as they are, with intelligence, honesty, and compassion. We want to be together. We are drawn to the idea of collective healing in response to collective trauma, and we believe Solastalgia has been and can continue to be a form of that. We're honoured to get to be here, with you.
-Kristin, Nicole, and Hannah
---
Cast and Creative Team

[ID: A headshot of Kristin, white woman in her 60s. She has short grey hair and blue eyes. She is wearing a pink shirt under a black blazer.]
KRISTIN SHEPHERD
Playwright/Performer
Kristin Shepherd is a playwright and actor from North Bay, Ontario. Three of her plays have been supported by the Ontario Arts Council. Her first play, $38,000 For a Friendly Face, won the Samuel French Canadian Playwright's contest in 2007. It has been produced approximately a dozen times in Canada and the U.S. Two other plays, Hope Op and Curved, have had several productions and readings, including at PlaySmelter in Sudbury, Women's Work Festival in St. John's, and Homecoming Players in Ithica, N.Y. Kristin was nominated for the inaugural Johanna Metcalf prize in 2019. She has written and directed three short films. It's worth mentioning that a career in health care demonstrated that chronic head and heart narratives have huge influence on health outcomes. The move from health care to storytelling on stage was natural.

[ID: A headshot of Nicole, a white woman with shoulder length dark brown hair partly tied back. She is wearing a white t-shirt under a green plaid shirt.]
NICOLE SMITH
Director/Producer
Nicole Smith is a writer, director, and producer who splits her time between her homes in Cambridge, Ontario, and St. John's, Newfoundland. Nicole's most recent play-in-progress, Girls From Away, is a co-creation with Bernardine Stapleton, Timothy Matson, and Kiersten Noel about the hundreds of women who were recruited from central Newfoundland to Cambridge during WWII. She is co-Artistic Director of the Kitchen Party Theatre Festival (KPTF) in Grand Falls-Windsor, and founding Artistic Producer of Sonderlust. Nicole is a member of the Playwright's Guild of Canada, the Writer's Union of Canada, and Playwright's Atlantic Resource Centre, and she's worked in various capacities for Sonderlust, KPTF, Green Light Arts, Pat the Dog, Persistence Theatre Company, White Rooster Theatre, and Rising Tide. She currently sits on the Board of Directors of the Women's Work Festival in St. John's.

[ID: A headshot of Hannah, a white woman with long light brown hair and light eyes. She is wearing a dark shirt and holding flowers. The sun is low behind her at golden hour.]
HANNAH BRIGGS
Stage Manager/Designer
Hannah Briggs is a multidisciplinary artist from Guelph, Ontario and a founding member of Sonderlust, where she most often works as stage manager. She is also co-creator and designer of Sonderlust's largest multidisciplinary work, This Place I Call Home. This Place I Call Home, supported by the Ontario Arts Council and Canadian Stage, recreates the structure of a home based on the contributions of twelve diverse women living in Southwestern Ontario who have roots in Portugal, Bosnia, England, and Somalia. Sonderlust had its first presentation of This Place I Call Home at The Theatre Centre in 2019. In addition to her theatre work, Hannah is owner and operator of The Saol Project, a micro-flower-farm and floral design studio in Ontario, where 30% of annual profits are given to charity.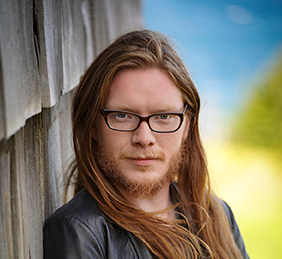 [ID: A headshot of Sheldon, a white person with long light brown hair and beard and light eyes. They are wearing a black leather jacket and leaning on a building.]
SHELDON DOWNEY
Technical Director
Sheldon (He/They) is a technical artist from St. Johns who works in Stage Management for theatre, opera, and shadow puppetry, and as a 3rd Grip/Electric for theatre, film, and television. He holds a BFA in Technical Theater Production (MUN Grenfell Campus), and has worked with Perchance Theatre (Julius Caesar, Servant of Two Masters, Crippled), Double Sure Theatre (Her Closely), Opera on the Avalon (As One, Dead Man Walking, Tosca), Under the Bridge Productions (Brass Button Man, The Kraken), Beyond the Overpass (The Last Five Years), and Artistic Fraud of Newfoundland (Everybody Just Calm the F*uck Down). For Film and Television, he has worked with "The Amazing Race Canada," "Hudson & Rex," and CBC's "Son of A Critch".
---
Thank You's!
To the Resource Centre for the Arts, for taking a chance on this difficult-to-package show; to the Women's Work Festival, during which, for Kristin, the course of this play was changed; to the Arts and Culture Centre, for the beautiful rehearsal space; to the entire team at The Hall, who is an absolute dream to work with; to everyone who loaned us their lights and garbage and old wooden planks for our set; to our partners in life & creativity, for keeping our homes and hearts (& dogs) healthy and happy throughout this process, and to you, for joining us.
Thank you so much!
---

[ID: Text reads: Seat Campaign Back in the seats again! Ask us how to get your own seat in the historic LSPU Hall's mainstage theatre. The photo shows the red theatre seats of the Hall.]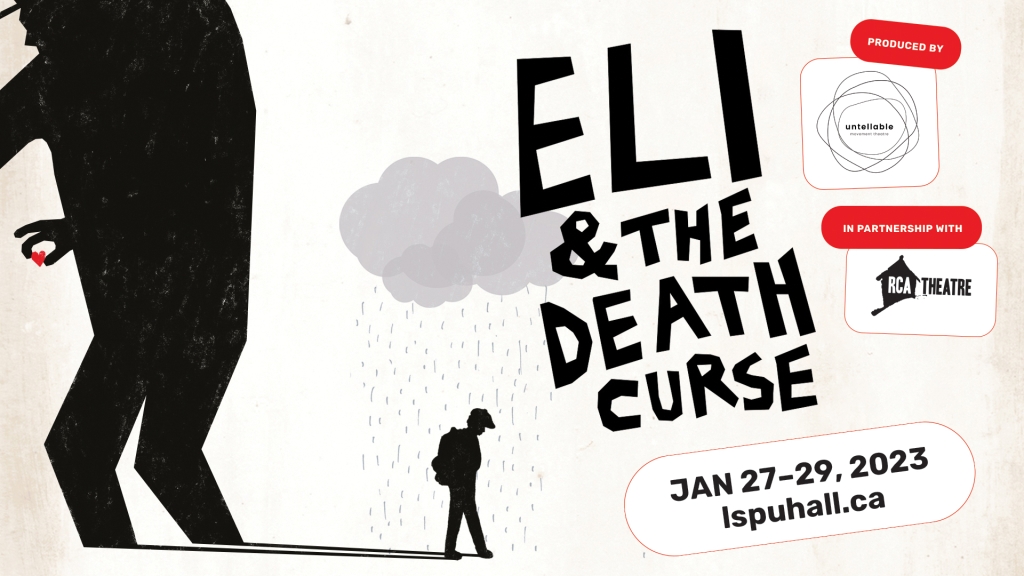 [ID: An image of a person standing under a rain cloud. Their shadow stretches behind them to become a huge hulking figure holding a tiny red heart. Black text reads Eli & the Death Curse Jan 27-29, 2023 lspuhall.ca. Red bubbles with white text say Produced by Untellable in partnership with RCAT.]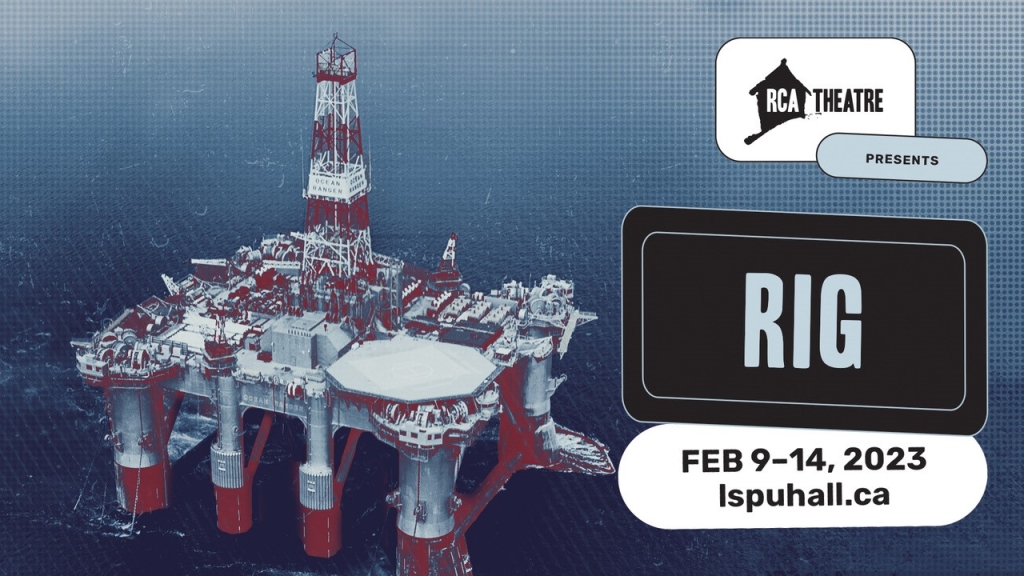 [ID: An image of the Ocean Ranger in grey with highlights of red/orange. It stands in a blue ocean. White, blue, and black bubbles with black and blue text read: RCA Theatre Presents RIG Feb 9-14, 2023 lspuhall.ca]
Check out what Andy Jones has to say about becoming a monthly donor!
Thank you to the LSPU Hall Volunteers!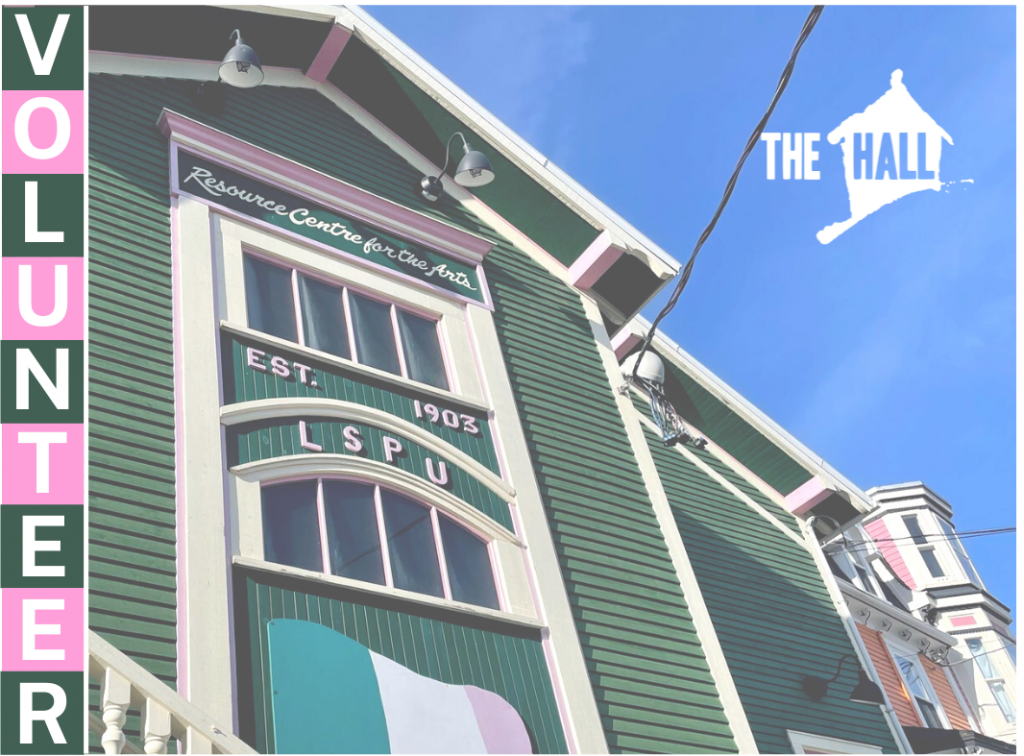 [ID: A faded photo of the Hall with the word Volunteer in pink and green blocks written vertically down the left side. The white Hall logo is in the top right corner.]
Volunteers are the backbone of the theatre community.
We would truly be lost without them and can not thank them enough for their wonderful work.
Why volunteer at the Hall?
Visit lspuhall.ca/volunteer or e-mail our volunteer coordinator Ian at volunteer@lspuhall.ca to find out how!
You get to see live theatre for free!
Looking for a free date night with your partner? Volunteer together!
Volunteer with your friends and have a safe night out together.
Looking to expand your social circle? Join a community of like minded theatre lovers.
In high school and need volunteer hours? We got you.