Our 2018-19 Season
RCA Presents The Strange Case of Madame D by Frank Barry, as part of RCA Theatre Company's Significant Other Series in partnership with Wreckhouse Productions. (June 2019)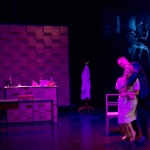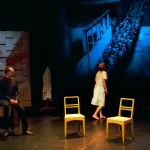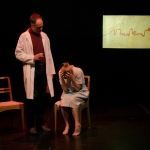 Audience Feedback:
"It is a Must See production. Nicole Underhay gives an utterly amazing performance, and the script is beautifully written. Go if you possibly can."
"There was so much in this show I need to see it again. Nicole Underhay was wonderful!"
"B'ys – if you like your theatre with incredibly smart writing and incredibly powerful performances, then get thee to the LSPU Hall to see Frank Barry's 'The Strange Case of Madame D'. Bravo all."
"Ms. Underhay inhabits her characters with the passion of an opera singer and grace and embodiment of a dancer. She was the perfect lead for the complex language and visual imagery of Barry and Pelley's take on Marguerite Duras' vision of women and 'madness' under the male gaze/ patriarchy."
"Well done, interesting and entertaining in a wonderful atmosphere!"
"Intelligence in the the psycho-drama, loved it!"
"Rhonda Pelley's visual components just took NL Theatre to the next level."
In the Media:
The Western Star: Underhay and Roberston Dazzle in The Strange Case of Madame D at the LSPU Hall.
---
RCA Presents Squawk by Megan Gail Coles (April 2019)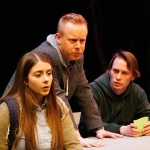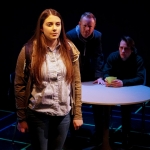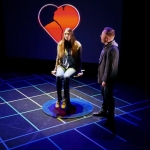 Audience Feedback:
"Fabulous acting, very insightful, covered a lot of big issues."
"Great show that tackles a challenging topic in a unique way."
"I loved the writing, and the actors were great. All in all, a great show. The symbolism in the videos that were shown on the backdrop were thought provoking."
"Very well done. Should be viewed by all politicians, decision makers, and government social workers."
"An emotional play, very well acted and written!"
"Go see it! Take your teenagers!"
"A cohesive combination between the direction, the design, and the acting made Squawk remarkable and outstanding. Very refreshing to see a story of a minority onstage."
"Great show all around, always like attending shows at the Hall."
"A fabulous show for youth and adults dealing with a very relevant and significant issue. The acting was superb. the projection design was interesting and worked well with the gaming theme. I thoroughly enjoyed it."
"Relevant. An important story. I pride myself in treating everyone equally, but I still learned a lot from this show. It did what good theatre does; it made me reevaluate my actions and behaviour."
Student Feedback:
"I genuinely loved the Squawk performance! Very great actors, very professionally done. I loved how the message of the play focused on topics about Indigenous people, topics that don't get talked about as much as they should. It was very eye opening, even for me, and I'm Indigenous. I think that if people saw this play done all across Canada, people would know so much and learn so much about Missing and Murdered Indigenous Women & Girls, foster care, traditional way of life, etc. I would love to see more plays done surrounding this topic and I'd love to have you guys back again! Nakungmek, thank you!"
"The Squawk performance was very informational and I was impressed by the abilities of the actors. I think that it is extremely important to talk about the topics of the play, especially in school; the topics shouldn't be kept a secret to us. What I found extremely exceptional was how they managed to talk about very triggering topics, yet having bits of humor built in to appeal to the younger audiences, and keep the audience entertained throughout the whole performance. As a student actor, I was impressed and took mental notes to improve my acting abilities. I also admired the fact that the play spoke a lot about indigenous traditions and the realities of living in a rural indigenous community, something that is not known to most people and something that is often stereotyped for something that it is not. These are among the many reasons why I enjoyed the experience of watching the play and I am happy that I was privileged enough to participate in watching the play Squawk."
---
RCA Presents Echo Production's Charlie: Son of Man by Adrian Yearwood (March 2019)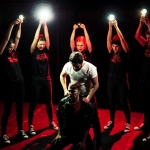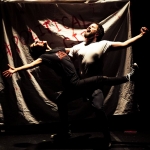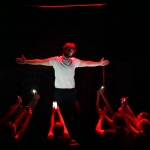 Audience Feedback:
"Innovative, thought-provoking and disturbing."
In the Media:
The Racket: Echo Productions opens Charlie: Son of Man.
---
The Hall Presents: A Musical Fundraiser for RCA (February 2019)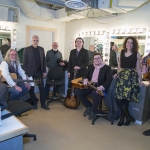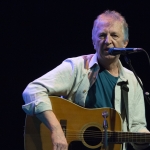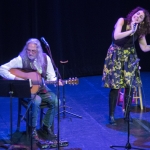 Audience Feedback:
"Really impressive. Every act was distinctive and terrific. I left wanting to hear more from everyone – including the outstanding MC – Glenn Tilley."
"That was AMAZING!"
---
RCA Presents Persistence Theatre's Offensive to Some by Berni Stapleton (January 2019)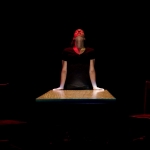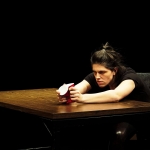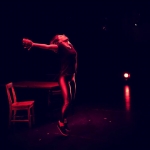 Audience Feedback:
"Persistence Theatre's Offensive to Some by Berni Stapleton at Resource Centre For The Arts is essential theatre. Yes – you should see it. Beautifully written, beautifully directed and beautifully performed. And gut-punchingly relevant. Congrats to all."
"Raw, powerful, and important. Get out to see it if you can."
"Miranda was amazing! Heavy topic, but one that needs constant conversation."
"It was a performance I won't soon forget."
"I've seen a lot of theatre over the past number of years, but I have never been so affected by a play."
"Intense and mind-blowing. Go see it."
"Powerful. A must see. Deals extremely well with a topic that needs more and more exposure to end it."
"Moving, powerful writing and performance. Authentic and raw in its relevance."
In the Media:
The Racket: Offensive to Some Review
---
RCA Theatre Company Presents Men of Misfortune by Charles Picco (November 2018)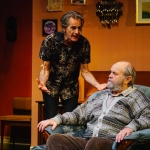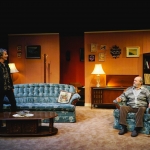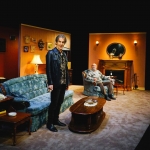 Audience Feedback:
"Newfoundland's finest actors brought us into the heart of darkness and fascinated by the display of raw emotion we couldn't look away as these two brothers destroyed themselves. Powerful stuff."
"I absolutely LOVED Men of Misfortune! A captivating 5 star production that kept me riveted to the very end."
"Powerful acting. Intense drama with a splash of comedy. Well done! Great entertainment by two stellar performers!"
"Worth it to see performances of Jones/Malone. Good characters, anyone who grew up in SJ should see (we know families like that!) great set. Loved the music – so much nostalgia in one night! Jones and Malone transport you. Go buy tickets!"
"First rate acting and a riveting interesting piece of writing and directing."
"The chance to see these 2 Newfoundland and Labrador icons on stage, for me, was very exhilarating. Tickets were reasonably priced which made the experience affordable."
"Wickedly dark and entertaining."
"I loved the show leaving you could here patrons discussing their take on the ending Now thats a show"
"Go see this show! Andy Jones and Greg Malone at their finest, their skeetiest, their most neurotic! Worth your time, effort and money. A treasure indeed!"
"I was pleased to be in the audience for Resource Centre For The Arts Men of Misfortune's opening night. It is an outstanding piece of theatre, and you should go see it. I felt so fortunate to watch these two exceptional actors embody these characters on stage; the writing and story is so compelling, and the show just knocked me on my ass. You'll want to see this."
"An outstanding piece of theatre"
"You have never seen Andy Jones and Greg Malone like this".
"Dark, comedic play about two brothers struggle to resolve their dysfunctional family life. The actors Greg Malone and Andy Jones never disappoint"
In the Media:
The Overcast: Andy Jones on his Bond with Greg Malone Starring Together in Men of Misfortune
The Newfoundland Herald
---
Our 2018-19 Season Launch!
VOCM: LSPU Hall Lifts Curtain on Upcoming Season, New Branding
VOCM: 25-Year-Old Play on Domestic Abuse Still Sadly Relevant
The Telegram: RCA Theatre and LSPU Hall Unveil New Logo and Coming Season