Artistic Fraud Presents: 1 Hour Photo by Tetsuro Shigematsu
May 14, 2021

-

May 15, 2021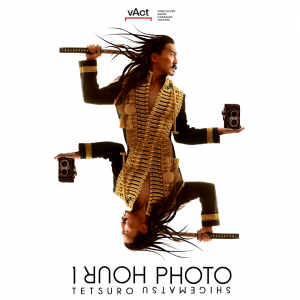 May 14-15, 8pm
Online Event
Tickets: $10 Fees Included. Buy tickets online at the link above or call the Box Office at 753-4531, seven days a week, Noon-5pm.
Please note, we have a new ticketing system. Having trouble signing in? Visit this page for help, call our Box Office, or email us at boxoffice@lspuhall.ca.
Navigating this new world of social distancing spawned the innovative solution to bring vAct's award-winning production 1 Hour Photo across Canada. vAct has collaborated with a Vancouver based film production company, Brightlight Pictures, to produce a high quality, 75 minute cinematic adaptation of 1 Hour Photo by Tetsuro Shigematsu. Presented by theatre companies across Canada, the 1 Hour Photo Virtual Tour will engage with audiences through scheduled showings accompanied by a live talkback with Tetsuro Shigematsu.
Written and performed by Tetsuro Shigematsu, 1 Hour Photo is the story of Mas Yamamoto, a man whose life was swept up by the major currents of the 20th century. From growing up in a fishing village on the banks of the Fraser River, to being confined at a Japanese Canadian internment camp during World War II, to helping build the Distant Early Warning Line in the Canadian Arctic during the height of the Cold War, 1 Hour Photo is a moving portrait saturated with the most vivid colours of our times.