motherskin – by Mallory Fisher. Presented by RCA Theatre Company
June 9, 2022

-

June 12, 2022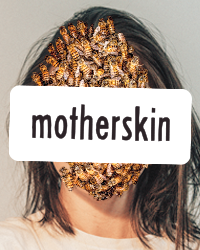 June 9th-11th 8pm
June 12th 2pm
June 12th Livestream (Audio Description Available upon request via the Livestream or via our loop system in the theatre itself*)
$32.50 General Admission
$26.50 Senior/Student
$22.75 Livestream
June 11th 8pm is our Relaxed Performance. For more information on what a Relaxed Performance is click here. To find and look through our motherskin Visual Guide please click here.
Patience is convinced her sister, Sivvy, is trapped inside her mother's ribcage. She plots to murder her mother to set her sister free. Patience and Sivvy talk to each other, and the audience, through the giant ribcage, through their mother's skin. Sivvy rails against her toxic body image and food obsession. Patience fights the internalized misogyny she's absorbed from religious doctrine. As they unravel their repression, locate their oppressors, and fight to be born, they tear their mother's body apart. Sivvy uncovers a previously buried truth about her sexuality while Patience discovers she's funneling her destructive rage into the wrong vessel of unlove. motherskin examines the blurry, rewarding, and treacherous relationship between two women who are maybe sisters, maybe lovers, and certainly ancestrally connected.
Content Advisory: This play features strong language, the use of herbal cigarettes, bladeless razors and allusions to eating disorders and suicide.
*We are thrilled to announce that Kat Germain will be returning to the LPSU Hall for a Live Described performance of motherskin by Mallory Fisher. Join our listening party while tuning into our live streamed performance and enjoy the live description of the show from your own home.
Audio Description (AD) makes live and recorded events more accessible to people who have differing needs when accessing them via sight, understanding and/ or attention. AD is most often targeted to the Blind/ partially sighted/ low vision (B/ PS/ LV) community. The applications however, include people who are neurodiverse and/ or with sensory sensitivities such as with Autism and Tourette Syndrome, as well as people with a fixed or narrow visual field due to range of motion of the head, neck or spine.
From a suitable vantage point, the AD professional describes all relevant visual information, during pauses in dialogue, via microphone. Usually, listening attendees are issued a small receiver and single earpiece through which they hear the descriptions. Audio Describers report the essential, visual aspects of the event in order to help listeners share in the
full and unique experience of being at a live performance. Descriptions happen before, during, and after the event and will also include descriptions of the venue, the audience, and any other pertinent information that is directly or indirectly observable by the non-AD audience. The role of the Professional Audio Describer is to be as unobtrusive as possible and to offer impartial information, thereby allowing listeners to develop their own opinions and come to their own conclusions.