St. John's Shorts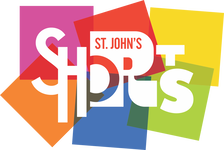 Friday, September 8th
8pm
General $20
Senior/Student/Artist $15
Yours/Mine
I heard, somewhere, that humans absorb on average 100 times more pain in a day than previous generations did in a lifetime.
By Breathing Cloud Productions
Created by Andrya Duff
Performed by Andrya Duff & Meghan Allison
Audio Design: Ballast Collective
Stage Manager: Kelly Lewis
An Unmarked Door
After the death of her husband, Gretta is determined to live her twilight years with all the adventure and audacity that decades of being a respectable house-wife denied her. Starting with what's inside the unmarked guarded door, in this back alley.
By Cool Pond Productions
Written & Directed By Cullam Bruce-Lockhart
Cast and Crew: Annalise Smith: Gretta Andrew O'Brien: MartyCrew Makeup: Lindsay Cole Tech: Sean Jessomec
Content: Sexual subject matter, discussion of death of a spouse, coarse language, disparaging comments about church/religion, ageism.
Land of Sparrows
Two prostitutes decompress after a violent work incident through a mountain of cocaine. While high, they come to acknowledge their differing views towards faith and the looming threat of death.
Written & Directed By Venus Barrington
Stage manager: Holly Stack
Cast:
Laci Organ: Zoe
Nicole Redmond: Danielle
Joseph Dennis: Alan
Brandon Cave: Man
Content: Substance Abuse, Death, Murder
NO LATECOMERS