St. John's Shorts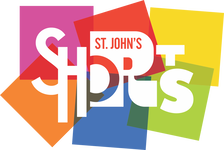 Saturday, September 9th
2pm & 8pm
General $20
Senior/Student/Artist $15
The Queen Of Hearts
International conmen Coffee and Cola (Noah Sheppard and Jarod Farrell) receive a job offer from a daughter of the royal family (Audrey Gerow). But when she only wants to hire one of them, lifelong partners are forced into a high-stakes game of luck, skill, and betrayal. When the cards are down, who will come out on top?
By Studio Squidcicle
Written By Jarod Farrell & Noah Sheppard
Directed By Joseph Dennis
Cast:
Noah Sheppard: Coffee
Jarod Farrell: Cola
Audrey Gerow: Princess Evelyn Endicott
Brandon Cave: Dino, Antoine Abott, Jean-Phillipe Marquet
Joseph Dennis: Opera Singer, Agent Werner
Stage Manager: Kelly Lewis
Content: Mild Language, Drug Reference, Gambling, Comedic Depictions of Violence, Comedic Depictions of Criminal Mischief, Prop Guns.
Begging To Be Stolen
A young man who is caught stealing groceries is blackmailed into helping the grocery store union bust, but instead conspires with the employees.
By Terry Doyle
Directed By Veronica Dymond
Cast and Crew: Chad Furlong
Sandy Gow
Darren Ivany
Mike Smith
Laura Williams
Stage Manager: Kat Burke
Content: Foul Language
NO LATECOMERS