Supper Club by Willow Kean: An RCA Theatre Company Mainstage Production
December 2, 2021

-

December 5, 2021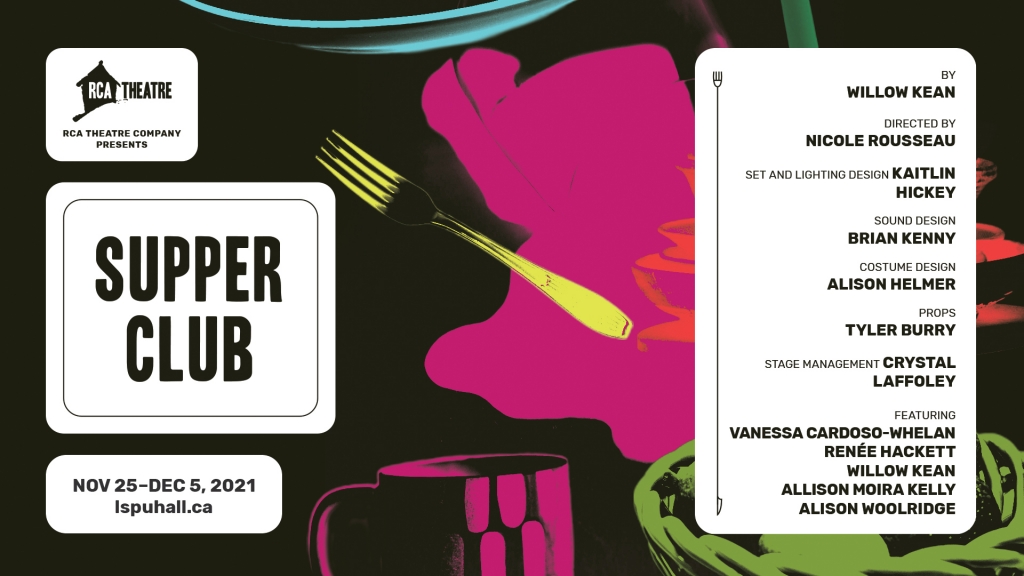 In Person
November 25th – 27th at 8pm
November 28th at 2pm
December 2nd – 4th at 8pm
December 5th at 2pm
Live Stream
November 27th and December 4th at 8pm
Relaxed Performance: November 28th at 2pm. Click here for the visual guide – Supper Club Visual Guide
The digital program can be found here.
$42.50 General
$34.50 Senior/Student/Artist
$28.75 Live Stream
Supper Club is a comedy that explores the complicated relationships between women through food. A doctor in the midst of an existential crisis, a fish out of water Cuban artist, a wine-guzzling anthropologist, a sort-of vegan, and an exhausted suburban hockey mom gather together to host dinner parties in their respective homes. Over the course of five meals on five different evenings, the relationships become fraught when secret resentments and alliances are gradually revealed, leaving the women to question how they all ended up eating at the same table in the first place.
Warning: This production uses strong language and herbal cigarettes. Trigger Warning for mention of abortions and the end of a relationship.
Tickets for sale at the box office, & online!