Live Magazine! Volume #7 Issue #15 Curated by Santiago Guzmán
November 4, 2019 @ 8:00 pm

-

9:00 pm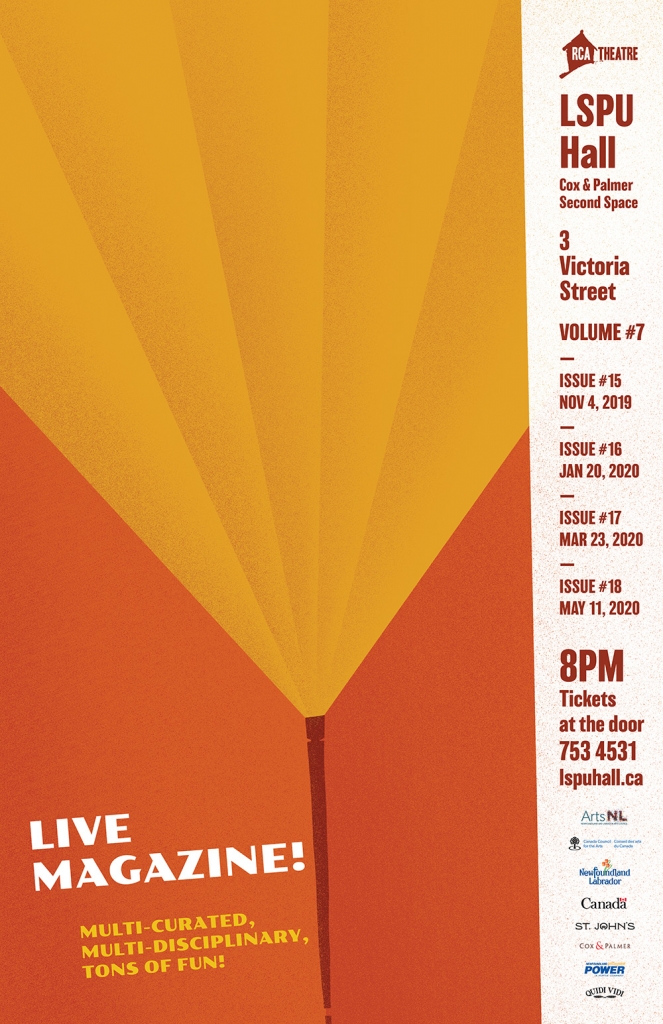 Cox & Palmer Second Space
Tickets $10 at the door
Live Magazine! Multi-Curated, Multi-Disciplinary, Tons of Fun!
Live Magazine! is a multi-curated, multi-disciplinary series that takes place in our Cox & Palmer Second Space. Each show features an evening of entertainment curated by a different artist in the community. As always, there will be happy hour drink prices and free snacks.
This issue will be curated by Santiago Guzmán.
Santiago Guzmán is a theatre and filmmaker originally from Mexico City, now based in St. John's, NL. He holds a BFA in Theatre from Memorial University, Grenfell Campus. Santiago has worked with White Rooster Theatre, Rising Tide Theatre, Shakespeare By The Sea Festival, Blue Pinion Films, The Nickel Independent Film Festival, and CNA Digital Filmmaking. It is in Santiago's keen interest to promote diversity onstage and onscreen, to encourage folks with diverse backgrounds to share their talents and stories with the arts community in Newfoundland and Labrador, but most importantly exhort Newfoundlanders and Labradorians to see their homeland with a diverse perspective. He is the Artistic Director of the newly created TODOS Productions: Theatre and Film for All, an organization that seeks to promote, produce, and support work of under-represented artists in Newfoundland and Labrador.
Featuring the following performances:
Woman Gay by Mallory Fisher and Meghan Greeley
A sketch comedy duet that explores the hierarchy extant within the queer community, in which queer women are often identified as a spin-off of cis-gay men (not lesbian, but the woman version of gay). This act will use humour to subvert the quintessential "coming out" narrative, by capitalizing on the common Newfoundland misunderstanding of the word "queer" as it relates to sexual identity.
Mallory Fisher is a theatre maker and gin drinker from Mount Pearl, Newfoundland. She has spent the last ten years making theatre in Boston, Toronto, and Newfoundland. In Newfoundland, she has spent four seasons with Rising Tide Theatre, and performed with Spirit of NL, Theatre St. John's and Persistence Theatre. She holds a BFA in Musical Theatre Performance from the Boston Conservatory and an MFA in Theatre Performance Creation from York University. She is the associate producer of Artistic Fraud of Newfoundland.
Meghan Greeley is a queer writer, performer, and director from Corner Brook, NL. She holds a BFA in Theatre (Acting) from Sir Wilfred Grenfell College. Past playwriting credits include: The Cut of It (commissioned by White Rooster Theatre, premiering at the LSPU Hall in November 2019), To the Girls (commissioned by the Stephenville Theatre Festival, anticipated performance in 2020), The Blue Castle (commissioned by Rising Tide Theatre, premiered in 2018), Hunger (White Rooster, premiered in 2015 and remounted for a 2019 Newfoundland provincial tour), Jawbone (created through Nightwood Theatre's "Write From the Hip" program, 2018; scheduled for a workshop production in May 2020 at the Shakeup Festival with Downstage Theatre Society in Calgary), China (created while in residence at Tarragon through its Playwrights Unit, 2017; ) Kingdom (White Rooster
Theatre, 2012–2013; CONTRA, 2016). Greeley made her directing debut with Santiago Guzmán's Altar as part of the St. John's Short Play Festival.
Deeper by Robyn Vivian
An excerpt of a play in development about life and relationships among queer women in Canada in the '90s and early 2000's. Explores the idea of coming to terms with one's queer identity in small-town Newfoundland, and by how this shaped (and continues to shape) one's feelings toward the place that raised us. Performed by Robyn Vivian and Elizabeth Hicks.
Robyn Vivian is an actor and writer from Marystown, NL. She holds a BFA in theatre (acting) from Memorial University. Past credits include Neena in The Tales of Dwipa with White Rooster Theatre, Viola in Twelfth Night with Theatre at Grenfell, and Ellie in Drinking Again with RCAT. Robyn staged her first one-act play as a writer and director, SNATCH, in a presentation in Corner Brook in November 2018, and remounted it in its finished form at the St. John's Shorts 2019 Short Play Festival in September. She is currently in the process of writing her second script for stage, Deeper, and has begun research for her third, Lights Out.
Elizabeth Hicks is an actor, writer, and filmmaker from Carbonear, NL. She holds a MA in English from Memorial University. Elizabeth has performed most recently in I'm Just a Girl at St. John's Shorts, various shows at Rising Tide Theatre, Squawk with RCAT, and at sketch comedy festivals in Toronto, Chicago, and New York.
NL Cosmic Ballet by Eda Kumquat
Lip sync number that explores the journey of a drag performer coming to terms with home, after leaving and reconnecting with their land.
Eda Kumquat is simultaneously a sweetheart and sour puss. She's so sugary sweet that she'll give you a cavity today and Diabetes tomorrow. She's the kind of sour that makes your eyes bulge in excitement, lips pucker in adulation, and tongue bleed from gross overindulgence. She's a member of the Phlegm Fatales drag collective, your reigning Queen of the Night, and whets your whistle in ways that Julia Child's Mastering the Art of French Cooking never could. Bone apple teeth!
Love Songs to Home(s) by Fionn Shea
These writings encompass the joy and sorrow and idealism and nihilism that accompanied the immigration, as well as exploration of the transient self in relation to Newfoundland, and ones' body in an increasingly divisive political world.
Fionn Shea is an actor and writer from New Hampshire, and a landed immigrant in Newfoundland. His background in the arts has ranged from Shakespearian theatre to studying the Graham dance technique; his most recent work includes Invictus (writer & performer) which debuted at the St. John's Short Play Festival (2019) and TransVersing (writer & performer) with Artistic Fraud (2017-) Fionn is completing a BA Honors degree in English at Memorial University.
Bhangra Dance by Twinkle Kaur and Akashdeep Singh
Punjabi songs and Newfoundland's songs mixed together, exploring the collision between India and Newfoundland through a dance number.
Akashdeep Singh is currently pursuing a Bachelor of Science at Memorial University, Newfoundland and Labrador. He is originally from Punjab, India, but has been in Newfoundland for a little over a year. His hobbies are cricket and dancing. He was previously been on the LSPU Hall stage during the run of The Boor (St. John's Short Play Festival), directed by Azal Dosanjh.
Twinkle Kaur is in her second year of university, doing bachelors of science. She's originally from India but was born and raised in Italy. She spent her childhood and early teenage there. Bhangra is really close to her. Whenever she feels stressed or sad, she dances; it's her get away from the world😂. She has performed before in high school with her sister and a friend. Twinkle has also also worked on some choreographies. Her teachers and principal encouraged them to do more things like this. Akash and Twinkle are doing this special performance because it makes them happy and it will help them gain more experience.
The dates for the 2019-20 Season of Live Magazine! are:
November 4, 2019, 8pm: Curated by Santiago Guzmán
January 20, 2020, 8pm: Curated by Eda Kumquat
March 23, 2020, 8pm: Curator TBA
May 11, 2020, 8pm: Curator TBA