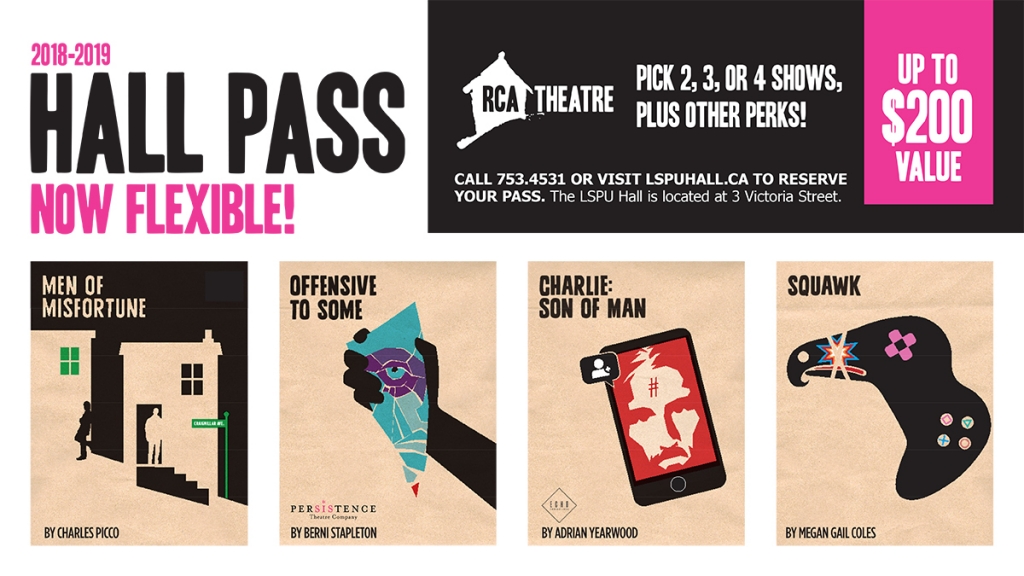 RCA Theatre Company's
2018-19 Hall Pass

Written by Charles Picco
Featuring Andy Jones & Greg Malone
Directed by Nicole Rousseau
***Content warning: Contains strong language and mature themes. For more info, contact communications@lspuhall.ca***
An original thriller with dark comic elements, Men of Misfortune chronicles the uncomfortable and unexpected reunion of two elderly brothers inside their childhood home on Craigmillar Avenue in St. John's. A home (like the brothers themselves) that seems permanently stuck in time. As certain truths and transgressions emerge from the shadows, and territorial lines are drawn, Henry and Lester MacPherson soon realize that one of them may not be getting out of the house alive.
And that's just goddamn fine with them.
---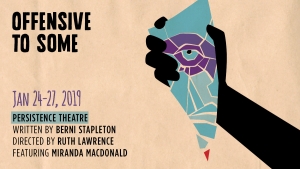 Written by Berni Stapleton
Directed by Ruth Lawrence
Featuring Miranda MacDonald
In prison for killing her husband – a man who has abused her for years- her journey as a wife, mother, daughter, but most of all as a woman, is revealed in her interactions with unseen cops and a parade of talk show hosts. Through dark humour, flights of fancy, and dramatic flashbacks that reveal her painful past, an unforgettable and deeply truthful portrait emerges before the audience.
---
Written by Adrian Yearwood
Directed by Victoria Fuller
A modern twist on the story of one of the most infamous characters of the 20th century, Charles Manson, Charlie: Son of Man plays on the recent renaissance of demagoguery and vitriolic nationalism. This adaption of the Manson Family story uses sex and today's drug of choice – mobile phones (and by extension social media) as the tools of manipulation for his nefarious deeds.
---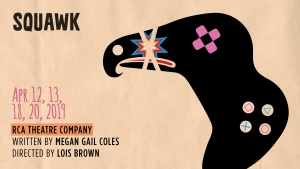 Written by Megan Gail Coles
Directed by Lois Brown
Annie Runningbird doesn't have time for the games boys want her to play. She's aging out of foster care on her next birthday. The system has decided she is an adult, so Annie must make adult decisions. Where will she live? How will she make money? Who can Annie depend on in her ever-shifting world? This intel is important. Because Annie needs to win the very real game she's playing. She must save herself to save the day.
---
HOW IT WORKS
Introducing our flexible Hall Pass: The more tickets you buy, the higher the savings (up to 40% off)!
PICK 4 SHOWS: $125 (Up to $210 value! Best value!)
Includes admission to all four mainstage shows in our 2018-19 Season ($127.50 value)
BONUS! Admission to four shows of Live Magazine! A multi-curated, multi-disciplinary series in our Cox & Palmer Second Space (Subject to capacity. Shows start at 8pm on October 15, 2018, November 19, 2018, February 11, 2019, March 25, 2019. $40 value)
Four drink tickets for the LSPU Hall bar (up to $35 value)
A Supporter RCA Membership ($20 value)
Or choose from one of our flexible options:
PICK 3 SHOWS: $84 (Up to $124 value!)
Includes three shows in our 2018-19 Season (up to $98.50 value)
Three drink tickets for the LSPU Hall bar (up to $25.50 value)
PICK 2 SHOWS: $60 (Up to $86.50 value!)
Includes two shows in our 2018-19 Season (up to $69.50 value)
Two drink tickets for the LSPU Hall bar (up to $17 value)
Exchanges for each show are subject to availability. Drink tickets may be used any time the bar is open.