The LSPU Hall Seat Campaign
The LSPU Hall is offering our patrons the chance to support the theatre and gain a beautiful gift in return.
For $500, patrons can purchase a chair in our theatre and dedicate it to whomever they like, a partner, a friend, their parents, a beloved pet. A seat can be purchased as a gift to a living loved one, or in honor of someone who has passed on. Community organizations, businesses, and teams can purchase a seat to promote their name.
For more information about our Seat Campaign please contact our Communications and Marketing Manager at communications@lspuhall.ca.
To purchase a seat follow the link here or call the box office at 753-4531.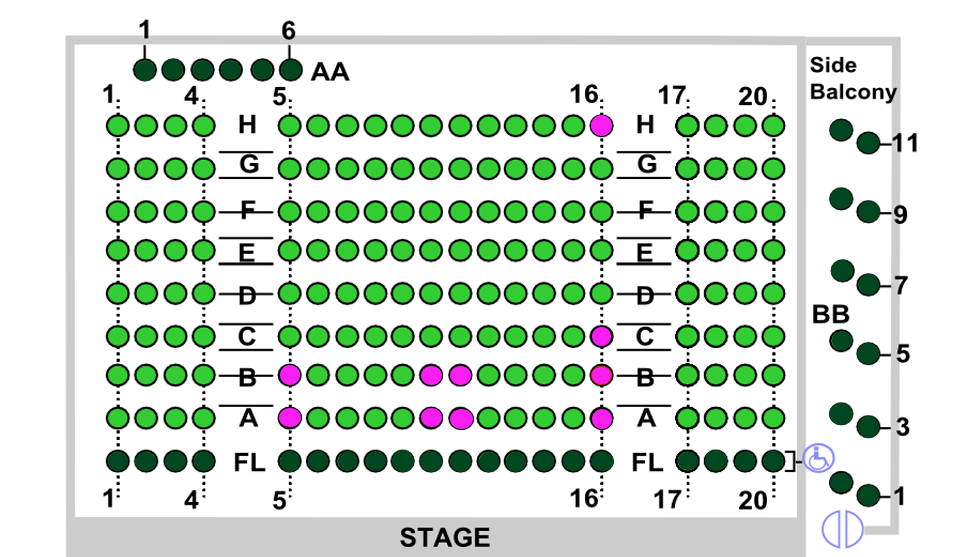 Dark Green Seats: Unavailable for purchase
Light Green Seats: Available for purchase
Pink Seats: Taken
A5 – Steve Wolinetz & Karen LIppold
A10 – Karen Skinner
A11 – Kay Woodford
B5 – Jake Fisher
A16 – Brian J. Grant
B16 – The Harringtons
B10 – Jennifer Walsh
B11 – Brian and Cathy Walsh
C16 – Coady's Fishing Co.
H16 – Dr. Jamie Skidmore