In Development
Altar by Santiago Guzmán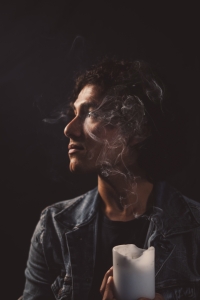 Santiago Guzmán is a writer, performer, and director for theatre and film originally from Mexico City, now based in St. John's, NL. He holds a BFA in Theatre from Memorial University, Grenfell Campus.
Selected acting credits include Hunger and The Tales of Dwipa (White Rooster Theatre), The Other Side of this (Artistic Fraud of Newfoundland) No Man's Land and The New Found Lande Trinity Pageant (Rising Tide Theatre), Macbeth (Shakespeare by the Sea Festival), Private Eyes (Power Productions), ALTAR (TODOS Productions), and Hamlet (Perchance Theatre – Upcoming).
As a playwright, his work aims to put local, under-represented narratives and characters to the frontlines, whilst inviting his audience to appreciate the vibrancy of our province from a diverse perspective. His plays ALTAR and Seis Grados en Mayo are currently being developed through Resource Centre for the Arts Theatre Company and Rising Tide Theatre respectively. Other plays have been developed and supported by different organizations and festivals outside of Newfoundland and Labrador like Urn (Eastern Front Theatre's RBC Emerging Playwrights Program and Playwrights Atlantic Resource Centre in Halifax, NS) Seis Grados en Mayo (Paprika Festival in Toronto, ON), and Juan, Juana, Gwan-Neetah (funded by the City of St. John's and the National Theatre School of Canada's Art Apart Program in Montreal, QC, developed with the support of PARC).
His work is very brown, very queer, and very real.
Supper Club by Willow Kean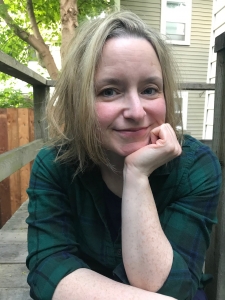 Willow Kean is an actor and writer from Labrador West who now resides in St. John's. She holds a BFA in theatre from Sir Wilfred Grenfell College and has spent twenty years working for several theatre companies across the province. Most recently, she was seen in Artistic Fraud's Canadian tour of The Colony of Unrequited Dreams. Willow can also be seen in the award-winning National Film Board docudrama Hard Light, the feature film Away From Everywhere, and in the upcoming web series Sex in Cars. She started writing collaboratively for the theatre ten years ago, researching and co-writing RCAT's iFrancophone. The show was performed at schools in and around St. John's, and then continued on a month-long tour of Newfoundland and Labrador. Similarly, a Robert Munsch adaptation she co-wrote with Sandy Gow, Love You Forever and More Stories by Robert Munsch, saw a successful tour of the province after sold out runs at the Barbara Barrett Theatre and the LSPU Hall. Willow started a food blog in 2011 called The Little Red Chicken, and she's written educational material both at home and abroad, researching and writing biographies and historical fiction for South Korean ESL students. In November of 2014, her short story Departures was shortlisted for The Cuffer Prize, and was published in Volume VII of The Cuffer Anthology. She recently completed her first novel, which won the 2018 Percy Janes First Novel Award.
Sailor Bishop Drunkard Star by Steve Cochrane

Steve Cochrane is an award winning actor/writer/director. In 2003 Steve won the Praxis Screenplay Competition for his feature The Sergeant's Son which also won the Best Dramatic Script Prize at the 2004 Newfoundland and Labrador Arts and Letter. Steve has written for several television shows including Lost Girl (Shaw), Taxi: Brooklyn (NBC), Endgame (Shaw/HULU) and Somewhere Between (ABC) Steve's first feature film We Were Wolves (Co-write with Jordan Canning) was an official selection of the 2014 Toronto International Film Festival. In 2013 Steve won the Digital Emmy for Best Cross Platform Fiction for writing and directing Endgame: Facebook Episode and in 2009 Steve shared the Gemini award for Best Ensemble Performance for his role of Mick Mcafferty in the critically acclaimed series Three Chords From The Truth. Steve was the series director for Three Chords From the Truth which was also nominated for Best Comedy Series or Variety Program at the 2009 Geminis. Steve is also a founding member of the award winning sketch comedy troupe The Dance Party of Newfoundland. Steve's most recent play Birthday Balloon was commissioned and performed by Rising Tide Theatre Company in 2016 and is set to take the stage in Toronto at the Next Stage Theatre Festival in January, 2018. Steve has performed as an actor with the RCA many times and as a writer has had two plays produced: The Importance Of Being Ernie (Co-write with Mike Butler) and No Mummers 'llowed In (Collective). Soldier, Bishop, Drunkard, Star is Steve's fifth stage play.