Cox & Palmer Second Space
Cox & Palmer Second Space is a multi-occasion room that allows for flexible seating configurations and risers. It has its own limited sound and lighting systems and is perfect for intimate theatrical presentations, as well as workshops, conferences, play readings, recitals, meetings and catered events.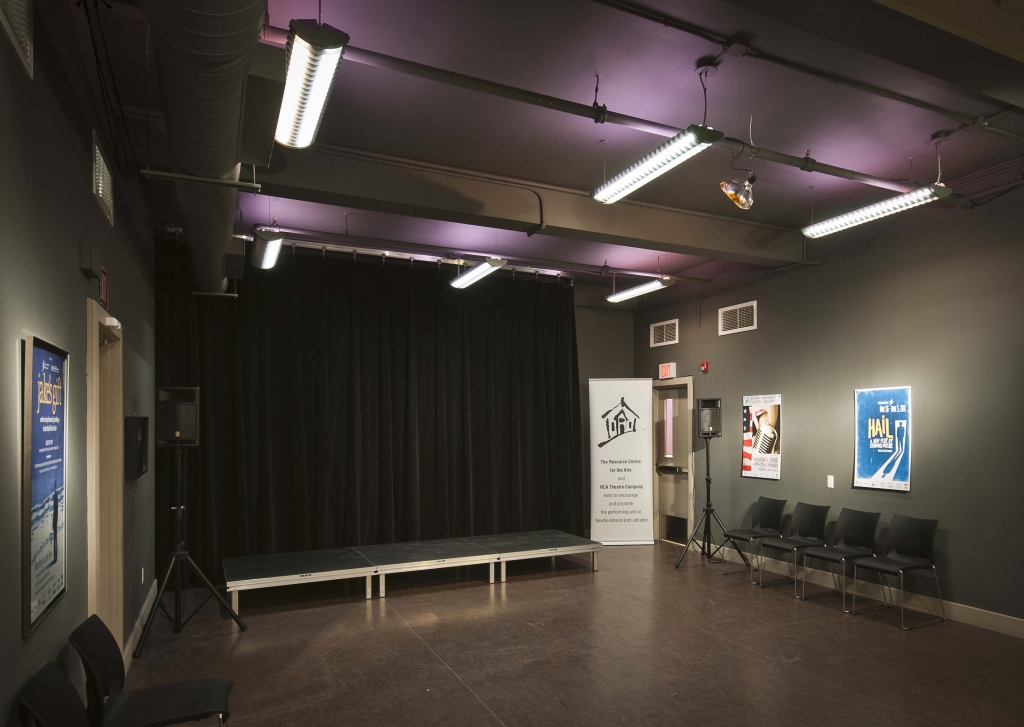 Capacity
Theatre-style with risers: up to 40
Bistro-style with tables: up to 28
Standing-only: 80

Rental Rates
Not for Profit, Artists/Performers:
6 hours or less: $100
More than 6 hours: $200
Box Office 80/20 Split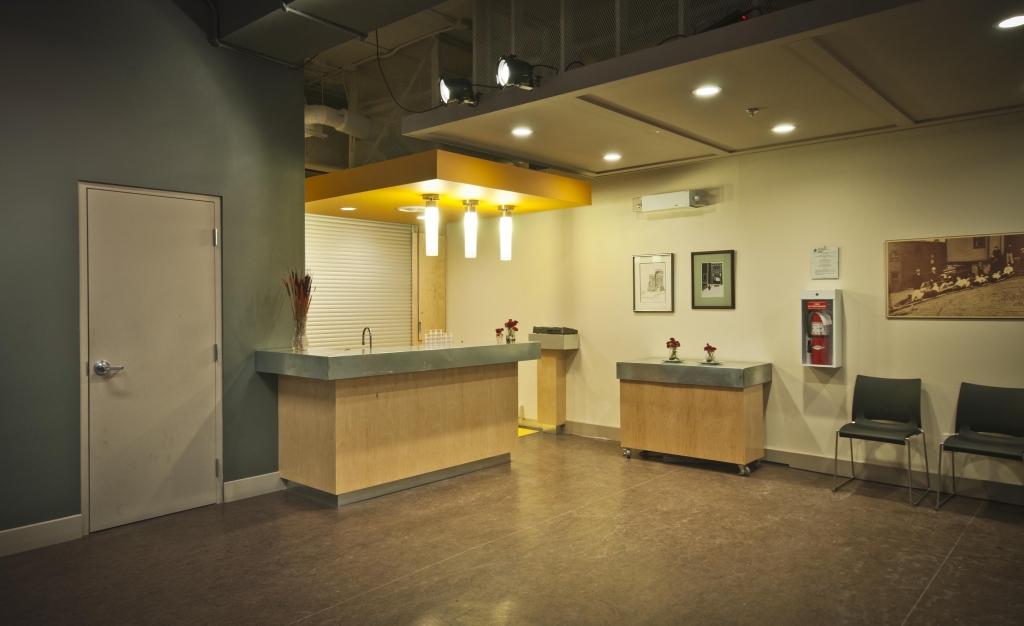 Services Included in the Fees:
Full access to Second Space inventory (lighting/sound/video equipment), risers, chairs & tables; set-up & running of all equipment is the responsibility of the renter. Some room-set up may be provided with advance notice, and RCA Staff will meet with the Renter to review use of technical equipment as needed.
Access to dressing room & wet bar (fridge, kettle, microwave, sink).
Box office services & ushers (please note that advance ticket sales must be processed through the LSPU Hall Box Office by RCA Staff).
Billboard space available on Duckworth Street. Installation & removal is the responsibility of the Renter.

Additional Services Available:
Bar Service: $15/hour
Additional Technical Staff: $20-25/hour
Working on Statutory Holidays: As per Newfoundland and Labrador Labour Standards, employees are entitled to receive wages twice their regular rate for the hours worked on the holiday

Box Office/Bar Staff regular rate = $15/Hr (3-hour min)
Technicians regular rate = $20-25/Hr (3-hour min)

Insurance: Commercial General Liability coverage is available during the Renter's use of the Hall for $25
Equipment:
While rental of the Second Space includes the use of this equipment, inventory is subject to change. All details are subject to revision and should be confirmed with RCA staff in advance of your production load-in.
Folding tables (6 available, 4x 6' and 2×5'), up to 40 chairs, linens
6 Risers (4'x4' with 1' or 2' legs available)
1 Podium, 7 music stands
Projector (Sharp Data, PG-F325W) w/ VGA connection & screen
ETC Colour Source 40 Fader Lighting Board w/ 12 Lights: six PAR 38, six Chauvet Slim Par Pro H (LED, colour changer); and 1 ULD-360 Dimmer pack
YAMAHA Stage Pas 300 PA System (2 powered speakers, 1 six-channel sound board)
Box Office Fees:
Renter pays all Debit fees (5¢ per transaction) and all Credit Card fees (2.2% + 30¢ per transaction).
Ticket Fees: for tickets greater than/equal to $12, or for any advance-sold tickets, per ticket sold: $2 in fees – LSPU Hall Building Maintenance Fund Fee ($1.25) plus Box Office Handling Fee ($0.75). The $2 fee is mainly borne by the patron and is added to renter's ticket prices. Alternatively, the Renter may choose to not sell advance tickets an collect a monetary cash-only fee/donation at the door without printed tickets at no additional fee.
Optional CAPE Fund ticket surcharge: $0.50 per ticket, borne by the patron.
Complimentary Tickets: $0.40 per ticket fee; the comp fee is borne by the Renter.
SOCAN fees apply to different rentals depending on the content of show. All SOCAN fees are subject to HST.
For Popular Music live performances, Tariff 4A1 is applicable (3% of gross ticket sales or performance fees, min. $35)
For Classical Music live performances, Tariff 4B1 is applicable (1.56% of gross ticket sales or performance fees, min. $35)
For dance, variety and fashion shows, Tariff 8 is applicable (flat fee of $31.72 based on room capacity)
For comedy and magic shows, Tariff 11B is applicable (flat fee of $36.60.)
Operation of technical equipment:
Renter is responsible for operation of all light and sound for the Second Space
RCA staff will show Renter where equipment is housed and how to use equipment
Policies:
No tape on walls or windows
No glitter, sand, confetti or rice
No open flame
Stage Layout:
The LSPU Hall's Second Space is an intimate space suitable for workshops, AGMs, book launches, receptions, play readings, recitals and more.
The stage is at floor level, with an option of using 1ft or 2ft risers
For all production and event inquiries please contact Crystal Laffoley, Operations Manager, at operations@lspuhall.ca or call the Hall at 709-753-4531 ext. 207.