Live Magazine! Vol. 8, Issue #19 Curated by Vanessa Cardoso Whelan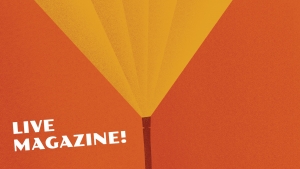 RCA Theatre Company Presents
Live Magazine! Curated by Vanessa Cardoso Whelan
Monday, May 3, 2021, 8pm
Cox & Palmer Second Space/Ticketed Online Event
You have two ways to watch: In-Person in our Cox & Palmer Second Space (limited availability) or tune into the livestream through our NEW online portal! Find out more about how to watch events through our new online portal here. We have a new ticketing system! Having trouble signing in? Visit this page for help.
Tickets for both in-person performance and live online performance are Pay What You Can, with no one turned away for lack of funds.
Buy online at the link above or call the Hall for tickets at 753-4531, seven days a week, Noon-5pm.
Live Magazine! is a multi-curated, multi-disciplinary series featuring an evening of entertainment curated by a different artist in the community. This issue will be curated by Vanessa Cardoso Whelan and will highlight the art of clown. There will be performances and interviews with Sara Tilley, Beni Malone, Danielle Knustgraichen, David Mercer, and Kailey Bryan.
Live Magazine! Multi-disciplinary! Multi-curated! Tons of fun!