The Dialysis Project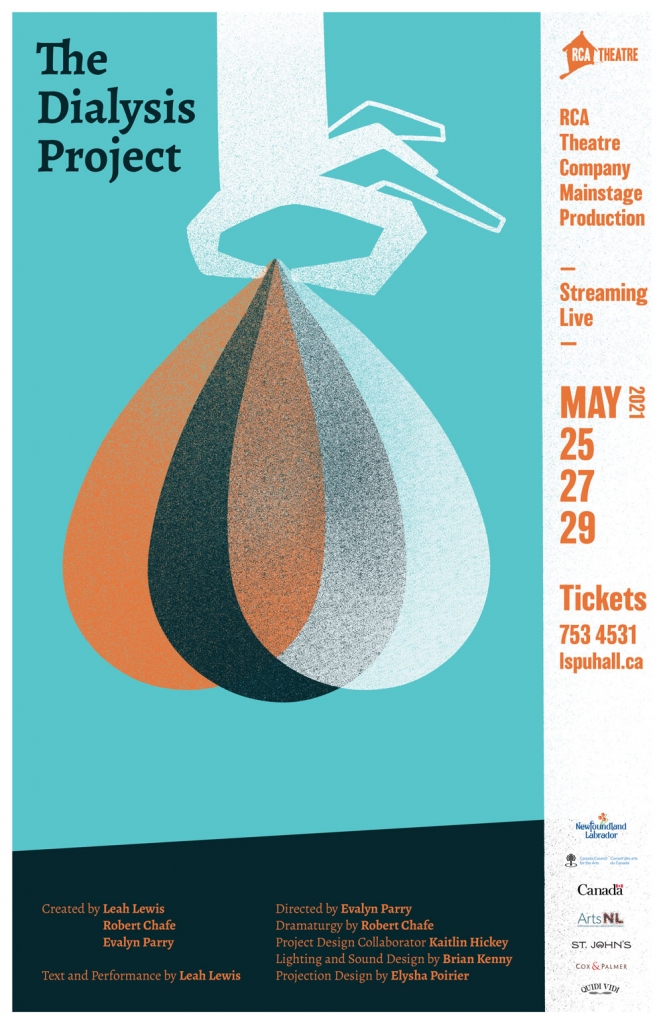 May 25, 27, 29, 2021, 7pm NST
Online Event
The Dialysis Project will be performed via livestream. You will be sent a unique link before showtime where you will be able to watch the performance live. You will need to have access to an internet-ready device at the time of the performance as it will not be made available for later viewing.
Please note, we have a new ticketing system. Having trouble signing in? Visit this page for help.
$27.75 General Admission. $22.75 Student/Artist/Senior (fees included).
To purchase tickets by phone, call our Box Office between Noon-5pm, seven days a week at 709-753-4531.
RCA THEATRE COMPANY MAINSTAGE PRODUCTION
Created by Leah Lewis, Robert Chafe and Evalyn Parry
Text and performance by Leah Lewis
Directed by Evalyn Parry
Dramaturgy by Robert Chafe
Project Design Collaborator: Kaitlin Hickey
Lighting and Sound Design, Technical Direction by Brian Kenny
Projection Design by Elysha Poirier
Livestream Technician and Camera Operator: Emma Pope
Stage Managed by Jana Gillis
The Dialysis Project, created by Leah Lewis, Robert Chafe and Evalyn Parry, is a live, up-close-and-personal encounter with one woman's lived experience of self-administered home dialysis.
Writer, performer and kidney patient Leah Lewis invites audiences into her home via livestream for a unique "performance". Hooking herself up to her dialysis machine, Leah offers us a window into a life-maintaining medical procedure, and simultaneously, into her own life, as she weaves an intimate story about isolation, relationships, mortality, resilience and identity.
Leah's vivid, personal storytelling is supported by evocative and imaginative visuals, and the result is a fascinating, funny, touching and utterly unique show.
Performances of The Dialysis Project will contain a live Medical Procedure. For more information please contact communications@lspuhall.ca.