The Nickel Independent Film Festival – Monday June 12th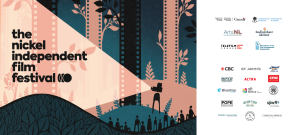 Monday, June 12th. 8pm
Pay What You Can
Mirror Mirror: Short films on growth and self-reflection
Presented by College of the North Atlantic
Tickle Cove Pond
Director: Ian Foster . Music: Kevin Blackmore . Producer: Eric West . Newfoundland & Labrador . 4 mins
A short animated film featuring a log hauler and his beloved horse based on the song by Mark Walker (1846-1924), with gorgeous animation from local animator Khamadi Ojiambo.
Demon Box
Director: Sean Wainsteim . Ontario . 14 mins
After multiple festival rejections, a director revises his intensely personal short film about generational trauma, the Holocaust, and suicide, transforming it into a painful, blunt and funny analysis of the both the film and of his life.
The Door
Director / Writer: Peter Collins . Newfoundland & Labrador . 5 mins
Struggling to deal with the loss of her husband, Mary, played by the talented Kimberley Drake, has not yet been able to enter the room in which he took his own life. After hearing tormenting voices and strange noises coming from inside, Mary must confront reality and open The Door.
End of the Line
Director: Nicola Heidi Hawkins . Newfoundland & Labrador . 5 mins
End of the Line features music by Jessie Montgomery performed by Duo Concertante paired with visuals depicting one person's journey from lockdown in a city to finding solace in natural landscapes.
Guardians
Director: Minerva Marie Navasca . Ontario . 6 mins
On a dark walk home, a young woman calls her loved ones to protect her from the threat of violence. This doc from Sheridan student Minerva Marie Navasca is a meditation on fear, and on the burden of responsibility placed on women and girls to protect themselves against unseen threats at all times, from all places, and especially at night.
Brother
Director: Mahdie Mohammadi . Iran . 8 mins
During the last months of the Iranian revolution in 1978, escaping opposition soldiers were hunted, but one soldier finds support in a chance meeting.
September 7, 2012
Directors / Writers: Ashley Amminson MacDonald & Dominique Jean . Newfoundland & Labrador . 13 mins
On September 7, 2012, Ashley MacDonald was sexually assaulted. In this powerful first time film, she talks to strangers about what that same day looked like in their own lives. What were they doing? What happened to them? The result is a documentary about processing trauma, and the power of openness and connection to help us heal. Content Warning: discussion of sexual assault/cancer
Not Fit
Director: Paul Colbourne . Producers: Paul Colbourne and Darrell Simms . Newfoundland & Labrador . 26 mins
Darrell Simms is a wise and eloquent gay man in his mid-50s, but for more than 30 years his life has been dominated by an addiction to cocaine. In this documentary he gives director Paul Colbourne unfiltered access to his experience as an addict living on the margins in St. John's. Content Warning: graphic drug use
Post-Screening Q&A in the Second Space
Featuring Nancy Dahn (NL), Ashley Amminson MacDonald (NL), Minerva Marie Navasca (ON), Sean Wainsteim (ON), and Eric West (NL) ~30 minutes