The Nickel Independent Film Festival – Thursday, June 15th. 8pm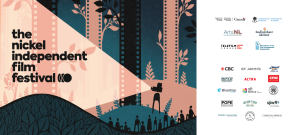 Thursday, June 15th. 8pm
Pay What You Can
Life at the Crossroads: Short films about choices that define
Eternal Return
Director: Nicola Heidi Hawkins . Newfoundland & Labrador . 8 mins
Newfoundland violin and piano classical team Duo Concertante perform a moving piece by Dawn Avery, and director Nicola Hawkins accompanies with striking mixed media imagery.
A Night in the Cósmico
Directors: Luis de Val & Diego Herrero . Spain . 18 mins
A law student is in his room, unable to study for an exam he knows he's going to fail. So? He heads to a bar with a plan to drink a coffee to double down and focus. Great performances and dialogue here make for a delightful film that explores instant gratification and the liberating feeling of letting go.
Shards
Director / Writer / Producer: Henrik Dahlbring . Sweden . 12 mins
After their father's suicide attempt, adult siblings Maja and Maximilian meet to clean their father's house before his discharge from hospital. A deeply personal film by Swedish filmmaker Henrik Dahlbring that blends live action and animation, and shows the different reactions to trauma and the rifts that can happen because of it. We're proud to host the international debut of this moving, understated short. Content Warning: discussion of suicide
How She Didn't Die
Director: Antonio Tibaldi . Switzerland . 27 mins
This is one powerful, beautiful, complicated film. A mysterious woman has set a life-changing plan in motion—but she needs a stranger's help to make it happen. She meets a young man and makes him a disturbing offer. Can she convince him to accept? Making this was a labour of love for Swiss director Antonio Tibaldi, and it's sure to be one of the most-talked-about films at this year's festival. Content Warning: graphic violence/suicide