[ID: A red banner poster with an image of a balaclava. The eyes are the shapes of swans. Images of row houses can be seen inside. Text reads: Produced by Salt Teeth Theatre Company In Partnership with RCA Theatre. Home In Three Plays: Bowring Park, Cashin Avenue, Cookstown.]
Table of Contents
Land Acknowledgement
Synopsis
Content Warning
Development History
Notes From the Playwright
Notes From the Director
Cast and Creative Team
Thank Yous
Hall Hats
Seat Campaign
Coming up Next
Volunteer At The Hall
Donors
CAPE Fund
Endowment Fund
Home In Three Plays: Bowring Park, Cashin Avenue, and Cookstown
PRODUCED BY SALT TEETH THEATRE COMPANY IN PARTNERSHIP WITH RCAT
Written and Performed by Darren Ivany
Directed by Reg Hoskins
Stage Management by Jordan Vincer
Makeup Artist/Consultant Robert Power
Featuring
Darren Ivany
Marie Jones
Michael Rhodri Smith
Nicole Redmond
---
Land Acknowledgement
RCA respectfully acknowledges that the land on which we currently stand, create, and perform, and gather is the ancestral homelands of the Beothuk, whose culture has now been erased forever. The island we call Newfoundland is the unceded, traditional territory of the Beothuk and the Mi'kmaq. Labrador is the traditional and ancestral homelands of the Innu of Nitassinan, the Inuit of Nunatsiavut, and the Inuit of NunatuKavut. We ask that before you watch the performance tonight, you take a moment to reflect on whose land you are standing on, whose land you were born on, and whose land you currently live on. We ask that you reflect on how that land was taken care of, and how it is taken care of now, and finally who currently walks freely on it. If this reflection makes you uncomfortable we ask that you sit in that feeling and question it. Let it help you work towards reconciliation, something we can only achieve together. Thank you.
---
Synopsis
Cashin Avenue: The story of a last chance conversation between two underclass lovers, both of whom are desperate for something they've never had: Home. When what 'home' means to each of them threatens to deepen a divide that's been growing for years, one of the lovers goes too far in his hunt for a happily ever after. Sardonic, but not without sentiment, Cashin Avenue confronts the audience with a relationship nearing the end of its rope.
Cookstown: Wearing his best balaclava and prowling outside the Peter E is Jimmy. He's not a bad fella, but he is hard up for a smoke — along with anything else you got handy. Cookstown is the classic tale of someone wanting what somebody else got. It's a robbery gone right on the streets of St. John's City.
Bowring Park: With one day left, it's now or never for Johnny Eddie and Mikey Mickey. Danger lurks in the duck pond and a murderous swan stands to illustrate the absurd lens through which our ill fated pair perceive the world, its laws, and what we all need to survive.
---
Content Warning
Content Warning: Discussions of suicide and violence, including intimate partner violence. This performance also includes strobe lighting and the use of a herbal cigarette.
If you, or someone you know needs help, please reach out to these services in Newfoundland and Labrador:
Naomi Centre 24 Hour (Shelter/support/safety for young women) (709) 579-8432
Choices for Youth 24 Hour (Shelter/support/safety for young men) (709) 757-3050
Mental Health Crisis Line 24 hour 1-888-737-4668
CHANNAL Peer Support Warm Line 1-855-753-2560
Bridge the gapp www.bridgethegapp.ca
Domestic Violence Help Line 1-888-709-7090
First Light Aboriginal Patient Navigators – (709) 726-5902 ext. 602
To any person reading this who has any influence on public policy:
Our healthcare system is in crisis. Especially mental health. Heed the Health Accord. Increase funding. Support doctors and mental health care providers. Provide a basic income. People are dying. Save them.
---
Development History
The earliest development of these plays began with Rabbittown Theatre Company. Without the opportunities and knowledge gleaned from Rabbittown Theatre, none of this would be possible.
Cashin Avenue was first workshopped at the 2012 Nickel Screenplay Series with mentorship from Joel Thomas Hynes and Charles Picco. It premiered at the 2017 St. John's Shorts Festival with Kim Follet originating the role of 'Jane' and Robert Chafe providing dramaturgy. The play saw further life in the LSPU Hall's Cox & Palmer Space with a Live! Magazine performance, as well as a 2018 co-production with Double Sure Theatre Co-op featuring Cashin Avenue, Nail Biter, and a staged reading of Cookstown.
Cookstown was first workshopped at the 2013 Nickel Screenplay Series with mentorship from Justin Simms and Charles Picco. It then had the staged reading in 2018 at the Cox & Palmer Space, with Reg Hoskins, Pat Foran, Marie Jones, and Michael Rhodri Smith originating roles from an earlier draft of the script. The current version premiered at the 2018 St. John's Shorts Festival, and raised the curtain at the 2019 NL Drama Festival.
In 2020, Bowring Park received workshop funding from the St. John's Shorts Festival and APTNL's Art in the Time of Covid grant. This workshop was led by Andy Jones with substantial input from Michael Rhodri Smith. An early draft of the script was awarded the 2021 NL Arts and Letters Award for Dramatic Script.
This production would not be possible without the generous support of ArtsNL, the City of St. John's, and the incredible, incredible, humbling support of RCAT.
---
Notes from the Playwright
From the cedar plank of JIMMY
That's right I robbed his fucking playwright's notes! You didn't think I was capable of intellectual theft, did ya? But here I am, stealing your thoughts. 'Cause Ivany was just gonna say "see plays" for his playwright's notes and both my eyeballs nearly hit the floor rolling out of me head when I read that, and I wanted to save you all the trouble of not having eyeballs.
First of all, fuck him – he stole everything good in these plays (from me mostly), and anything else halfway decent probably came from Mike or Reg (or Marie or Nicole or Jordan or one of them other artsy fucks). But maybe that's the point? That the best stuff in here don't come from the rotten brain of Darren Ivany – the best stuff in here comes from St. John's. It's robbed from the places he had the gall to name the plays after. It's distorted and exaggerated, but the heart of it is all there. Bleeding on the stage.
So, enjoy the gaping wound, ya buncha sickos. And watch out. Don't laugh too hard, 'cause it could just as easily be you.
I'll be seeing you soon,
The Boy in the Balaclava
---
Notes from the Director
The process of creating these shows has felt like a culmination for me. A culmination of all the odds and ends of theatre that I have accumulated in my mental toolbox over the years that have now found their Home in these shows.
Like most of us, the Pandemic caused me to pivot in terms of my work and creativity. Putting this evening together could be stressful at times especially as so much time had elapsed since my previous staged work. Did people still know me as an artist? Can I still ask people for help?
I have been in awe of the support we have received for this project. From the support of ArtsNL, the City of St. John's, and our co-presenter Resource Centre for the Arts Theatre Company, to the teams at the St. John's Arts and Culture Centre, the LSPU Hall and Terra Bruce Productions. The support from my community, my friends, my family, my Home, has been incredible.
I want to leave you with a little story. One that illustrates why we are telling these stories more than I am able to express in these brief notes.
Last Thursday I went to Cookstown. I went there to experience it again ahead of production week–the arguments that can circle the block, the sounds, the sights, the random conversations. While I was there I met a young man. He stood out to me immediately as he looked like the characters in the shows you are about to see, and I was fortunate enough to have a smoke with him and hear his story. For the sake of privacy let's call him Tommy.
Tommy was going to get a bottle at the liquor store to surprise his buddy–his buddy was upset and depressed, and that the last time they were drinking he let slip that he was thinking about… [at this point Tommy made a click with his mouth as he drew his thumb across his neck]. He told me that he knew what his buddy was going through because he had wanted to do that himself, and that he had spent some time in the Waterford to get some help. Tommy told me that he loves his buddy. His buddies are all he's got.
That kind of care, compassion, love? That's Home.
He is the reason we are telling these stories. To get past judgements, impressions, and stereotypes; to tell stories that are universal to us all.
Thanks for being here. Welcome Home.
Reg Hoskins
---
Cast and Creative Team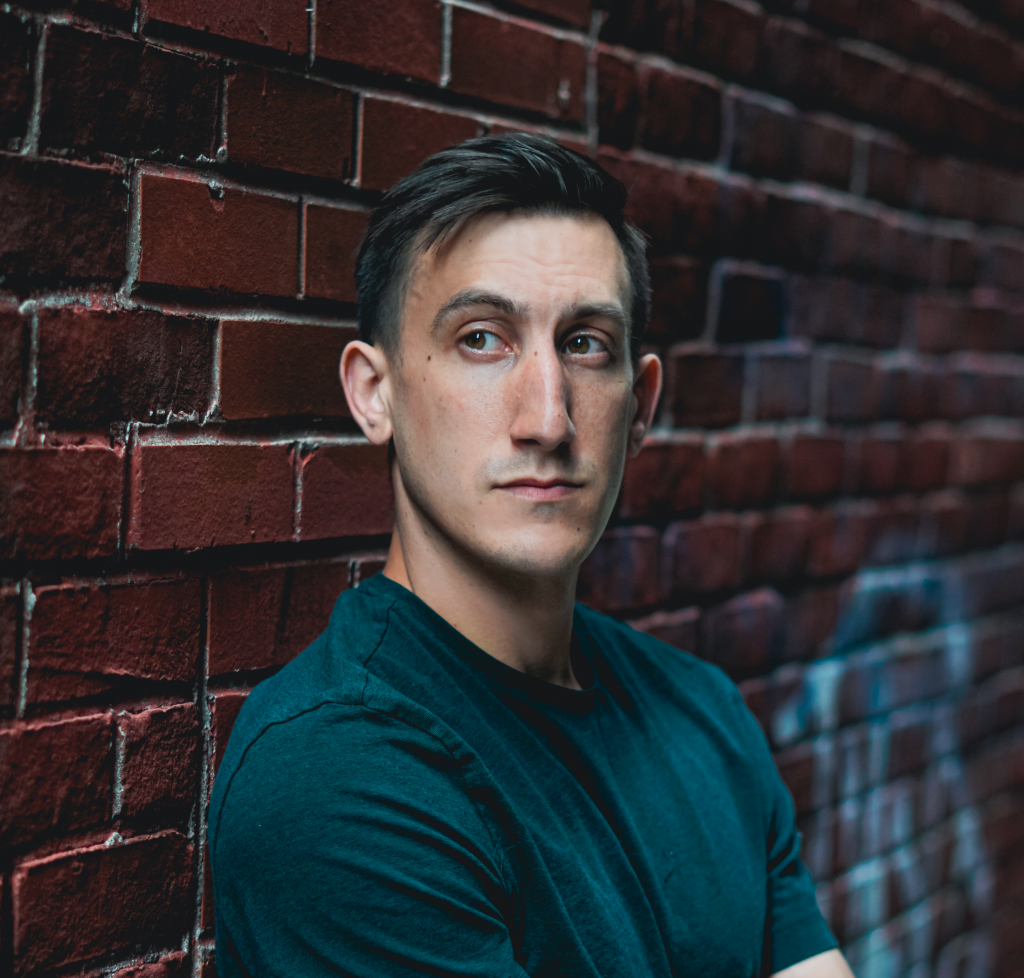 [ID: Pictured is Darren, a white person with dark hair and hazel eyes, wearing a dark green t-shirt and leaning against a brick wall.]
DARREN IVANY
Playwright/Actor
Darren (he/them) is an actor, writer, director, and producer from Seal Cove. As an actor, highlights include: performing Joel Thomas Hynes' Say Nothing, Saw Wood in London, England, CBC's Republic of Doyle, CityTV's Hudson and Rex, and Rabbittown Theatre Company (God rest its soul) productions of The Fights, The Pillowman, and American Buffalo.
As a writer, Ivany has been published in journals across Canada and internationally. He has been selected twice for the Nickel Screenplay Series. Ivany has written multiple short plays: Waking Brian (co-written with Stephen Jefford), Cashin Avenue, and Cookstown, all of which premiered at the St. John's Shorts Festival. Ivany's Bowring Park was awarded the 2021 Arts and Letters Award for Dramatic Script. Ivany also co-created the short film, Aw, Shucks!, which premiered at the Atlantic Film Festival. Most recently, Ivany was a co-writer and puppeteer for The Brass Button Man: A Shadow Puppet Play. Ivany also wrote the companion piece, The Kraken: A Shadow Puppet Play. Both of these plays toured across Newfoundland and Labrador in 2021, presented by the Arts and Culture Centres. Both plays also toured across schools in Western Newfoundland, and, most recently, were presented by RCAT at the LSPU Hall in March 2022.
Ivany has also written multiple plays for Placentia Theatre Festival. He is currently workshopping another shadow puppet play, The Selkies, and a historical comedy, Fort Townshend's Hollow, which details the true(ish) story of the very last duel that happened in Newfoundland (and subsequently Canada). Ivany will next be heard in Artistic Fraud's upcoming audio series, for which he wrote and performed the monologue What a Sin to Drown in St. John's Harbour.
Ivany is the current Artistic Director of Salt Teeth Theatre Company.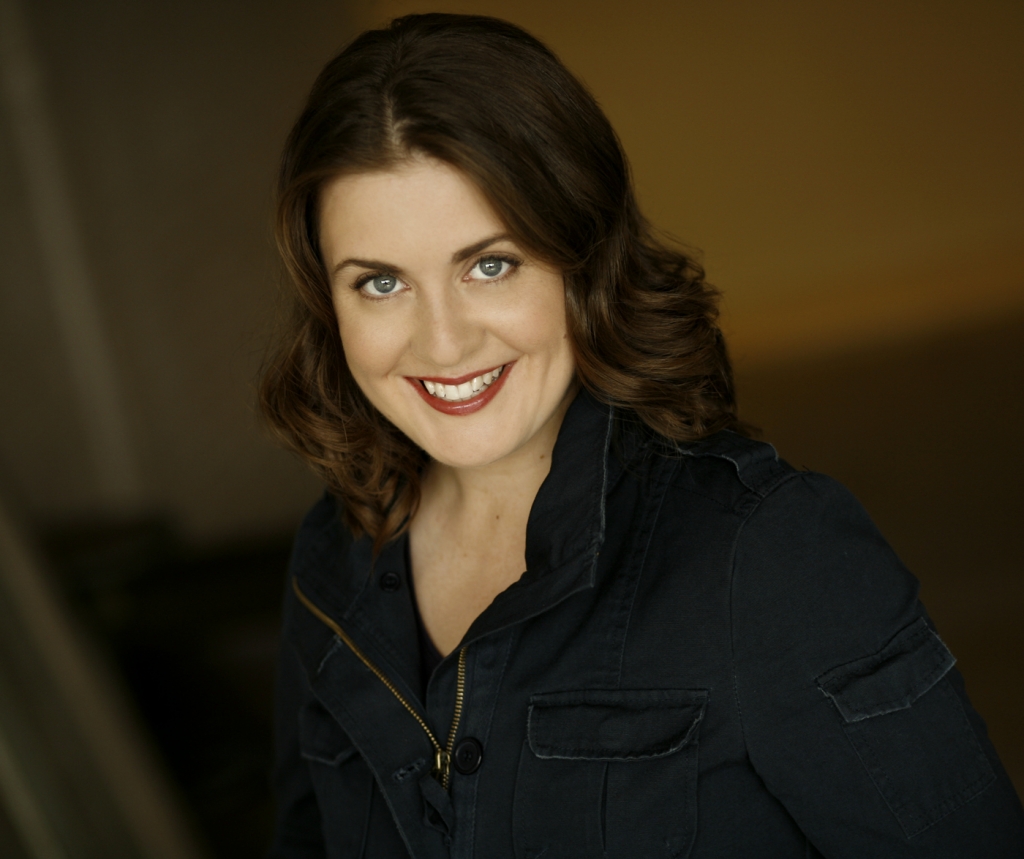 [ID: In her headshot, Marie is seated at an angle and wears a fitted navy-blue duffle coat. She has round, blue-grey eyes and shoulder length, wavy brown hair. She smiles at the camera with her head tilted slightly downwards. ]
MARIE JONES
Actor
Marie is an Alberta-born theatre artist at home in St. John's. Some of her NL appearances include Girls from Away (Kitchen Party Theatre); Other Women Walk (White Rooster Theatre); Isle of Demons, Women Playing Hamlet, The Haunting of Margaret Duley (PerSIStence Theatre); West Moon, Trinity Newfoundlande Pageant, No Man's Land (Rising Tide Theatre); Proud, Village Wooing (Double Sure Theatre Co-op); Leave of Absence (New Curtain Theatre); and Under Wraps (Artistic Fraud). Marie holds a BA (Honours) in Drama from the University of Alberta and is a grad of George Brown Theatre School in Toronto. Her Closely, her play devised from writings between Franz Kafka and Felice Bauer, was a part of RCAT's 2021-22 season. She works with the Arts and Culture Centres division and lives up the way from Jackman & Greene's, with Pat and their black lab-beagle mix, Abbey.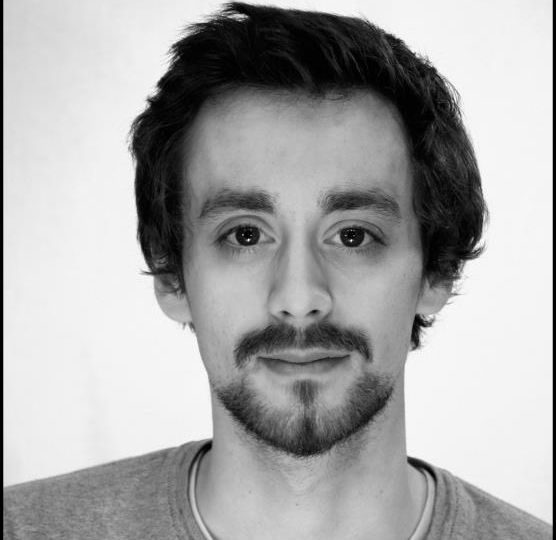 [ID: A photo of Michael from the chest up. He is white with large hazel eyes. He has short shaggy brown hair, a small beard and is wearing a gray long sleeve shirt. The photo has been taken against a white background and is in black and white.]
MICHAEL RHODRI SMITH
Actor
Michael Rhodri Smith (He/They) lives in St. John's and has been performing in (once, in the Geo Centre), on and around the island since 2011. He couldn't be more excited to return to the stage as Jimmy in Cookstown and debut as Mikey Mickey in the brand new play, Bowring Park. Primarily a performer he has had many wonderful opportunities to explore the art. From shadow puppetry to marionettes, outdoor and indoor stages, naturalistic theatre, Shakespeare and Commedia dell'arte. Select credits include: As You Like It – Perchance Theatre / Hamlet – Perchance Theatre / The Kraken and the Brass Button Man Shadow Puppet Double Feature – Under the Bridge Productions, Salt Teeth Theatre Company, ACC, RCAT / The Servant of Two Masters – Perchance Theatre / Caesar – Perchance Theatre / Cookstown – Salt Teeth Theatre Company / The Fights – Rabbitown Theatre Company / The Pillowman – Graveyard Shift Productions / Jack Meets the Cat and Other Tales – School Zone Productions.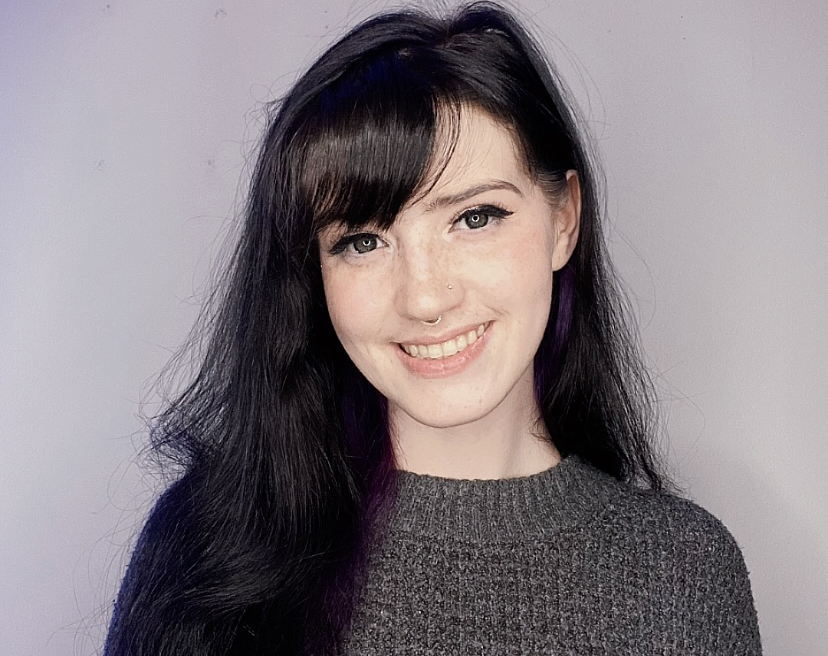 [A photo of Nicole taken from the chest up, against a light backdrop . She is white and has long black hair, dark eyes and is smiling. She has a septum piercing and is wearing a grey sweater.]
NICOLE REDMOND
Actor
Nicole Redmond (she/her) is an actor from Bay Roberts. She holds a Bachelor of Fine Arts degree from Grenfell Campus, Memorial University and has performed in a variety of roles throughout her program including: #14 (The Wolves), Anya (The Cherry Orchard), The White Rabbit (Alice in Wonderland), 1st Witch (MacBeth), and Smeraldina (The Servant of Two Masters). Film credits include Astrid and Lilly Save the World and ASKIN' FOR IT. Nicole has also studied dance, voice and piano, and made her directing debut back in 2021, directing the show The Nether. She is excited to be joining Salt Teeth Theatre Company and playing Jane in Cashin Avenue.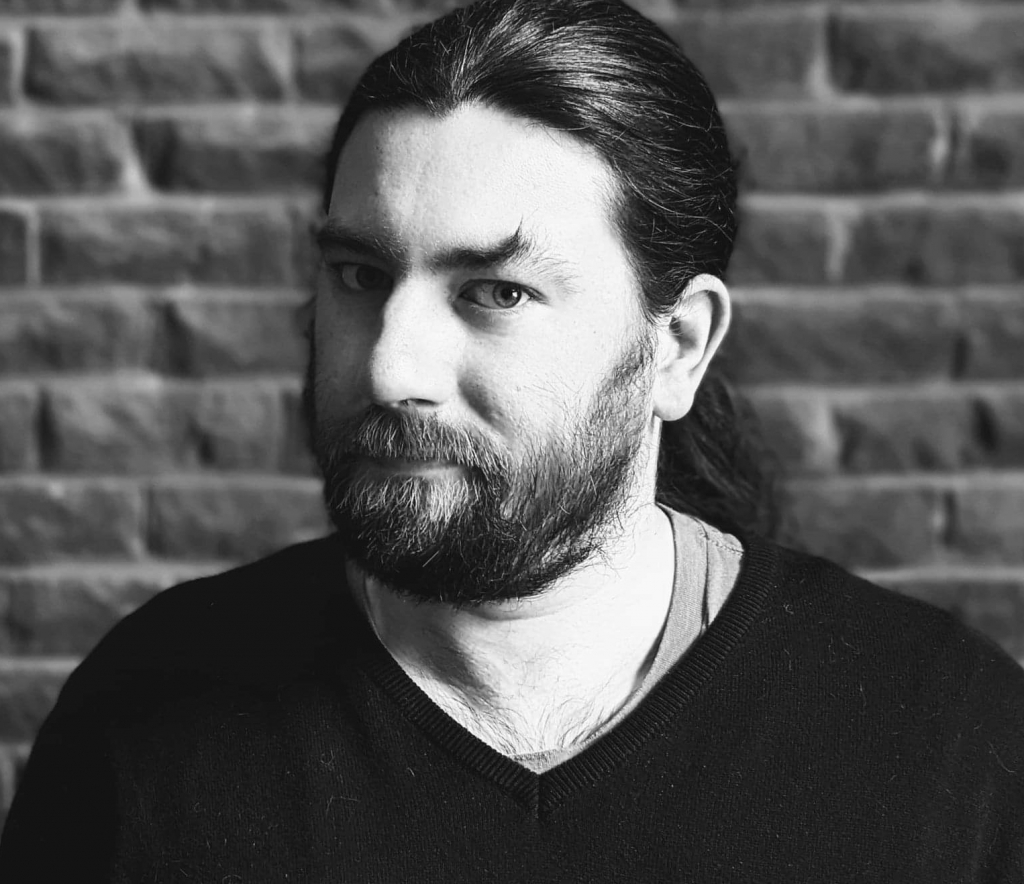 [ID: Black and white photograph of Reg from the chest up, standing in front of a brick wall. He is a white person wearing a black sweater and has long hair, a beard, and an upturned eyebrow.]
REG HOSKINS
Director/Designer
A theatre artist about town, Reg Hoskins (he/him), has worked on everything from operas to oprys and all kinds of things in between. Way back in 2019 Reg could usually be found in the Barbara Barrett Theatre as the house technician, helping to bring many types of theatre, music, and dance to the stage. Since the advent of the Covid-19 Pandemic he has taken on the role of Covid Safety Officer with Terra Bruce Productions, working on a multitude of film and stage projects during that time.
Reg has long been drawn to short plays, especially the idea of seeing and creating a complete narrative arc in a limited timeframe. He is an artistic associate of Salt Teeth Theatre Company and directed and designed the premiere productions of both Cookstown and Cashin Avenue (STTC) at the St. John's Shorts.
Select design credits include: As lighting designer: Soldier's Heart (New Curtain Theatre), Never Swim Alone (GroupHug Productions), The Goat, or Who is Sylvia? (Joint Productions). As scenic, sound, and lighting designer: Fool for Love (Joint Productions). Hailing from Kelligrews, Conception Bay South, Reg has lived on many St. John's Streets: Guy, Newtown, and even Cookstown, itself. He continues to reside in St. John's City with his Intended, 2 young lads, 5 cats, a dog that comes and goes, and some quail.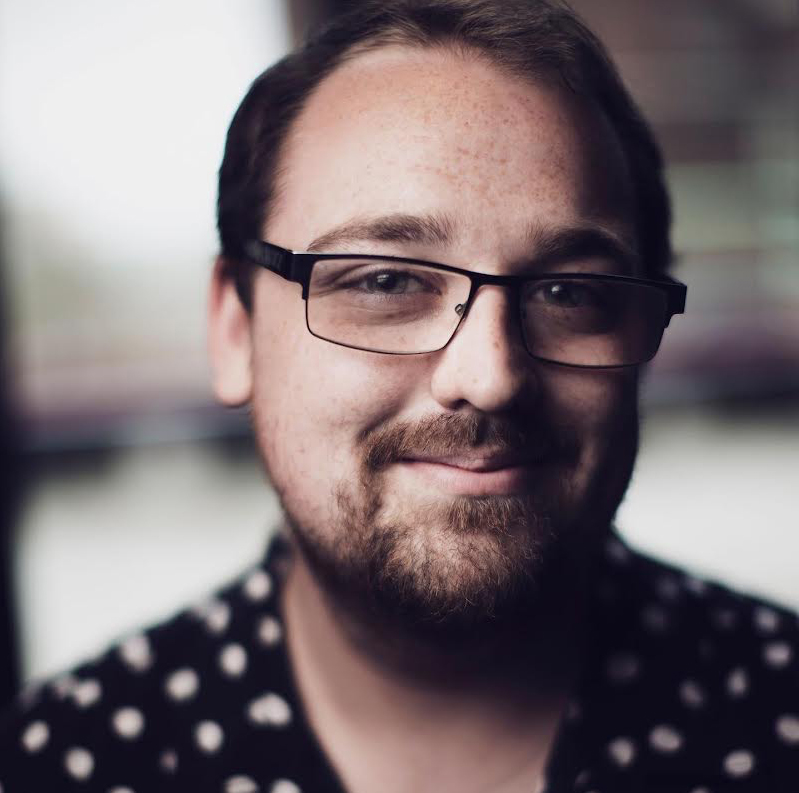 [ID: A photo of Jordan taken from the shoulders up against a blurred background. He is a white person with short brown hair and a beard. He is wearing glasses, and a black and white polka dot shirt.]
JORDAN VINCER
Stage Manager
Jordan Vincer (he/him) is a recent graduate of Ryerson University's School of Performance where he graduated with a B.F.A in performance production. Jordan's select credits include Assistant Stage Manager of No Change in the Weather (2018 and 2021), ASM and 3rd AD of These Are My Mountains (2021 Terra Bruce Productions), The 25th Annual Putnam County Spelling Bee, Honky Tonk Laundry, To The Girls (2021 Stephenville Theatre Festival), Once: The Musical (2018 Theatre St. John's), and Dido and Belinda (2019 Opera QTO), and Tosca (2018 OOTA). Jordan is thrilled to have the opportunity to work with Salt Teeth Theatre Company and hopes you enjoy the show! You can find Jordan on instagram @jordanvincer.
---
Thank You From the Playwright
Andy Jones, Aiden Flynn, Robert Chafe, Gillian Williams, Jamie Skidmore, David Feehan, all the friends who kept me alive, APTNL, Terra Bruce Productions, Pat Dempsey, Nefren Feizo-Gas, Mark Feener, Brendan Agnew, Brian Kenny and the crew at the St. John's arts and Culture Centre, Roxanne Cooper, Cameron Cooper, Danny Cooper, Maria Foley (ACC Admin), Brian Kenny, Annie Warner, Pat Foran, Marie Wade, Jenny Wade, Nick Hiscock, Joel Hynes, Justin Simms, Charles Picco, Kim Follett (very special thanks), and Carol Hughes.
Thank You to our Accessibility Sponsor!

---

[ID: A black Hall toque in front of the green, white, and pink Newfoundland republic flag. Text reads: Get you very own Hall Hat! Available at the box office for $20 + tax.]

[ID: Text reads: Seat Campaign Back in the seats again! Ask us how to get your own seat in the historic LSPU Hall's mainstage theatre. The photo shows the red theatre seats of the Hall.]
---

[ID: The black and pink RCA Theatre logo. The pink letters R-C-A are inside the black shape of the Hall building.]
Coming Up Next for RCAT!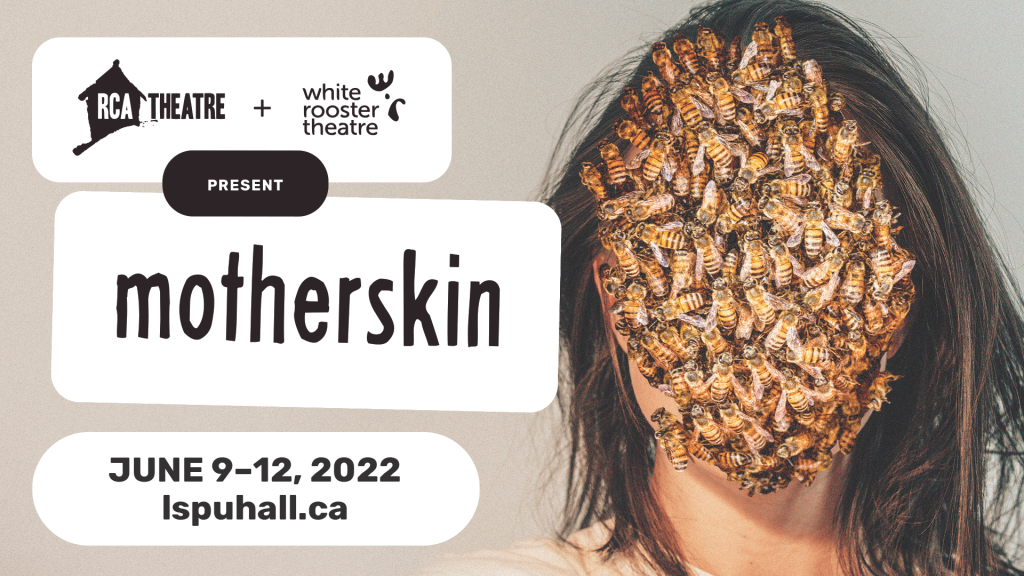 [ID: A horizontal poster with an image of a person from the top of the shoulders up, with long straight brown hair and a face covered in bees. They are wearing a cream colored shirt. Three white boxes to the left have black text that reads: RCA Theatre + White Rooster Theatre Present motherskin June 9-12, 2022 lspuhall.ca.]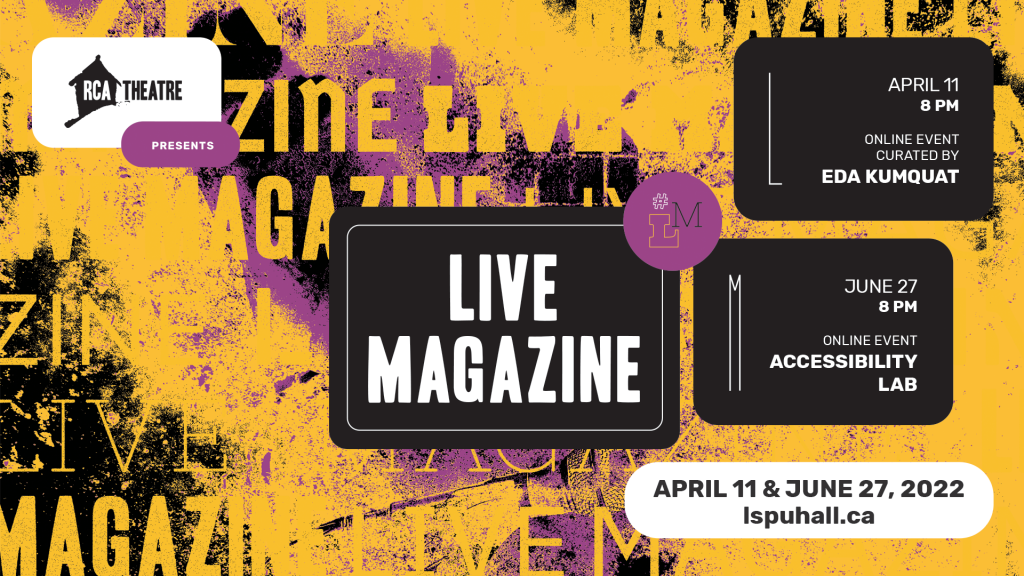 [ID: Yellow, purple, and black background with the words Live Magazine printed over and over with a spray paint image. Text reads: RCA Theatre presents Live Magazine #LM April 11 8 pm Online Event curated by Eda Kumquat. June 27th 8 pm Online Event Accessibility Lab. April 11 & June 27, 2022 lspuhall.ca]
---
Thank you to the LSPU Hall Volunteers!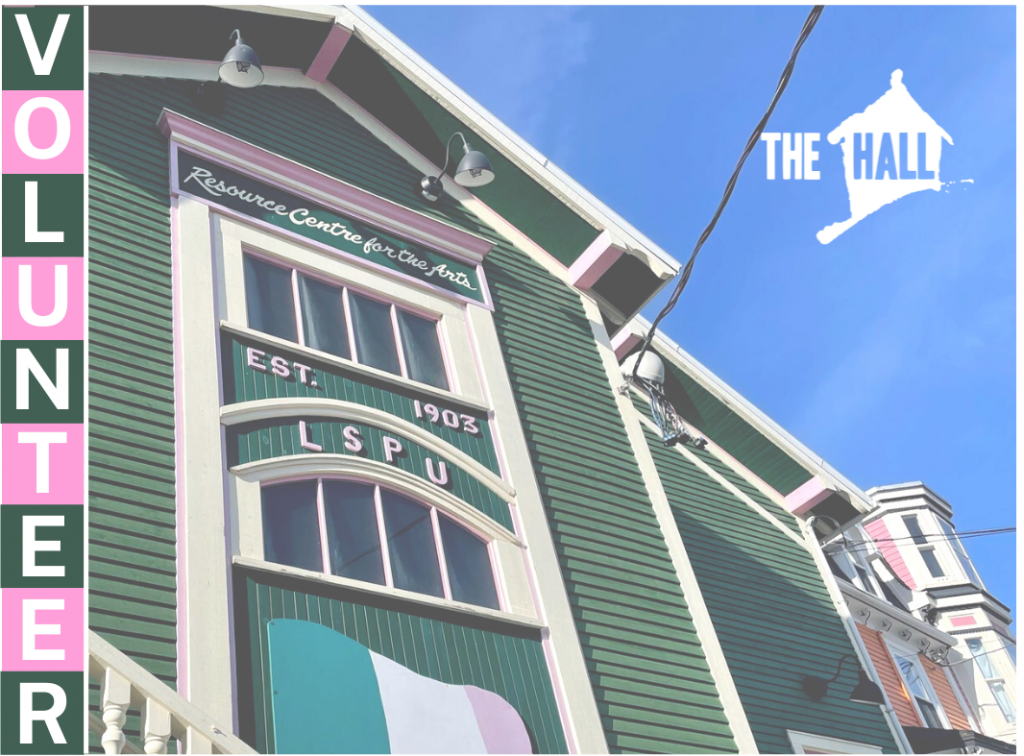 [ID: A faded photo of the Hall with the word Volunteer in pink and green blocks written vertically down the left side. The white Hall logo is in the top right corner.]
Volunteers are the backbone of the theatre community.
We would truly be lost without them and can not thank them enough for their wonderful work.
Why volunteer at the Hall?
Visit lspuhall.ca/volunteer or e-mail our volunteer coordinator Ian at volunteer@lspuhall.ca to find out how!
You get to see live theatre for free!
Looking for a free date night with your partner? Volunteer together!
Volunteer with your friends and have a safe night out together.
Looking to expand your social circle? Join a community of like minded theatre lovers.
In high school and need volunteer hours? We got you.
---
Thank you to the LSPU Hall Donors!
Without you, we would not be able to do what we do.
Your generosity makes a difference.
To find out how to donate to the LSPU Hall, visit our Support Us page.
Please consider becoming a monthly donor during the month of June and help us win $20,000 from Canada Helps during the Great Canadian Giving Challenge.
Click here for details.
---

[ID: CAPE logo. Text reads Cultural Artists Plan for Emergencies]
Since its inception in 2005, The Cultural Artists Plan for Emergencies (CAPE) Fund has
become a life line for artists in our community finding themselves in unexpected crisis
situations. Fifty cents from each ticket sold will benefit the CAPE Fund.
---
RCA/LSPU Hall Endowment Fund
Did you know Resource Centre for the Arts has an Endowment Fund? Donations are currently being accepted at the Community Foundation of Newfoundland and Labrador website at www.cfnl.ca or Here!