[ID: A horizontal banner of the motherskin poster. Two white rectangles with black text read RCA Theatre + White Rooster Theatre present motherskin. A white persons head with shoulder length straight brown hair is to the right. Their face is completely covered with bees.]
Table of Contents
Land Acknowledgement
Synopsis
Development History
Notes From the Playwright
Notes From the Director
Cast and Creative Team
Thank Yous
Hall Hats
Seat Campaign
Coming up Next
Volunteer At The Hall
Donors
CAPE Fund
Endowment Fund
motherskin
PRODUCED BY RCAT AND WHITE ROOSTER THEATRE IN ASSOCIATION WITH RISING TIDE THEATRE COMPANY
Written by Mallory Fisher
Directed by Meghan Greeley
Technical Direction by Heather Rumancik
Lighting and Projection Design by Mara Bredovskis
Set Design and Costumes by Alison Helmer
Sound Design by Kathryn Burke
Movement Design by Andrya Duff
Stage Management by Joseph Dennis
Backstage Hand Jarod Farrell
Production Mentees Hanaa Mekawy and Lina Makaga
Featuring
Mallory Fisher
Brooke Adams
---
Land Acknowledgement
RCA respectfully acknowledges that the land on which we currently stand, create, and perform, and gather is the ancestral homelands of the Beothuk, whose culture has now been erased forever. The island we call Newfoundland is the unceded, traditional territory of the Beothuk and the Mi'kmaq. Labrador is the traditional and ancestral homelands of the Innu of Nitassinan, the Inuit of Nunatsiavut, and the Inuit of NunatuKavut. We ask that before you watch the performance tonight, you take a moment to reflect on whose land you are standing on, whose land you were born on, and whose land you currently live on. We ask that you reflect on how that land was taken care of, and how it is taken care of now, and finally who currently walks freely on it. If this reflection makes you uncomfortable we ask that you sit in that feeling and question it. Let it help you work towards reconciliation, something we can only achieve together. Thank you.
---
Synopsis
Content Advisory: This play features strong language, the use of herbal cigarettes and allusions to eating disorders and suicide.
Patience is convinced her sister, Sivvy, is trapped inside her mother's ribcage. She plots to murder her mother to set her sister free. Patience and Sivvy talk to each other, and the audience, through the giant ribcage, through their mother's skin. Sivvy rails against her toxic body image and food obsession. Patience fights the internalized misogyny she's absorbed from religious doctrine. As they unravel their repression, locate their oppressors, and fight to be born, they tear their mother's body apart. Sivvy uncovers a previously buried truth about her sexuality while Patience discovers she's funneling her destructive rage into the wrong vessel of unlove. motherskin examines the blurry, rewarding, and treacherous relationship between two women who are maybe sisters, maybe lovers, and certainly ancestrally connected.
---
Development History
motherskin was first developed through the 2020 Women's Work Festival with dramaturgy by Lois Brown.
As runner-up of the 2020 National Wildfire Playwriting competition, it received further dramaturgy with Elena Eli Belyea through Major Matt Mason Collective.
In October 2020, supported by ArtsNL, this team first assembled for a two-week physical workshop.
In January 2021, supported by Resource Centre for the Arts and Rising Tide Theatre, this team reconvened for a one week technical residency at the LSPU Hall.
---
Notes from the Playwright
This play is for all mothers and daughters who are engaged in the courageous and creative act of loving one another.
My artistic ancestors, living and dead, who influenced the writing of this piece. Their existence created the conditions under which I am possible.
Sylvia Plath
Barbara Loden
Susan Sontag
Kate Zambreno
Marika Hackman
Brandi Carlile
Virginia Woolf
Zelda Fitzgerald
Chantal Akerman
Věra Chytilová
Francesca Woodman
Ana Mendieta
Nell Zink
Barbara Comyns
Unica Zürn
Mary MacLane
Jean Rhys
Louise Bourgeois
Maggie Nelson
Marguerite Duras
Kathy Acker
Hélène Cixous
Simone Weil
Annemarie Schwarzenbach
Samantha Hunt
Lydia Yuknavitch
Anna North
Eimear McBride
Jeanette Winterson
Patricia Highsmith
Charlotte Perkins Gilman
Shulamith Firestone
H.D.
Dodie Bellamy
Anne Boyer
Jenny Hval
Bhanu Kapil
Leonora Carrington
Carson McCullers
Amina Cain
Violette LeDuc
Anne Carson
Fiona Apple
-Mallory
---
Notes from the Director
Sometimes she's a stranger in my home because I hadn't imagined her.
Who will her daughter be?
She and I are the gradual ebb of my mother's darkness.
I unfurl the ribbon of her life, and it's a smooth long hallway, doors flung open."
— Carmen Giménez Smith "The Daughter"
MOTHERSKIN maps an internal battle between ancestry and emancipation; where did we come from, and where are we going? What should we carry, and what skins must we shed to grow into our own?
Like most maps, the shortest route in MOTHERSKIN isn't as the crow flies; it's full of circuitous journeys. MOTHERSKIN encourages us to view the relationship between a mother and daughter as a road through mountains, an asphalt ribbon that was once a dirt road that was once a beaten path that was once a dream of a different valley—tread by our mothers, by our mothers' mothers, by our mothers' mothers' mothers. The script explores the lives of its characters through many lenses, ones indifferent to time and traditional narrative. It's full of uncomfortable truths but also silliness and frivolity, inviting the audience to take away what speaks to them and to sit with what doesn't. It encourages us to laugh at ourselves, especially when it hurts familiar.
At its core, MOTHERSKIN is a story about all that we have inherited.
-Meghan
---
Cast and Creative Team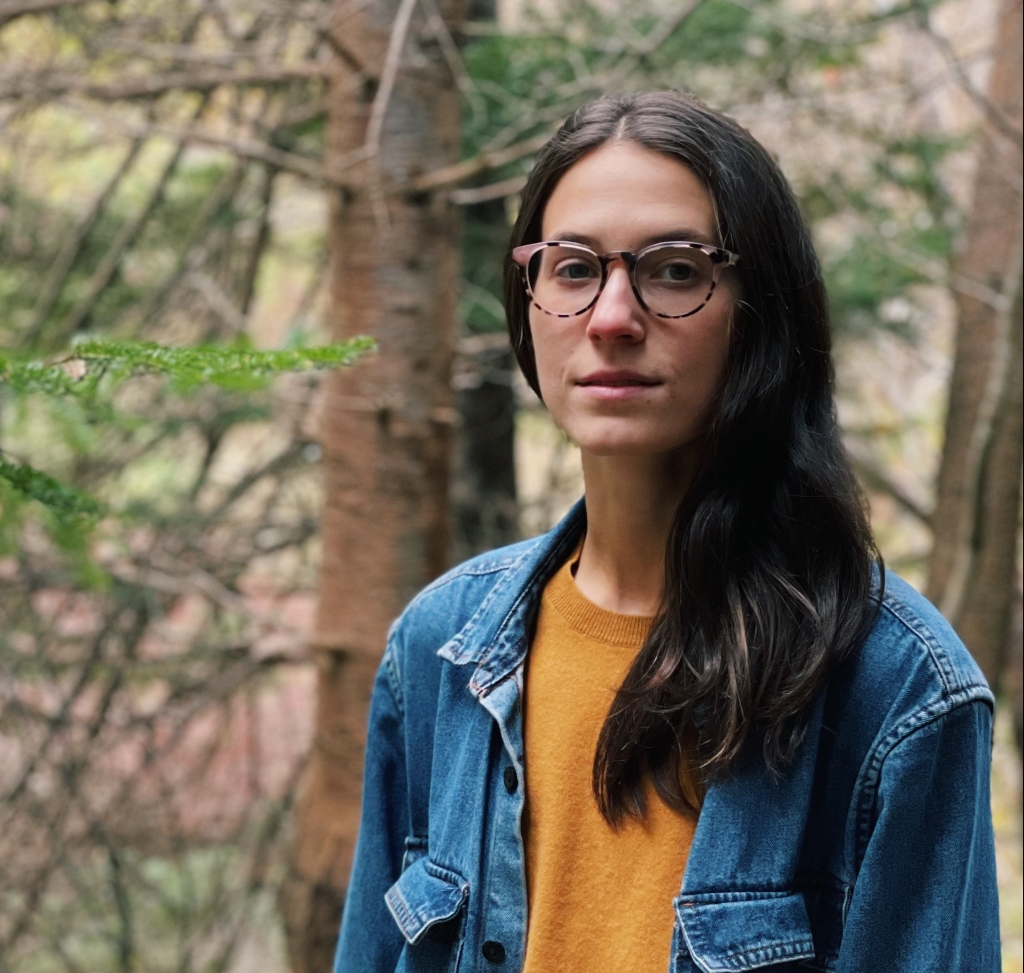 [ID: Mallory is a white person in their late 20s. They have brown eyes, long brown hair, and are wearing glasses. They are wearing a yellow shirt, a jean jacket, and standing outdoors in front of trees.]
MALLORY FISHER
Playwright/Sivvy
Mallory Fisher is a playwright, director, actor, producer, and arts educator based in St. John's. Mallory holds a BFA in Musical Theatre Performance from the Boston Conservatory and an MFA in Theatre Performance Creation from York University. They have taught acting at Memorial University on both the St. John's and Grenfell campuses. They are the current Artistic Director of Shakespeare by the Sea. motherskin is their playwriting debut. They are currently working on their second play Bodies Built Like Ocean Mountains.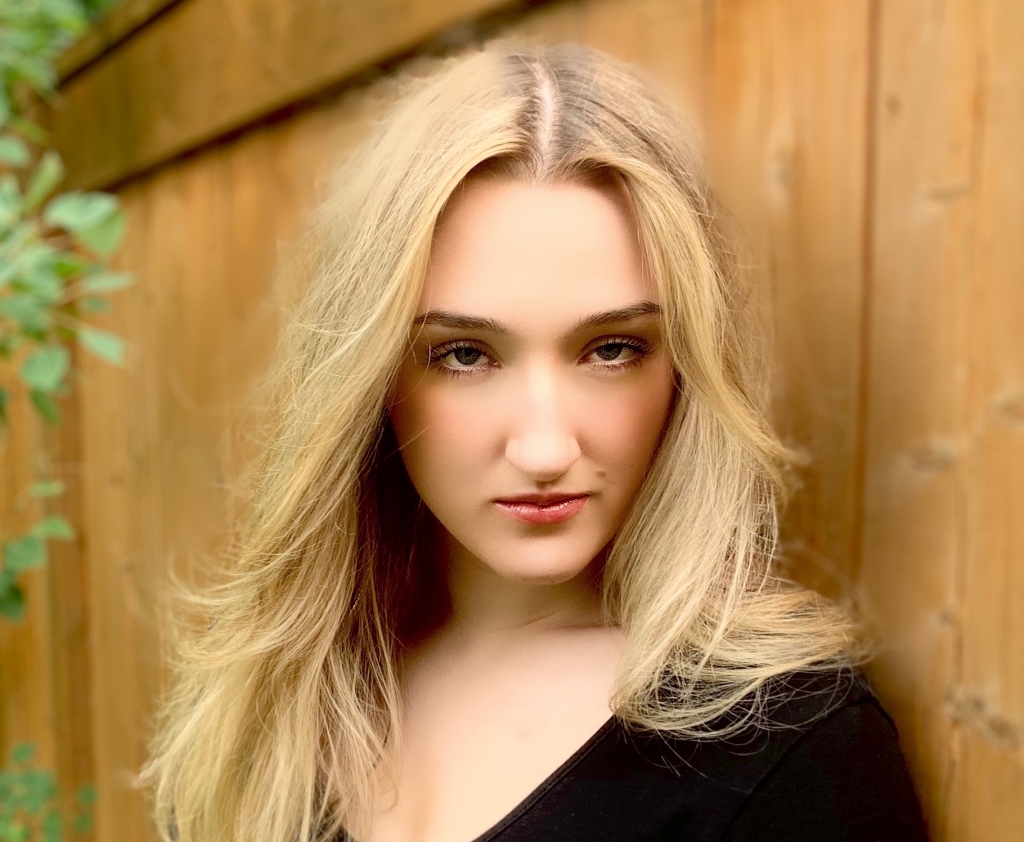 [ID: Brooke, a white woman in her 20's with blue eyes, long blonde hair and rosy cheeks, in front of a wooden fence. She is wearing a black t-shirt and is staring down the camera.]
BROOKE ADAMS
Patience
Brooke Adams is a Newfoundland performer with a Bachelor of Fine Arts in Theatre from Grenfell. Select career highlights include: The 39 Steps (Beyond the Overpass), The Out Vigil (Gros Morne Theatre Festival), Blue Castle (Rising Tide), Almost Baymous 3 (HalfHandsome), and No Change in the Weather (TerraBruce). She made her film debut on the local tv-series Hudson & Rex (CityTV) in 2019 and was featured in short-films Express Checkout (TODOS Productions) and Bounce (Brain Fog Films). You can find her in Astrid & Lilly Save the World (SyFy) as Jordan. Brooke is ecstatic to be bringing this project to life with close friends and kindred colleagues.
[ID: Meghan is a white person with shoulder length brown hair and blue eyes. She is wearing a blue and white striped jacket over a white button up shirt. She is sitting on stairs inside a house. Her background is blurry.]
MEGHAN GREELEY
Director
Meghan Greeley is a writer, performer, and director from Corner Brook, NL. She holds a BFA in Theatre (Acting) from Sir Wilfred Grenfell College. She marked her directorial debut with the original version of Santiago Guzmán's Altar at the St. John's Short Play Festival in 2019. In 2020 she directed a movement workshop of Mallory Fisher's play motherskin and later went on to direct a technical/design workshop of the play at the LSPU Hall in 2021. Past playwriting credits include: Jawbone, The Cut of It, Hunger (White Rooster Theatre); To the Girls (Stephenville Theatre Festival); The Blue Castle (Rising Tide Theatre); Brother, Brother (the InspiraTO Festival); and Kingdom (White Rooster, CONTRA). She has been a member of the Tarragon Playwrights Unit and Nightwood Theatre's Write From the Hip program.
[ID: Heather is a white person with short curly brown hair and brown eyes. She is wearing a grey t-shirt and standing in front of a wall of windows. A tattoo of a lily can be seen on her left bicep.]
HEATHER RUMANCIK
Technical Director
Heather is from Manitoba but has moved to St. John's twice. Her first stint at the LSPU hall saw her working as box office, bar staff, and lighting intern (2014). After that, she went on to work as a Key Grip and Gaffer on film and television sets across Ontario, PEI, and NL, including as Key Grip on the show Odd Squad which won the Daytime Emmy for Outstanding Lighting Design (2021).
Heather holds a Cabinetmaking Certificate from Humber College (2018), and a Diploma in Performance & Communications Media from MUN (2014). When she's not lighting or building, you can find her quilting, gardening, or spinning with the circus.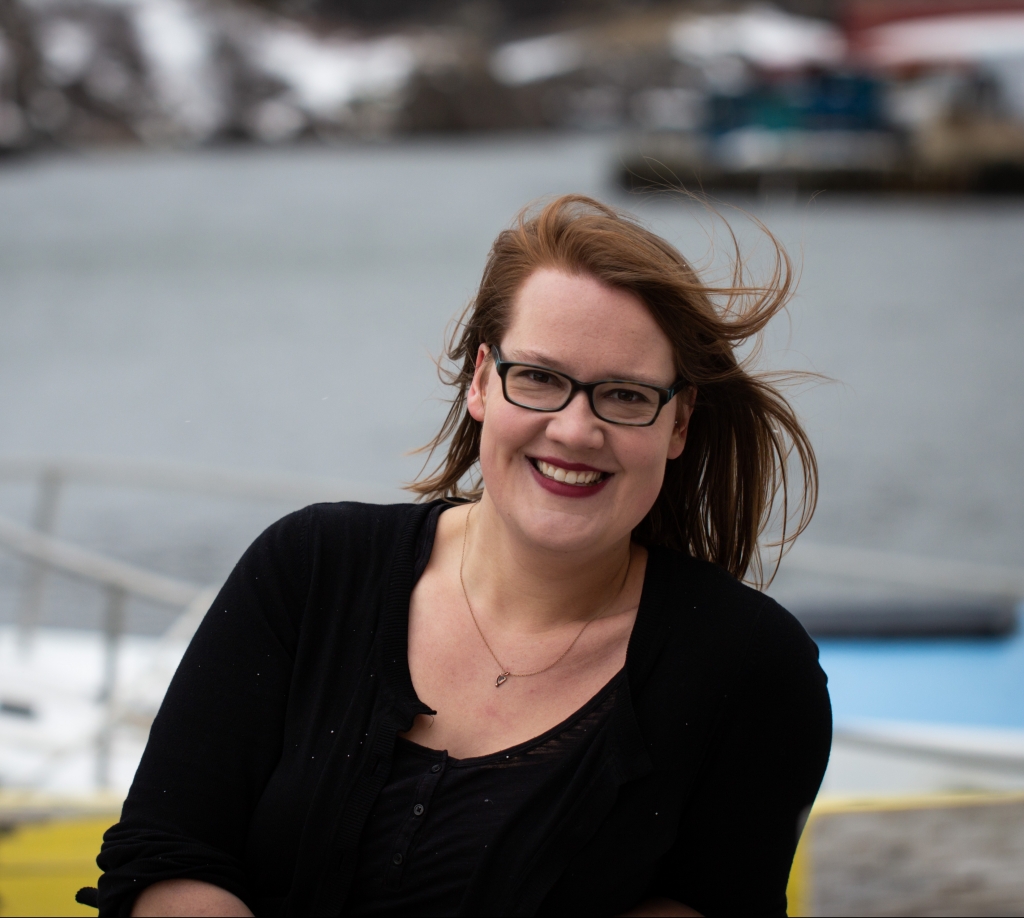 [ID: Mara is a white person with shoulder-length reddish-brown hair and thick-framed glasses. She is seen from the waist up wearing a black shirt and cardigan. Her hair is blowing in the wind.]
MARA BREDOVSKIS
Lighting and Projection Design
Mara can often be found hiding in booths and backstages around town and beyond. She has lent her skills in various theatrical endeavors to companies such as Artistic Fraud of Newfoundland, PerSIStence Theatre Company, Opera on the Avalon, Resource Centre for the Arts Theatre, White Rooster Theatre, Wonderbolt Circus, Theatre St.John's, and many others.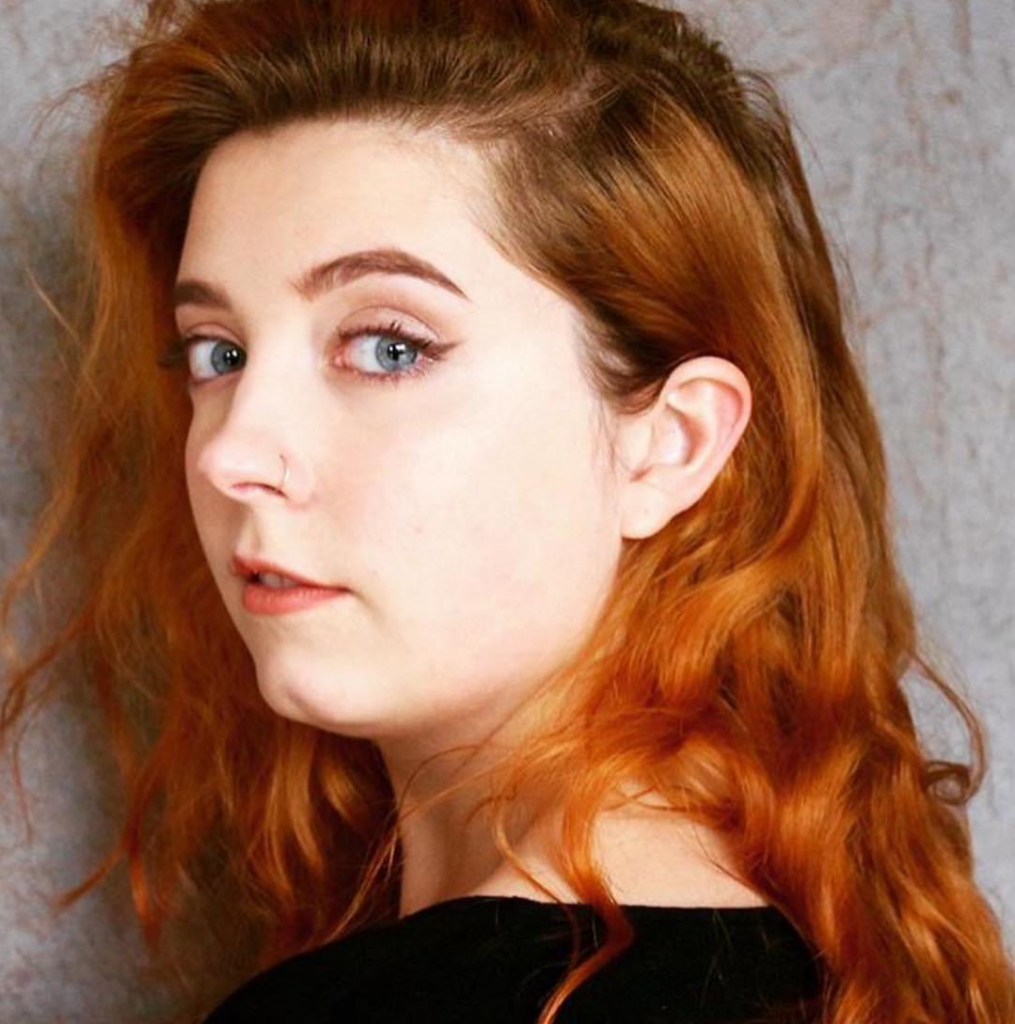 [ID: Red haired, blue eyed woman in a black top looks over her shoulder towards the camera.]
ALISON HELMER
Set Design and Costumes

Alison Helmer is a multidisciplinary artist who has been deeply and continuously influenced by her studies and experience working on the east coast. Born and raised on the prairies, she began her theatre education with the Stagecraft program at Grenfell college before completing the Scenography program at the National Theatre School of Canada. She approaches the world of both set and costume design through a lens of fantasy, history, and the tradition of storytelling. She is excited by Theatre that pushes the boundaries between conventional and experimental, and that seeks to fulfill our human search for truth, escape, and shared connection.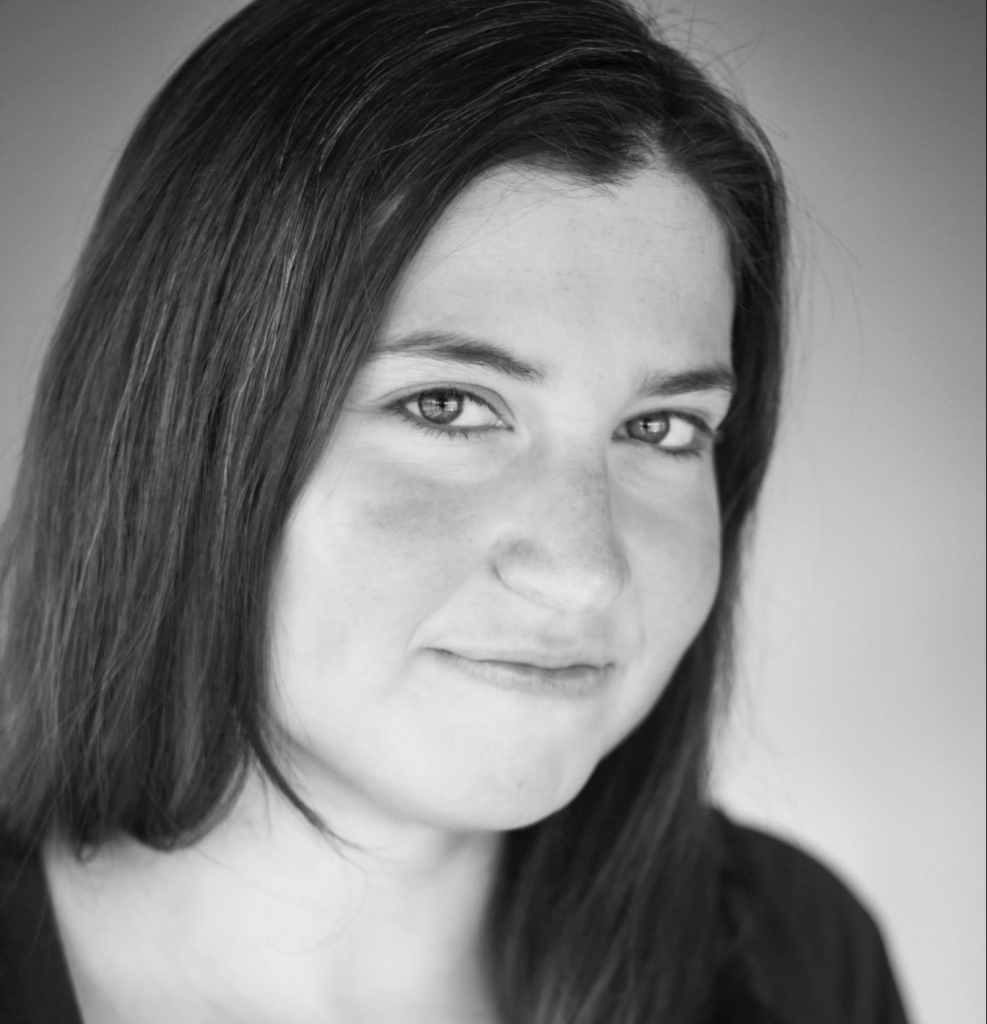 [ID: A black and white picture of Kat. She is a white person with long brown and grey hair that is curled over one shoulder. She is wearing a low neck shirt. Her green eyes are focused on the camera and her mouth looks like she is just about to smile, but not quite.]
KATHRYN BURKE
Sound Designer
Kathryn is an actor, musician, producer, and sound designer based out of St. John's. She has worked with local(ish) companies such as Shakespeare by the Sea, Grand Bank Regional Theatre Festival, St. John's Players, Nothing on Productions, PerSIStence Theatre Company, White Rooster, and Best Kind Productions. In her spare time, she is the Box Office Manager at the LSPU Hall and mother to Bakeapple the cat.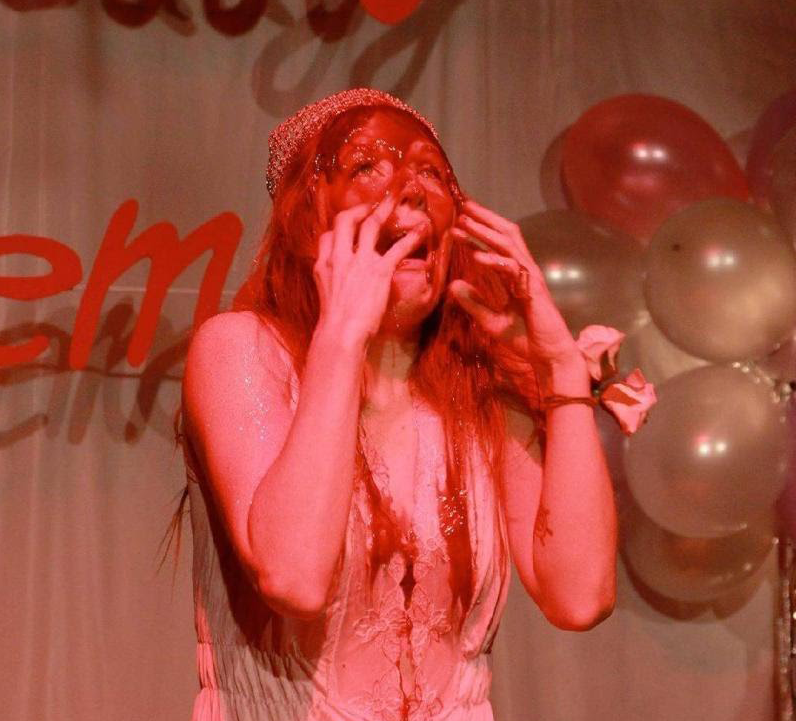 [ID: A person in a pale dress looking up, hands up to the face, expression of horror, a red substance covers the face and drips down dress. Two roses tied around the wrist, pink and white balloons and indistinguishable writing in the background. Picture has pinkish hue.]
ANDRYA DUFF
Movement Design
Andrya Duff, is a multidisciplinary creator, and performer in St. John's.
Huge thank you's to Mallory and Meghan, I'm in awe of your unearthly talents and your trust in me to bring something to this work.
Congratulations to all involved – we got to attend the birth of brilliance.
Mallory and Brooke, you got that magic. First LSPU Hall then the world! xo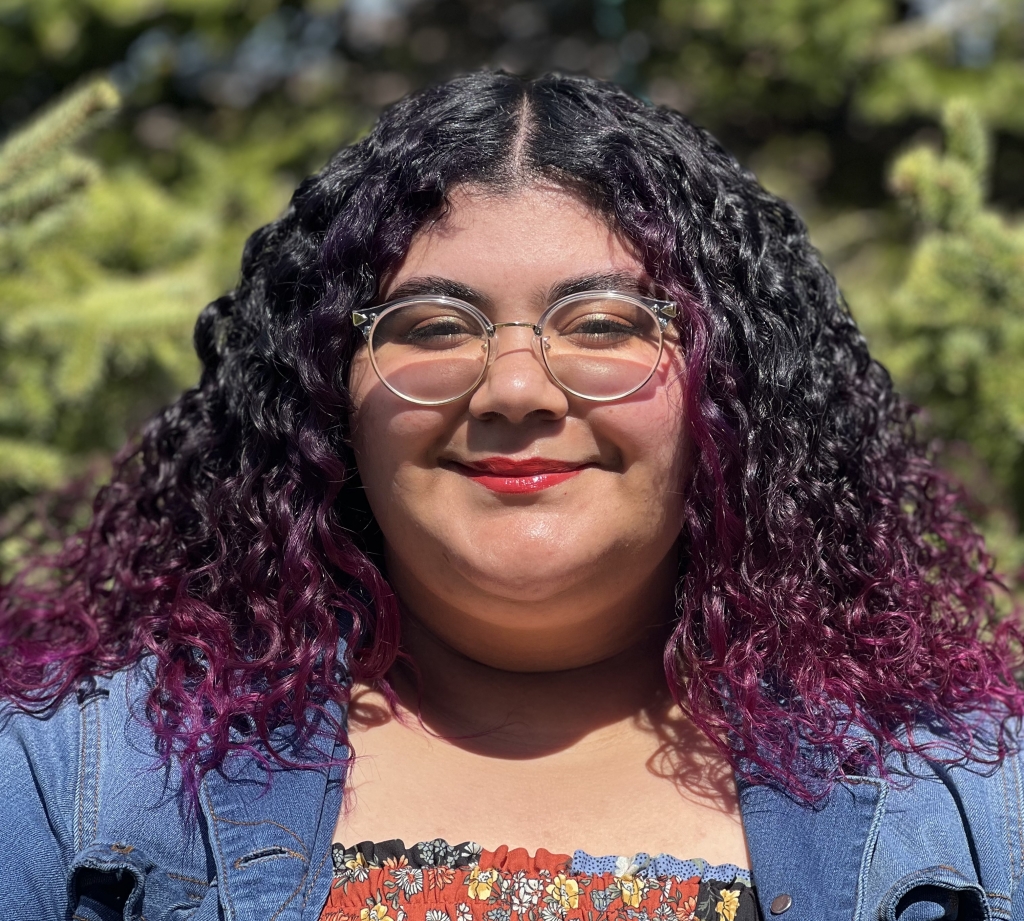 [ID: A headshot of Hanaa, a Brown person of colour, taken outside on a bright day. She has Black curly hair which fades to purple and is smiling at the camera. They are wearing rimmed glasses, a multi-coloured floral shirt and a blue denim jacket.]
HANAA MEKAWY
Mentee
Hanaa Mekawy is a Humanities and Social sciences student at Memorial University, majoring in Political science and Anthropology. Born in the United States to parents from Egypt and the Dominican Republic, they immigrated in 2003 to the province her family now calls home.
Hanaa is a passionate member of the local social justice community. After sitting on their High Schools social justice and student leadership teams, MUNSU in 2017, and St. John's pride in 2018, they currently sit on the board of MUN Sexual and Gender Advocacy as the Director of Personal relations. Hanaa hopes to complete her studies and use her degree to continue her advocacy work for marginalized communities of Newfoundland and Labrador. Alongside her passions for social justice, Hanaa is also a hobbyist cross-stitcher, singer, and painter. She's also the eldest sister to their 3 siblings, and the pet parent of two horses (Black and Jumper) and two dogs (Rocky and Lola).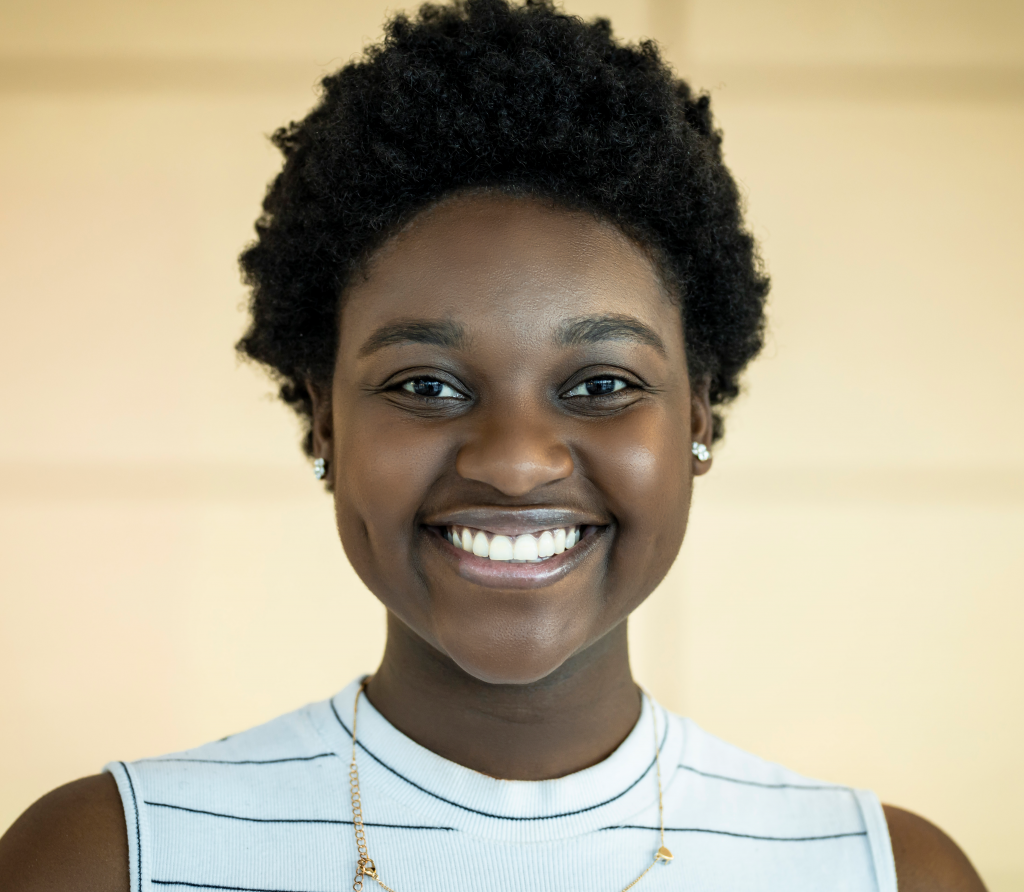 [ID: A headshot of Lina, she is standing and wears a sleeveless white shirt with black thin strips. She has round, brown eyes and short, frizzy black Afro. She smiles at the camera with her head looking straight. The photo is on a beige background.]
LINA MAKAGA
Mentee
Born and raised in Mwanza, Tanzania; Lina Makaga is an actress, singer and a student currently pursuing her Bachelor Degree in Business Administration and a diploma in stage and screen technique at MUN. She began acting whilst studying Drama at Isamilo International school. Through that she has been able to learn the practical and theoretical study of drama, performance skills and how to devise dramatic material.
She also recently completed her training with Performing Studio Arts where she learned about improv, sense memory and script analysis. She recently was featured in the TV series Astrid and Lilly Save the World. She has performed a short play at the arts and culture centre as part of the students that took the Theatre course at MUN. She loves acting, singing Korean OSTs, cooking and sleeping.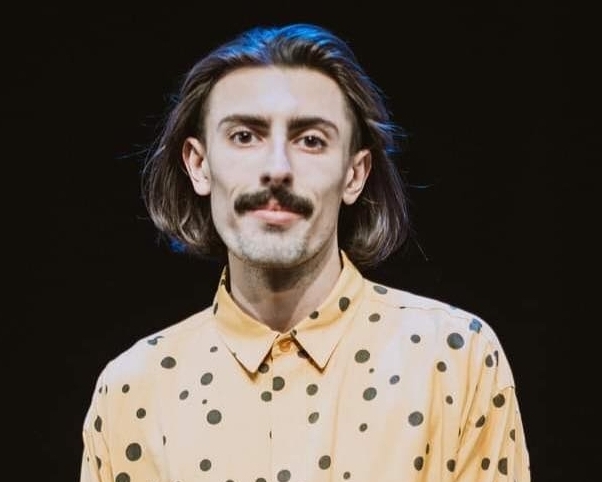 [ID: Joseph, a white man in his 20s with brown eyes, dark shoulder-length hair, and a mustache, stands on a theater stage under blue lights. He is wearing a vintage yellow button-up shirt with black polka-dots.]
JOSEPH DENNIS
Stage Manager
Joseph Dennis (Instagram: @_josephdennis) (he/him) is a St. John's based writer, director, producer, and stage manager, who currently serves as the Social Chair of the MUN Drama Society and the Vice Chairperson of the St. John's Short Play Festival. As a student of Memorial University of Newfoundland's Diploma in Stage and Screen Technique, he has participated in the production of several plays, perhaps most notably performing the role of Orpheus in "Scenes from Metamorphoses" by Mary Zimmerman and directed by Jamie Skidmore. As creator of Heat of the Moment (Instagram: @heatofthe.moment), Joseph is dedicated to writing relatable and memorable characters who inhabit original genre-based stories with universal and accessible themes.
---
Thank You From the Playwright
Lois Brown
Natalia Hennelly
Bridget Wareham
Donna Butt
Elena Eli Belyea
Sarah Parsons
Allison Moira Kelly
Thank You to our Accessibility Sponsor!

[ID: Red text that reads Hebron. A red squiggle is above the text.]
Thank you to The Lantern for their continued support!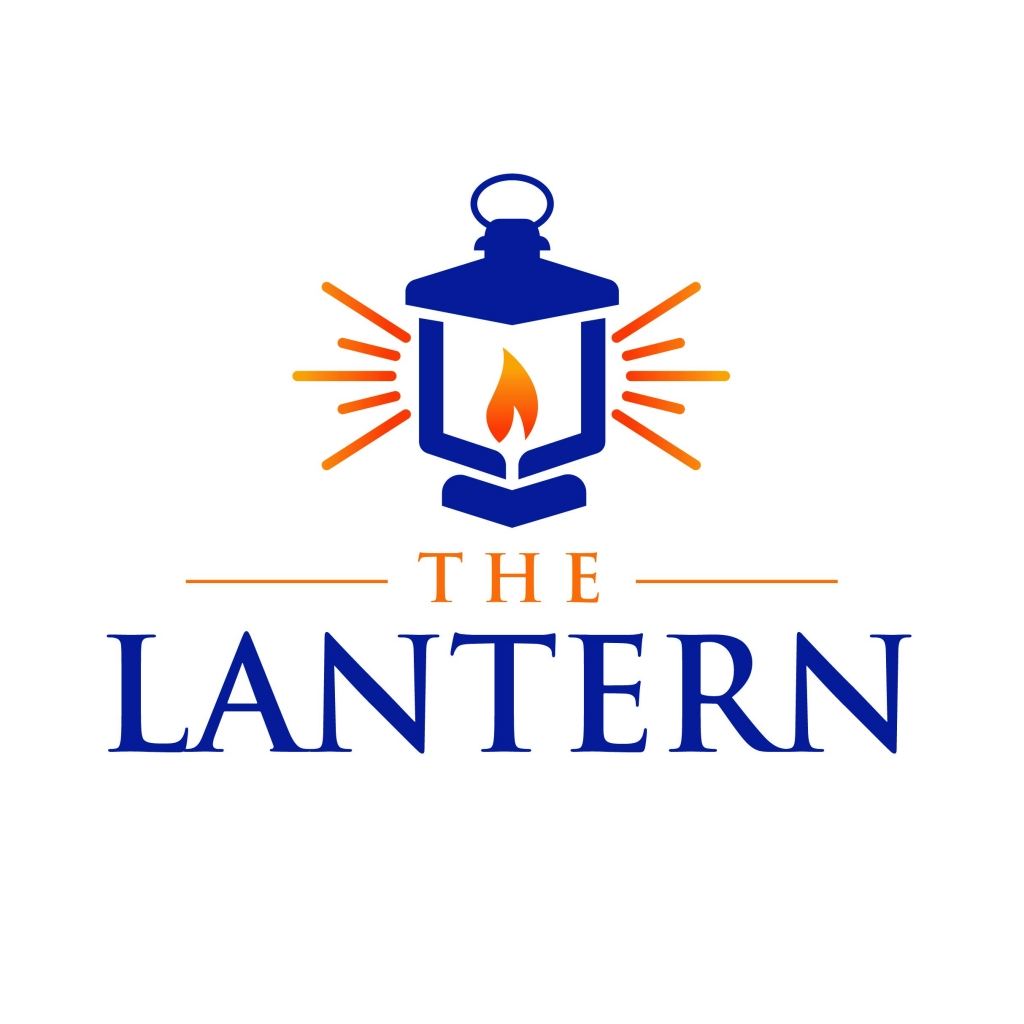 [ID: A small blue lantern with an orange flame above text that reads: The Lantern.]
---

[ID: A black Hall toque in front of the green, white, and pink Newfoundland republic flag. Text reads: Get you very own Hall Hat! Available at the box office for $20 + tax.]

[ID: Text reads: Seat Campaign Back in the seats again! Ask us how to get your own seat in the historic LSPU Hall's mainstage theatre. The photo shows the red theatre seats of the Hall.]
---

[ID: The black and pink RCA Theatre logo. The pink letters R-C-A are inside the black shape of the Hall building.]
Coming Up Next for RCAT!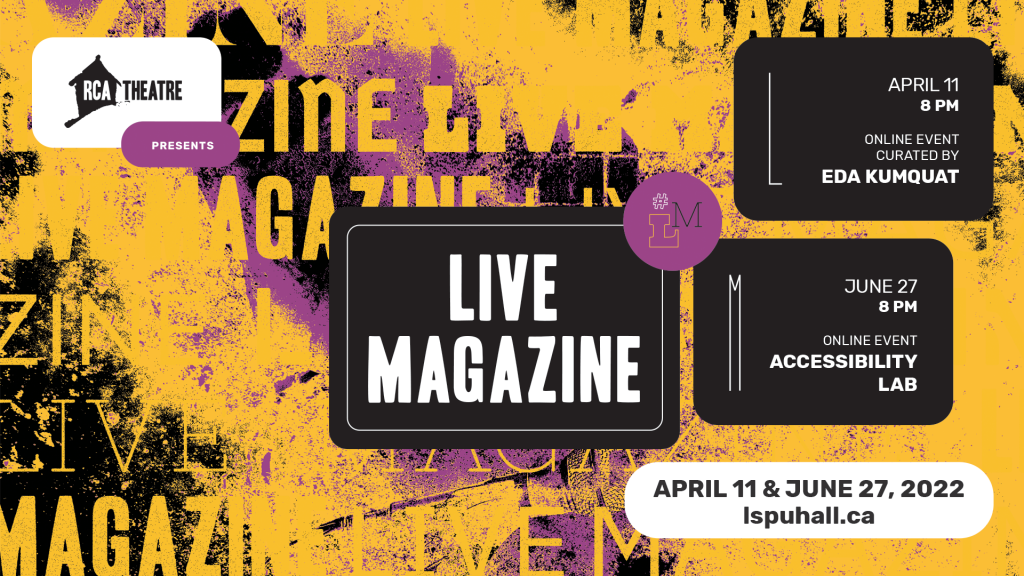 [ID: Yellow, purple, and black background with the words Live Magazine printed over and over with a spray paint image. Text reads: RCA Theatre presents Live Magazine #LM April 11 8 pm Online Event curated by Eda Kumquat. June 27th 8 pm Online Event Accessibility Lab. April 11 & June 27, 2022 lspuhall.ca]
---
Thank you to the LSPU Hall Volunteers!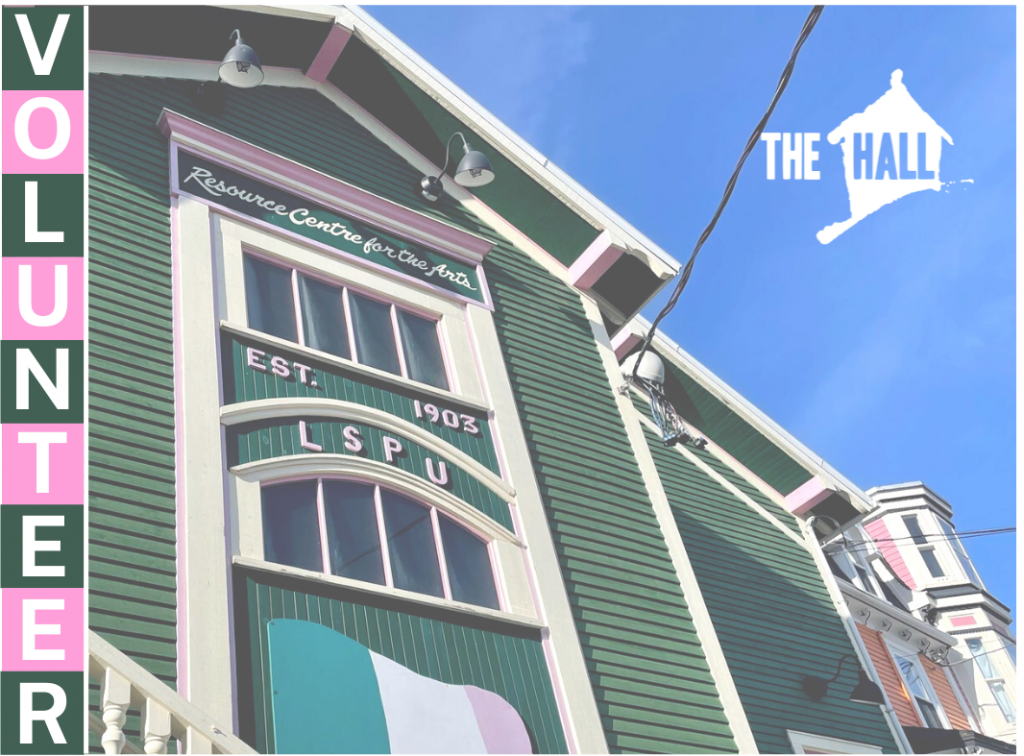 [ID: A faded photo of the Hall with the word Volunteer in pink and green blocks written vertically down the left side. The white Hall logo is in the top right corner.]
Volunteers are the backbone of the theatre community.
We would truly be lost without them and can not thank them enough for their wonderful work.
Why volunteer at the Hall?
You get to see live theatre for free!
Looking for a free date night with your partner? Volunteer together!
Volunteer with your friends and have a safe night out together.
Looking to expand your social circle? Join a community of like minded theatre lovers.
In high school and need volunteer hours? We got you.
Visit lspuhall.ca/volunteer or e-mail our volunteer coordinator Ian at volunteer@lspuhall.ca for more information!
---
Thank you to the LSPU Hall Donors!
Without you, we would not be able to do what we do.
Your generosity makes a difference.
To find out how to donate to the LSPU Hall, visit our Support Us page.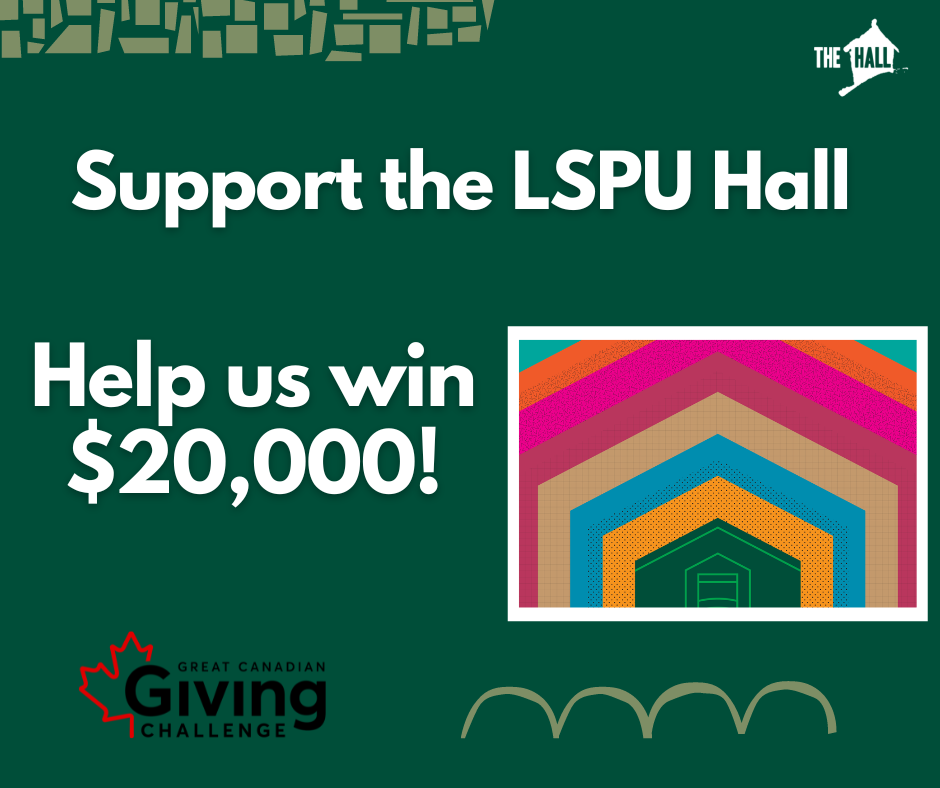 [ID: A green image with white text that reads: "Support the LSPU Hall Help us win $20,000!" A black and red logo for the Great Giving Challenge is below. The colorful Hall image is to the right. The top left corner has a light green image of squares, the top right corner has the white Hall logo and the bottom right corner has a light green squiggle.]
Please consider becoming a monthly donor during the month of June and help us win $20,000 from Canada Helps during the Great Canadian Giving Challenge.
---

[ID: CAPE logo. Text reads Cultural Artists Plan for Emergencies]
Since its inception in 2005, The Cultural Artists Plan for Emergencies (CAPE) Fund has
become a life line for artists in our community finding themselves in unexpected crisis
situations. Fifty cents from each ticket sold will benefit the CAPE Fund.
---
RCA/LSPU Hall Endowment Fund
Did you know Resource Centre for the Arts has an Endowment Fund? Donations are currently being accepted at the Community Foundation of Newfoundland and Labrador website at www.cfnl.ca or Here!