Penning the Carol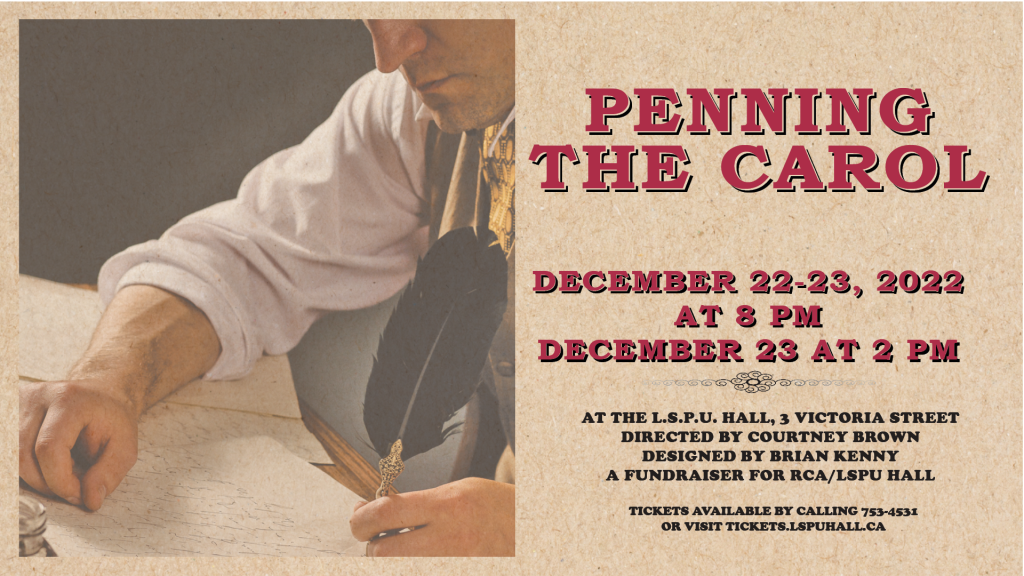 [ID: A picture of Aiden Flynn as Charles Dickens at a desk with a feather quill writing on parchment. Text reads: Penning the Carol December 22-23, 2022 at 8 pm December 23 at 2 pm At the LSPU Hall , 3 Victoria Street Directed Courtney Brown Designed by Brian Kenny A Fundraiser for RCAT/LSPU Hall Tickets available by calling 753-4531 or visit tickets.lspuhall.ca]
AN RCA THEATRE COMPANY PRODUCTION
Created and Preformed by Aiden Flynn
Directed by Courtney Brown
Assistant Director Steve Maloney
Designed by Brian Kenny
---
Land Acknowledgement
RCA respectfully acknowledges that the land on which we currently create, perform, and gather is the ancestral homelands of the Beothuk, whose culture has now been erased forever. The island we call Newfoundland is the unceded, traditional territory of the Beothuk and the Mi'kmaq. Labrador is the traditional and ancestral homelands of the Innu of Nitassinan, the Inuit of Nunatsiavut, and the Inuit of NunatuKavut. We ask that before you watch the performance tonight, you take a moment to reflect on whose land you are standing on, whose land you were born on, and whose land you currently live on. We ask that you reflect on how that land was taken care of, and how it is taken care of now, and finally who currently walks freely on it. If this reflection makes you uncomfortable we ask that you sit in that feeling and question it. Let it help you work towards reconciliation, something we can only achieve together. Thank you.
---
Synopsis
Written and performed by Aiden Flynn, Penning the Carol is in its 20th year of production and is a solo retelling of Charles Dickens' A Christmas Carol. The play supposes that Scrooge and the accompanying cast of characters are created in a session of intense writing and storytelling on Christmas Eve, 1843.
---
Cast and Creative Team

[ID: Aiden, a white man dressed as Charles Dickens, has a full white beard and shoulder length grey/brown hair. He his smiling at the camera and his holding a quill on a wooden desk.]
Aiden Flynn
Actor
Aiden Flynn is an actor, director, writer, producer living in St. John's, NL. Recent appearances at the LSPU Hall include The Father (dir Courtney Brown), Poison (dir Charlie Tomlinson) Fun Home (Best Kind Productions) and The Weir (Team Broken Earth), and other recent appearances include Three Days of Rain (Sweetline Theatre), A Steady Rain (Rabbittown Theatre), and The Pillowman (Rabbitown Theatre) at the Barbara Barrett Theatre, Arts and Culture Centre St. John's. Aiden was the founder of Rabbittown Theatre Company and co-founder of New World Theatre (renamed Perchance Theatre). He is the director of the provincial Arts and Culture Centre network in St. John's, Gander, Grand Falls, Corner Brook, Stephenville, and Labrador City. A good portion of Aiden's near 30-year career as a theatre professional has been spent working at the LSPU Hall, and he is very thankful for this and any opportunity to appear on this stage and to work with staff and crew. He is looking forward to joining the cast of RIG coming to the mainstage in February 2023.

[ID: Brian, a white man with brown hair and beard is smiling at the camera and wearing a black t-shirt.]
Brian Kenny
Designer
Brian is a designer for theatre and performance from Mt. Pearl and is a graduate from The National Theatre School of Canada, and Sheridan College. Recent selected credits include: Everybody Just C@lm The F#ck Down, Between Breaths [Artistic Fraud of Newfoundland], Dear Rita [The Charlottetown Festival], The Dialysis Project [RCA Theatre Company], Come From Away in concert [Mirvish Productions], The Rocky Horror Show, Billy Elliott, [The Stratford Festival], Tibb's Eve, Chapel Arm [Mindless Theatrics], Marry Poppins [The Grand Theatre, London], Once, Mamma Mia [Theatre St. John's], Brian is a member of the board of directors for RCA as well as the I.A.T.S.E Local 659, The Associated Designers of Canada.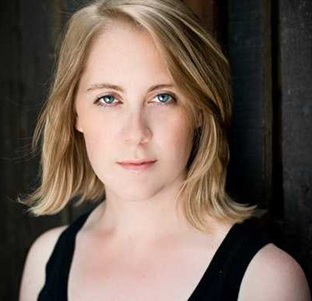 [ID: Courtney, a white woman with blue eyes and blonde shoulder length hair is facing the camera and wearing a black tank top.]
Courtney Brown
Director
Courtney is a director, actor and dramaturge from Musgravetown, NL. She is also a resident artist and Artistic Associate with Terra Bruce Productions. Courtney has worked with the Women's Work Festival, Mindless Theatrics, the National Arts Centre, Soulpepper, Artistic Fraud of Newfoundland, New World Theatre Project, c2c theatre, Rabbittown Theatre Company, Resource Centre for the Arts Theatre Company, newfoundlandartistx, Rising Tide Theatre, Groundwater Productions, Red Sky Performance and Project Humanity. She is also an Artistic Associate with Mindless Theatrics. Courtney holds a BFA (Honours) in Theatre (Acting) from York University.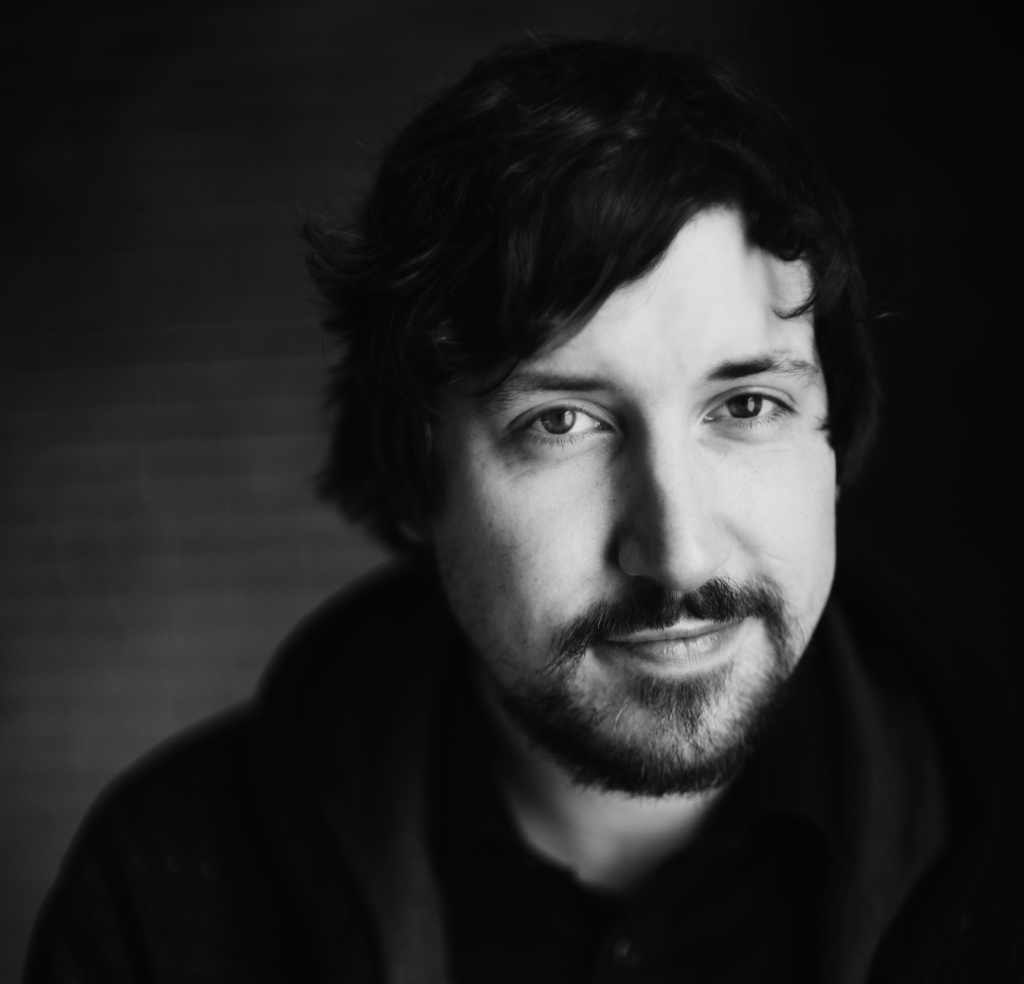 [ID: Steve is a white male in his 30's with medium length brown hair, and brown eyes. He is wearing a dark-patterned hoodie over a black dress shirt.]
Steve Maloney
Assistant Director
Steve Maloney is an actor and balladeer hailing from St. John's, Newfoundland. He has studied voice at postsecondary institutions (Memorial University and Humber College) and has toured his own music to festivals and listening rooms across Canada. He has also collaborated on various records from Newfoundland songwriters as a vocalist, multi instrumentalist and/or producer. As an actor, he has been involved in a variety of touring theatre works and local television productions. Recently, Maloney has been composing music for short film and documentary projects, and working on new scripts with Terra Bruce Productions, of which he is a resident artist.
---
Dedication and Thank You's
I'd like to thank all the people on the 20th Anniversary guest list, and also thank Lori, Scott, and Abby, Barbara Deland, Lisa Hurd, and all the many patrons who have made Penning the Carol part of their holiday tradition for the past 20 years.
Aiden
Special Thanks to those who have worked on Penning The Carol over the last 20 Years
Geoff Adams Brian Bishop
Pat Dempsey Jennifer Deon
Nefren Feizo-Gas Shannon Hawes
Brad Hodder Darren Ivany
Debbie McGee Vickie Morgan
Josh Morgan Steve O'Connell
Tim Ronan Joan Sullivan
Gerry Porter – Poster Design
---

[ID:A photo of a black Hall toque in front of the NL Republic flag. Black text reads Get your very own Hall Hat! Available at the box office for $20 + tax.]

[ID: A photo of the red theatre seats. A red square with white text reads Seat Campaign Back in the seats again! Ask us how to get your own seat in the historic LSPU Hall's mainstage theatre.]
---