[ID: An image of the Phlegm Fatales dressed in various green costumes and makeup. The background is green and purple with a large ringed planet and spaceship beaming up a cow. Green and purple text bubbles with white text reads RCAT Presents Return to Planet Phlegm Mar 30-Apr 2, 2023 lspuhall.ca]
Table of Contents
Land Acknowledgement
Synopsis
Notes From the Team
Cast and Creative Team
Thank Yous
Seat Campaign
Coming up Next
Volunteer At The Hall
Donors
CAPE Fund
Endowment Fund
RCA Theatre Company
Presents Return to Planet Phlegm
Created and Performed by The Phlegm Fatales
Featuring
\garbagefile / Kai Bryan: The Body Snatcher
Eda Kumquat / Dace Green: Roska, Voicemail 3, Newscaster
Madame Daddy / Mal Parrott: Astrid Rosk
Liezel Hues / Jamie Rigelhof: The Crunchinator
Irma Gerd / Jason Wells: Amy Jackay, Voicemail 1
Isabella Lacey: Voicemail 2
Vivian Vanderpuss / Mackenzie Lemire: Oblivian Vander-Rosk
Amanita 95 / Josh Roberts: Bystander 1
Wych Hazel / Neska Savage: Bystander 4
Kate Stenson: Bystander 3
Shea Muah / Scott Tobin: Bystander 2
Stage Management by Kate Stenson
Direction Consulting by Mallory Clarke
Technical Direction by Heather Rumancik
Choreographed by Jamie Headrick and Mal Parrott
Rigging by Will Hapgood
Sound Editing by Dace Green and Jason Wells
Video Editing by Dace Green, Jamie Headrick, and Jason Wells
Set Construction by Kai Bryan and Bruce Whitelaw
Prop Build by Kai Bryan, Jamie Headrick, Mal Parrott, Veronica Schulze, and Jason Wells
Photography by Christopher Deacon
Graphic Design by Perfect Day
The show runs approximately 120 minutes with an intermission.
---
Land Acknowledgement
RCA respectfully acknowledges that the land on which we currently create, perform, and gather is the ancestral homelands of the Beothuk, whose culture has now been erased forever. The island we call Newfoundland is the unceded, traditional territory of the Beothuk and the Mi'kmaq. Labrador is the traditional and ancestral homelands of the Innu of Nitassinan, the Inuit of Nunatsiavut, and the Inuit of NunatuKavut. We ask that before you watch the performance tonight, you take a moment to reflect on whose land you are standing on, whose land you were born on, and whose land you currently live on. We ask that you reflect on how that land was taken care of, and how it is taken care of now, and finally who currently walks freely on it. If this reflection makes you uncomfortable we ask that you sit in that feeling and question it. Let it help you work towards reconciliation, something we can only achieve together. Thank you.
---
Synopsis
Since time immemorial, humans have looked to the stars for the answers to life's most troubling perplexities: Are we of any value in a universe so vast? Are we doomed to hurtle through an endless void desperately yearning for meaning that we may never achieve? Is Earth just a blue basketball spinning atop the fingers of a celestial overlord, waiting for the perfect moment to launch us into a black hole? (Are they trying for two points or three?) Is there really a Planet Phlegm or were we bamboozled once before? More importantly, is that where the boogers keep coming from?!
These queries seem large, but you need not fear – the Phlegm Fatales have packed their pockets and readied their rockets to embark on a timeless journey through space and slime. Will you be one of the fortunate few to earn a spot on our cacophonous crew?
If you've not yet been convinced, consider these cautionary words from a great prophet:
Up, up, up
Can only go up from here
Up, up
Up where the clouds gonna clear
Up, up
There's no way but up from here
Are you in?
---
Playwright's Note
Return to Planet Phlegm sees the Phlegm Fatales as a motley space crew – an intergalactic fugitive, spaceship staff, a super-advanced AI, and some other non-human passengers – escaping an apocalyptic Earth. The production incorporates group choreography, comedy, elaborate costuming, lip-sync, and aerial circus to transport the audience into a dynamic world reminiscent of 1960s sci-fi films. Playing with ideas of escapism and satirizing a billionaire class bent on jumping ship for Mars, Return to Planet Phlegm grapples with wealth disparity and the global climate crisis with acerbic wit and more than a dash of spectacle. Produced by the province's only all trans/non-binary drag collective, this show invites audiences to appreciate the power of community and chosen family.
Return to Planet Phlegm has been a labour of love. In a climate of rapidly increasing wealth disparity, the dizzying effects of climate change, and against a backdrop of aggressive anti-trans rhetoric and legislation, we knew we wanted to tell a story of hope. This is an ode to the alienated, to processes of self definition, to our trans siblings everywhere, and to chosen family. Also, it's stupid as hell.
---
Development History
It was a chilly Halloween night in 2020 and the world was just beginning to reopen after 7 months of isolation. People were ravenous for live entertainment – especially entertainment they could enjoy in "pods" – and the Phlegm Fatales delivered. It Came From Planet Phlegm was so popular that it sold out – twice. As with all Phlegm productions, we had come up with a theme and each performer brought music selections, aesthetic concepts, and character ideas to the lab to be synthesized. We threw a dash of shapeshifting, 3 ounces of conspiracy theorist, some high-octane emotional gasses, a bucket of fake blood into the beaker, and Planet Phlegm was born, an anti-capitalist escapist fantasy typical of the Phlegm Fatales.
When the Resource Centre for the Arts invited us to remount a classic Phlegm show at the LSPU Hall, we hopped into our escape pods and set course for Planet Phlegm. We rebuilt and refined the original script, updating characters and giving the ending a total makeover. The plot, script, and stage design were collaboratively constructed over many hours of meetings and space-themed YouTube deep dives. The Phlegm Fatales are a down-and-dirty DIY collective of creatives who keep production almost entirely in house. All the projections, audio editing, set decor, painting, choreography, and most of the costumes were created by us. If we could have built a time machine into the set, it would have helped a great deal; but in lieu of that, we'd like to express our immense gratitude to the people who hopped aboard at zero hour and helped us bring this show to life.
---
Cast and Creative Team

[ID: Backslash is a white person in their 30s, wearing a bright green bodysuit with large, sparkly blue tentacles coming from the chest and stomach. Long green and yellow tentacles emerge from their headpiece, and their face is painted green with alien details, sparkly lips, and big eyelashes. They are posing in front of a grey wall, playfully holding their tentacles in their hands.]
\GARBAGEFILE
Actor
Kai Bryan, aka \garbagefile, is St. John's spookiest drag clown! Backslash is a compelling conglomerate of creatures: a file directory, a shape-shifter, a compendium of beasts. Backslash inhabits an awe-inspiring catalogue of characters inspired by their love of horror, science fiction, and clown to express, celebrate, and complicate embodied experiences of gender. Kai\garbagefile is an award-winning visual artist, aerial circus performer, costume designer, and curator who frequently hosts and performs at cultural events and festivals including St. John's International CircusFest, Lawnya Vawnya, and the Festival of New Dance. They were the 2019 bronze winner of Atlantic Drag Star, the 2021 recipient of the VANL-CARFAC Milestone Award, and have received support from the City of St. John's, ArtsNL and the Canada Council for the Arts. Kai is a founding member of St. John's stickiest drag collective, the Phlegm Fatales. They love science fiction, cephalopods, puzzles and puns.

[ID: Eda is a white person with brown hair wrapped up in a bun with lime green tulle cascading down from it. A black eyepatch covers their right eye while graphic eye makeup accentuates their left eye. Wearing red lipstick and a big smile on their face, Eda exudes joy in a sparkling blue-teal dress while standing in front of a white wall.]
EDA KUMQUAT
Actor
Dace Green is an actor, drag artist, and entertainer living in St. John's. They hold an Honours Diploma in Arts Management from Harris Institute for the Arts, and a Diploma in Performance and Communications Media from Memorial University. Dace feels most at home while performing on-stage, having played roles of Dr. Frank-N-Furter in Riveting Productions' Rocky Horror Picture Show: Shadow Cast (2016, 2017) and Jacob in TaDa! Events' La Cage aux Folles (2020).
Known primarily as Eda Kumquat (and sometimes Gertie McGrady), Dace is considered to be one of Newfoundland and Labrador's premier drag hosts and entertainers. They are a member of the all trans/non-binary drag collective, The Phlegm Fatales; winner of Queen of the Night (2018) and La Cage Drag Contest (2019); and creator of Newfound Drag. Eda Kumquat has produced, hosted, and performed extensively with organizations such as Resource Centre for the Arts, Quadrangle, AIDS Committee of Newfoundland and Labrador, Lawnya Vawnya, and Eastern Edge Gallery. More recently, Eda hosted and performed to sold-out audiences for the first-ever drag shows in Deer Lake and Pasadena.
You can find Eda at Kaleidoscope Drag Bar & Lounge almost every Wednesday for Drag Bingo and Trivia.

[ID: Daddy is a white person in their 20s with long wavy lavender hair, a drawn-on mustache, and graphic eye makeup. They are wearing a neon green dress with a tulle accent, black fishnet tights on their arms and legs. They are leaning against a white wall with one arm against the wall and one hand on their hip]
MADAME DADDY
Actor
​​Madame Daddy is a performer, host, event producer, choreographer, and St. Johns' beloved genderbending goblin! Their work combines camp, burlesque, a killer lipsync, the occasional rope bondage demonstration, and the tightest dance moves you've seen since your dad's last BBQ. A Madame Daddy performance leaves audiences equally enthused, confused, and aroused.
Madame Daddy has been gracing stages all over the province since 2018, and most recently starred in TaDa Events' production of Kinky Boots as one of Lola's Angels, but their most treasured performance memories are those with their family and the stickiest drag collective about town: the Phlegm Fatales.

[ID: Liezel is a young white person with colorful, clown inspired makeup including blue eyeshadow, yellow/orange blush, and purple lipstick. They are wearing a dark purple strapless dress with a huge mass of bright green slime on the bodice trickling down in droplets. They have long, wavy, bright green hair the same colour as the slime, and are standing with a hand on their hip.]
LIEZEL HUES
Actor
Liezel Hues is a wet, weird, and wild St. John's based drag artist that combines clownery, camp, glamour, and warm eccentricity. An experienced dancer and artist, since 2018 Liezel has merged multiple artistic passions into versatile stage performances that have dazzled audiences. A member of the Phlegm Fatales since inception, Liezel delights in being part of the creation and execution of shows which bring theater, intrigue, drama, and a squelching good time to stages large, small, and tiny.

[ID: Irma is a drag queen wearing long straight vibrant purple hair with a dripping neon green form fitting dress made of slime. She has matching slime earrings, holds a tissue with a green smear on it painting into the air. She is giving the viewer a snarled lip half smile with a playful bit of attitude.]
IRMA GERD
Actor
Irma Gerd is weird, wild, and wonderful!
She is the BEAST from the East Coast of Canada, reigning from St John's, Newfoundland. You may know her from Season 3 of Canada's Drag Race where she boogied her way to top 6, slayed the TITS out of the Snatch Game, and showed Brooke Lynn Hytes the depth, breadth, and beauty of Dildo, Newfoundland.
Irma Gerd is the original booger of Newfoundland's stickiest non-binary drag collective, 'The Phlegm Fatales'. Irma is known for her off beat sense of humour, her East Coast charm, and her visually stunning conceptual drag looks.
Just like my left nostril, Irma Gerd is the one you wanna pick if you're putting on a good show!

[ID: Kate is seen from behind, crouching on a windswept cliff. She is identifiable only as a large mass of bright pink hair.]
KATE STENSON
Stage Manager
Kate Stenson is a local theatre cryptid, rarely spotted in the wild, but easily lured out of the shadows with cries for help spiking your set. By day, she works with Opera on the Avalon; by night, she stage manages clowns and queens, builds obscure show props, and hangs out with her boyfriend (Hector the Chihuahua). Kate has been working with the Phlegm Fatales since shortly after their goo birth from the stars, and is beyond blessed to partake in this year's family vacation to Planet Phlegm.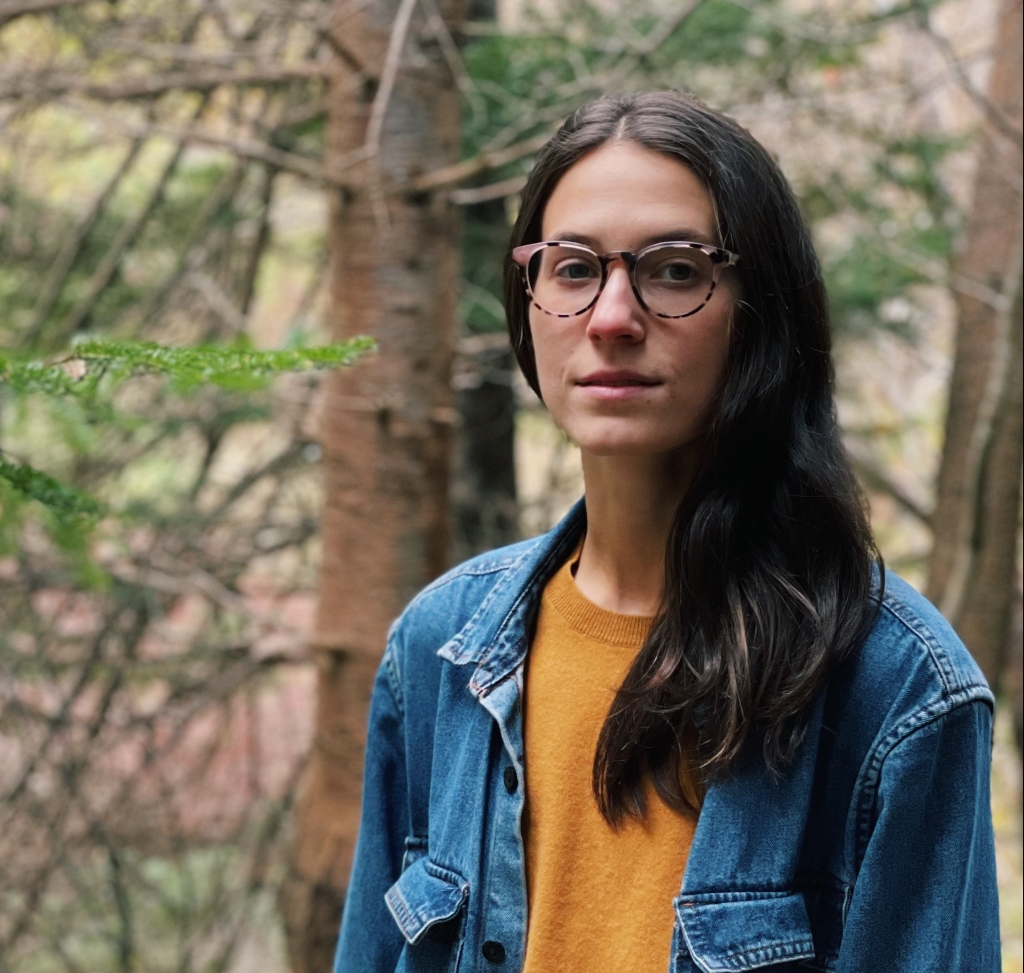 [ID: Mallory is a white person with long brown hair and glasses. They are standing in a wooded area wearing a blue chambray shirt over an orange t-shirt with jeans, serving face.]
MALLORY CLARKE
Directing Consultant
Mallory Clarke is a theatre director, writer, dramaturg, actor, and arts educator based in St. John's. Mallory holds a BFA in Musical Theatre Performance from the Boston Conservatory and an MFA in Theatre Performance Creation from York University. They are the Artistic Director of Shakespeare by the Sea and currently teach acting at MUNL for the Stage and Screen Diploma and at CNA in the TV & Film Department.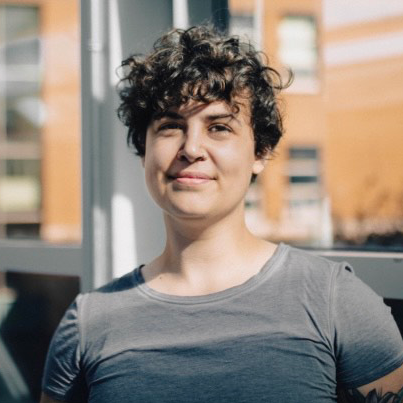 [ID: Heather is a white person with brown eyes and short dark curly hair. She is wearing a grey t-shirt and standing in front of large windows.]
HEATHER RUMANCIK
Technical Director
Heather is from Manitoba but has moved to St. John's twice. Her first stint at the LSPU hall saw her working as box office, bar staff, and lighting intern (2014). After that, she went on to work as a Key Grip and Gaffer on film and television sets across Ontario, PEI, and NL, including as Key Grip on the show Odd Squad which won the Daytime Emmy for Outstanding Lighting Design (2021).
Heather holds a Cabinetmaking Certificate from Humber College (2018), and a Diploma in Performance & Communications Media from MUN (2014). When she's not lighting or building, you can find her quilting, gardening, or spinning with the circus.
---
Thank You's!
Our productions are made glorious because of the skills and patience that live within our extraordinary Stage Manager, Kate Stenson
We want to thank our dear siblings – and additional members of the Phlegm Fatales – Amanita 95 and Wych Hazel
Vivian Vanderpuss
Shea Muah
Espresso-based beverages
Robin Follett
Flora Planchatt
Hilary Walsh
Keely Whitelaw
City of St. John's
Wonderbolt Circus
Shyama McWhirter
From RCA (alphabetically):
Kat Burke
Ian Campbell
August Carrigan
Owen Carter
Jen Fleming
Brandon Hillier
Reg Hoskins
Crystal Laffoley
Nicole Rousseau
Heather Rumancik
Suzanne Mullet
Phil Winters
Kevin Woolridge
Madonna Hues
Veronica Schulze
Holly Rancher
Kayden Warford
Benjamin Moore Paint Shop

Thank you to each and every Sloblin who continuously supports us.
If you're reading this, you're considered a Sloblin now.
The future is Phlegminine.
---

[ID: Text reads: Seat Campaign Back in the seats again! Ask us how to get your own seat in the historic LSPU Hall's mainstage theatre. The photo shows the red theatre seats of the Hall.]
Don't Give Up On Me, Dad by Andy Jones
Poster coming soon!
Check out what Andy Jones has to say about becoming a monthly donor!
Thank you to the LSPU Hall Volunteers!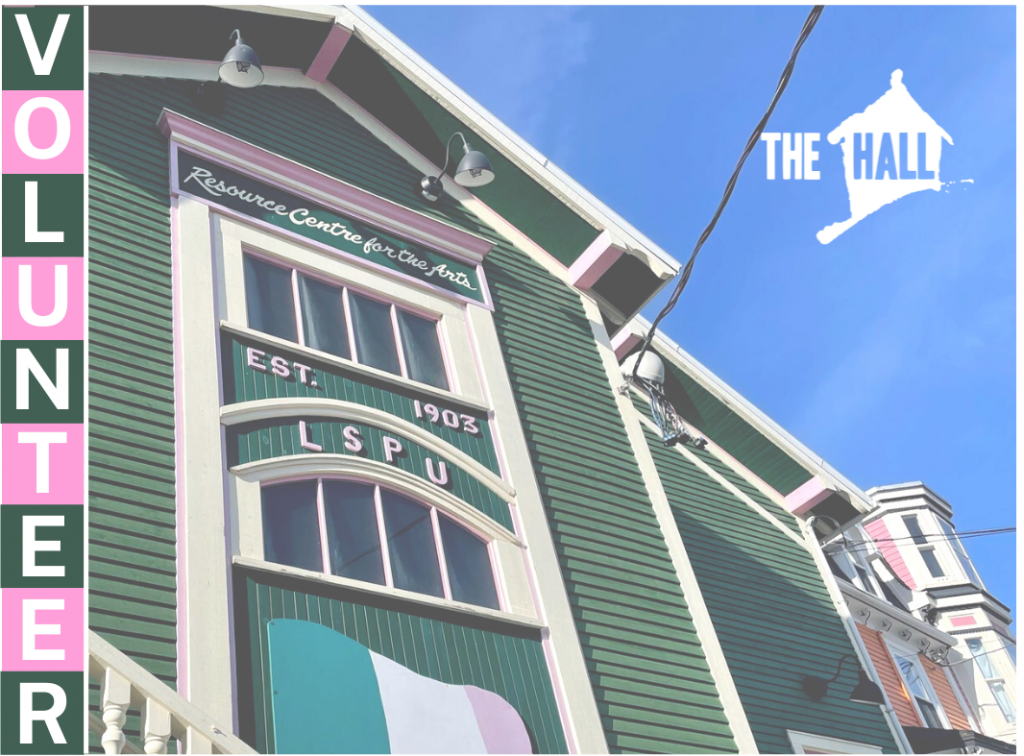 [ID: A faded photo of the Hall with the word Volunteer in pink and green blocks written vertically down the left side. The white Hall logo is in the top right corner.]
Volunteers are the backbone of the theatre community.
We would truly be lost without them and can not thank them enough for their wonderful work.
Why volunteer at the Hall?
Visit lspuhall.ca/volunteer or e-mail our volunteer coordinator Ian at volunteer@lspuhall.ca to find out how!
You get to see live theatre for free!
Looking for a free date night with your partner? Volunteer together!
Volunteer with your friends and have a safe night out together.
Looking to expand your social circle? Join a community of like minded theatre lovers.
In high school and need volunteer hours? We got you.